Losing Weight, Gaining Status: Angela Jackson Becomes TLC National Director
December 17, 2018
By Nicole Dunkley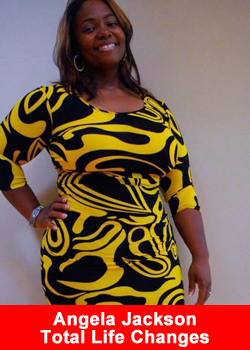 The average American woman weighs roughly 168 pounds. Since 2014, Angela Jackson of Orland Park, Illinois has lost 140 pounds—that's an entire extra person! Jackson chalks up her remarkable weight loss success to one key factor: Total Life Changes products.
"I was severely overweight, and very uncomfortable in my body," she recalls. At just 5'4, she nonetheless weighed well over 300 pounds. "I was experiencing extreme inflammation and joint pain, which made exercising very difficult. It was all I could do some days to get on my feet and work around the house. So instead, I 'worked' the products."
Angela says the weightloss system Resolution helped her regain control of her body, as well as other products like Iaso Detox Tea, Nutraburst, NRG, Delgada and Techui. Recently, Angela celebrated her achievement as one of the Total Life Changes Weight Loss Challenge winners in Houston, Texas. But these physical changes form only part of her testimony.
For the past 20+ years, Angela has been married to her husband Daryl. Together, they've raised three children (Deja 23, Daryl Jr. 17, and Daniel 15). A close-knit family, Angela was particularly close to her own mother.
"She was my biggest cheerleader, and she was so excited to see my weight loss, and the success my husband and I were having in our TLC businesses."
Unfortunately in November 2015 her mother passed away due to kidney and liver failure.
"I remember her telling me not to let myself gain the weight back, and to always continue helping people. I made her a promise, and it's become my motivation in business."
Angela says she is reminded every day to continue to strive toward her own health goals and continue to push others. Although she did take some time off to grieve, in May of 2018 she returned to work under sponsor Jackie Birchfield and says she hasn't looked back since.
The additional income Angela brings in each month has proven to be a difference-maker for the family.  Both Daryl and Angela have become National Directors, while daughter Deja is also an Executive Director.
"Anyone can win with these products and this compensation program," Jackson insists. "I've never been a part of another network marketing company but I know from what I've heard from industry veterans that it's just different here."
Angela's short-term goal is to help more of her team members reach the position of National Director as well, a goal she believes will be able achievable within the next year. Her long-term goal is to earn $20,000 per week within the next 3-4 years. It's a bold ambition, but given that she has already shaken the weight of an entire extra person off of her shoulders, it's easy to see why she feels so light on her feet.
About Total Life Changes
Total Life Changes offers a diverse product portfolio of health, wellness and beauty products. Founder and Tea Executive Officer Jack Fallon created TLC over 16 years ago with a single product: NutraBurst®.
Since that time, TLC has continued to develop the Iaso® brand of products to include a diverse and attractive product portfolio matched with a hybrid binary compensation plan that allows IBOs of TLC to be rewarded quickly for introducing new customers to our products and business opportunity. Find out why so many are saying, "It really is different over here."