ACN Recognized on Inc. Magazine's List of 1,000 Titans In American Business
January 8, 2019
By Nicole Dunkley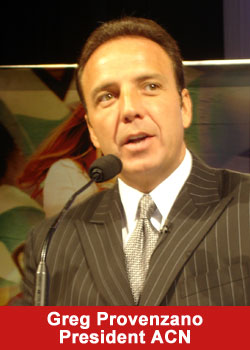 ACN Inc., a global direct-selling leader, was recently named a Private Titan by Inc. Magazine, recognizing the 26-year old company as one of the 1,000 Largest Iconic American Private Companies.
The magazine's inaugural list spotlights private companies it researched and acknowledged as those which "maintain growth and relevance as they continue to thrive."
ACN, which has expanded into 26 countries, shares the list with recognizable mainstays and newcomers, such as In-And-Out Burger, Levi Strauss, and Warby Parker.
"This is such a prestigious recognition," ACN President and Co-Founder Greg Provenzano said. "This puts ACN in a league with big-name companies in the American business landscape."
The Private Titans list salutes companies that have thrived in growth and innovation as they've resisted the move to go public. Freed from the obligation of quarterly shareholder reports, private companies are able to steer a steadier course in business and pursue unconstrained innovation, the magazine said. ACN has done this in its MLM structure and has recently begun to roll out a new initiative, #ACNnextgen, that seeks to improve Independent Business Owner (IBO), prospect and customer experience while upgrading its compensation plan and website.
Companies such as Clif Bar, Specialized Bike Components, and Yeti made the list. New companies were acknowledged along with some of the most iconic names in American business. Among the oldest: Cargill (est. 1865), S.C. Johnson (1886), and Hearst (1887).
"These are established, generational companies that we've all depended on for decades," Provenzano said. "To be included speaks to our longevity and relevance. It also falls in line with our vision. We want to become a generational company, too. In fact, we've aligned our objectives for 2019 and beyond to do just that."
About ACN Inc.
Founded in 1993, ACN is the world's largest direct seller of telecommunications, energy and other essential services for residential and business customers. ACN provides the services people need and use every day, including phone service, wireless, energy, merchant services, television, security and automation and High-Speed Internet. ACN operates in 26 countries, with offices in North America, Latin America, Columbia, Europe, Asia and the Pacific. For information on ACN's home-based business opportunity, visit acninc.com.