AIM Global Holds Elite Grand Ball For Top Leaders
January 29, 2019
By Team Business For Home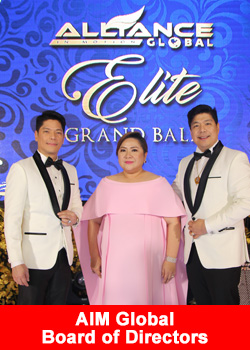 The Elite Grand Ball, one of the most awaited events in AIM Global, was an exclusive event filled with great music, high fashion, superb entertainment and exquisite cuisine.
The company's top 50 Filipino leaders were treated like royalty, including Hall of Fame members:
Mylin Ebdane
Carlo Buenaventura
Roy Zaldua
Jon Vincent San Juan
Joseph Lim
Robert De La Vina
Chief Marketing Officer John Asperin opened the event with a welcoming speech infused with a heartfelt lesson. He reminded everyone to remain humble and to remember that in AIM Global, everyone is a part of a one great family:
 "We have lost a lot of people this year, some temporarily, some permanently. Of course, we will miss all of them but we have to give importance to the people who are still here with us tonight.

All of us here are part of just one family, for nobody will help each other more than your own family.".
The Elite Grand Ball is an avenue to celebrate and recognize the hard work and unbridled efforts by the top Filipino 50 leaders to build their networks and supporting the company on helping making ordinary people into extraordinary millionaires.
They were awarded with commemorative trophies and luxury items provided by the big-hearted Board of Directors of AIM Global:
Chief Executive Officer & Visionary President Dr. Ed Cabantog
Chief Marketing Officer Mr. John Asperin
ALIVE Foundation Chairperson & Director for International Affairs Dr. Connie Cabantog,
Company Vice Presidents Mr. Arnel Limpin and Engr. Jurgen Gonzales.
Dr. Connie Cabantog also took center stage, thanked the Elite top leaders for staying with AIM Global. She expressed
"We are all here at this level of success because of each and everyone of you and we hope, that in the next coming years of AIM Global, that you will still be here with us.
Because that will make us, the management, the Board of Directors, even happier, that in the next level of success that AIM Global will reach, we are still with the same people who were with us through everything."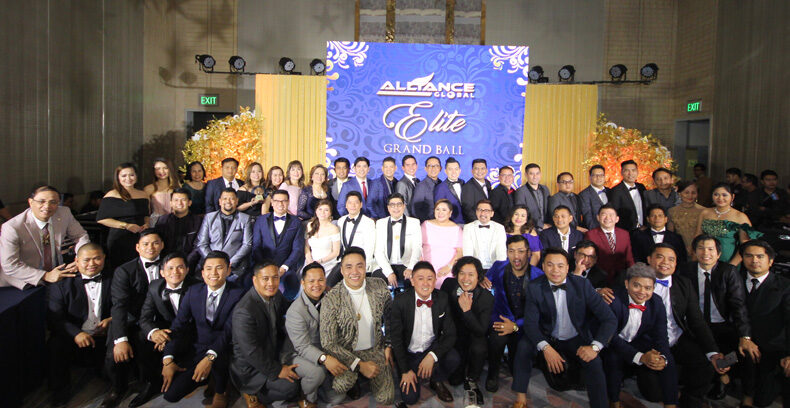 Capping the evening was a grand toast led by the visionary president. With deep gratitude, he said:
"To the top leaders of AIM Global this 2018, may we have an awesome 2019 and God bless each and everyone of us. I hope you're still with us within the next 10 years to come. God bless each and everyone of us! Congratulations!"
Every year, it is a wonderful tradition of the company to hold thanksgiving parties all over the world. These thanksgiving events served as inspiring avenues to celebrate the milestones, achievements and recognize and appreciate the contributions by hardworking leaders, distributors and staff.
AIM Global not only organised an Elite Grand Ball for its top 50 Filipino leaders, the company also hosted thanksgiving parties in other countries such as Hong Kong, Singapore, Taiwan, Brunei, Nigeria, Uganda, Kenya, Bahrain, Rwanda, Ivory Coast and Papua New Guinea.
With different cultures and backgrounds, each international branch celebrated in their own ways. Some country branches partied wearing their traditional garbs and national costumes, some held their own lavish gala dinners and others opted for smaller and intimate parties.
ABOUT AIM GLOBAL
Founded by Network Marketing icons Raymond "John" Asperin, Engr. Francis Miguel and Dr. Eduardo Cabantog in 2006, Alliance In Motion Global (AIM GLOBAL) is the leading direct sales network marketing company in the Philippines. The company markets and distributes top of the line Nutraceutical supplements, weight loss wellness products, personal care and skincare products, functional beverages and premium lifestyle products.
The company is a proud member of MLMIA (Multi-Level Marketing International Association) in USA, founding member of Direct Selling Association in Pakistan (DSAP) and Direct Selling Education Institute (DSEI) of Dubai, UAE.
AIM Global has 130 business center offices in the Philippines and has global offices in 19 countries namely Hong Kong, Singapore, Taiwan, Brunei, Papua New Guinea, UAE, Kuwait, Pakistan, Nigeria, Ghana, Kenya, Uganda, Togo, Ivory Coast, Cameroon, Tanzania and Rwanda.
AIM Global is categorized as "+AAA" business opportunity, Top 100 Solid MLM Direct Sales Company 2018, Top 10 Momentum Direct Selling Companies 2018, Founder/Director/CEO and Visionary President Dr. Eduardo Cabantog as one of the Ambassadors of Network Marketing – Hall of Fame 2018 by Business For Home, top awardee in the Direct Sales category of Asia Pacific Entrepreneurship Awards 2017 and winner at the International Innovation Award 2018 for its revolutionary Daily Payout System.
For more information please visit www.allianceinmotion.com