Behind MLM – A Fine Club Of MLM And Network Marketing Haters
January 20, 2019
By Team Business For Home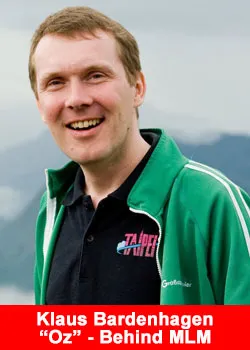 Behind MLM is founded by a free-lance German (Ebersdorf)  reporter living in Taiwan – Taipei, Klaus Bardenhagen. Klaus Bardenhagen publishes under the fake name "OZ".
His business model to make a profit, is to get as many visitors as possible with biased marketing to create fear, uncertainty and doubt, and clicks on the Google banners on his website, so he get paid. Capitalising on people's fear.
Given his website traffic he will make est. $4,000 – $8,000 per month with the banners.
Creating, fear, uncertainty and doubt (often shortened to FUD) is a disinformation strategy used in sales, marketing, public relations, politics, cults, and propaganda. FUD is generally a strategy to influence perception by disseminating negative and dubious or false information and a manifestation of the appeal to fear.
Behind MLM is "reviewing" compensation plans and their biased conclusion is 9 out of 10 times:
Its a Ponzi
It's a Pyramid Scheme
It's a recruiting scam
They are scammers
Security fraud
And the website attracts with his biased reviews a lot of people, approx. 10,000+ visitors per day.

Every compensation plan review is based on USA law only. They do not care if a company is outside the USA where legislation is often different.
Although Klaus Bardenhagen certainly can analyse a compensation plan, and sometimes he is right, too many times the conclusion is wrong.
His contributors do not hesitate to spread fake news, and Klaus does not prevent that.
How they have insulted Herbalife and Vemma executives when those companies were facing a SEC investigation was disgusting. Both companies settled and won their cases, according to Behind MLM they lost and "Need to be in jail".
A couple of Klaus Bardenhagen's biased, unfair, negative opinions:
World Ventures – a recruiting scam.
Lyoness – a pyramid scheme.
Herbalife – a pyramid scheme.
Vemma – a pyramid scheme.
Nu Skin – a pyramid scheme.
Jeunesse – a product-based pyramid scheme.
SeneGence – a product-based pyramid scheme.
iMarketslive – illegal in the US.
Kuvera Global – a pyramid scheme.
FM World – a product-based pyramid scheme.
ARIIX –  many red flags with the opportunity.
Pruvit – a chain-recruitment scheme.
doTerra – strong elements of autoship chain recruitment.
Omnia – a crypto trading scam.
Vida Divina – a pyramid scheme.
QNET – a scam.
PM International – affiliate auto-ship recruitment scheme.
Rain International –  a pyramid scheme.
Youngevity – a chain-recruitment pyramid scheme.
NewUlife –  a pyramid scheme.
As many other fine companies.
A group of about 10 network marketing haters, regular contribute to the website with (fake) names such as:
Melanie from Germany
Lynndel "Lynn" Edgington
WhislteBlowerFin
Timothy Curry
AntiMLM
Scambuster789
Ethan Vanderbuilt
Scamalert
Malthusian
Semjon
"A hater is someone who discredits, devalues or downplays your accomplishments. Your failures make a hater happier than their own success. Haters need to see you go down to lift themselves up. 

If you have haters, the solution is simple: ignore them and keep doing what you do. If a hater can directly influence your plans, then your plans aren't ambitious enough.
If you want to visit the haters, this is the link