Herbalife Fires Richard Goudis – Michael Johnson Will Reassume The Role Of CEO
January 9, 2019
By Team Business For Home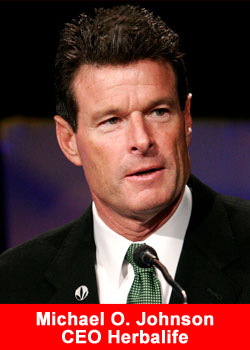 The Board of Directors of Herbalife Nutrition Ltd. ("Board") announced today that effective immediately, Michael O. Johnson, the Company's Executive Chairman, who led Herbalife Nutrition Ltd.("Company") as its Chief Executive Officer from 2003 to 2017, will reassume the role of CEO on an interim basis following the resignation of current CEO Richard Goudis.
Mr. Johnson will oversee the operations of the Company, along with other senior executives, and continue to drive Herbalife Nutrition's strong performance and growth trajectory. Pursuant to the Board's succession plan, and to ensure an effective and orderly transition to a permanent CEO in the future, the Board expects to select the permanent CEO from the Company's proven senior leadership team.
Mr. Goudis' departure is not due to any issues regarding the Company's financial reporting,
but pertains to comments which recently came to light, made by Mr. Goudis prior to his role as CEO, that are contrary to the Company's expense-related policies and business practices.
The comments made were inconsistent with Herbalife Nutrition's standards and do not reflect the Company's culture.
The Company today also announced preliminary volume point results for the fourth quarter 2018 which were up 11.6% worldwide from the same period in 2017(1)( 2) and reaffirmed its initial full year 2019 guidance as announced on October 30, 2018, thereby demonstrating the Company's consistent and continued confidence in the business moving forward.
(1) During 2018, the Company adjusted volume point values for certain products in Mexico, North America and South & Central America. Excluding these adjustments, the worldwide total year over year change in volume points would have been an increase of 10.8%.
(2) The volume point results are preliminary and may be subject to revision based upon the completion of the Company's year-end financial closing process. The Company expects to report its final volume point results, as well as its financial results for the fourth quarter and full year 2018 and provide an update to 2019 guidance, on February 19, 2019.
About Herbalife Nutrition Ltd.
Herbalife Nutrition is a global nutrition company whose purpose is to make the world healthier and happier. The Company has been on a mission for nutrition – changing people's lives with great nutrition products and programs – since 1980.
Together with our Herbalife Nutritionindependent distributors, we are committed to providing solutions to the worldwide problems of poor nutrition and obesity, an aging population, skyrocketing public healthcare costs and a rise in entrepreneurs of all ages. Herbalife Nutrition offers high-quality, science-backed products, most of which are produced in Company-operated facilities, one-on-one coaching with an Herbalife Nutritionindependent distributor, and a supportive community approach that inspires customers to embrace a healthier, more active lifestyle.
Herbalife Nutrition's targeted nutrition, weight-management, energy and fitness and personal care products are available exclusively to and through its independent distributors in more than 90 countries. Through its corporate social responsibility efforts, Herbalife Nutritionsupports the Herbalife Nutrition Foundation (HNF) and its Casa Herbalife programs to help bring good nutrition to children in need. Herbalife Nutrition is also proud to sponsor more than 190 world-class athletes, teams and events around the globe.
Herbalife Nutrition has approximately 8,300 employees worldwide, and its shares are traded on the New York Stock Exchange (NYSE: HLF) with net sales of approximately $4.4 billion in 2017. To learn more, visit Herbalife.com or IAmHerbalife.com.
Herbalife Nutrition also encourages investors to visit its investor relations website at ir.herbalife.com as financial and other information is updated and new information is posted.