Modere Announces Continued Upward Sales Trend Across Key Markets
January 15, 2019
By Team Business For Home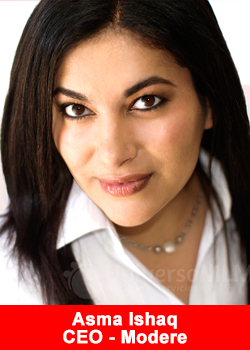 Modere (the "Company"), a healthy, safe and clean-lifestyle brand of dietary supplements, household and personal-care products with a presence worldwide, today announced that it built on 2017's growth momentum, delivering impressive earnings in all key markets in 2018.
Measured year-over-year, Modere sales grew by double-digits in North America, by more than five times in Europe and by more than 40 percent in Australasia.
The launch of several innovative products across markets, a series of strategic management hires and an inspired salesforce have all contributed to Modere's continued success in 2018.
"I am extremely proud that the 2018 year-end numbers reflect gains that outpaced our ambitious expectations,"
said Asma Ishaq, Modere's Chief Executive Officer.
"Modere's growth stems from hard work and ingenuity, and these results are a testament to our team's dedication and unwavering commitment to delivering best-in-class solutions to our customers. We remain focused on continuing to set award-winning industry standards with our science-based, clean label products. I believe we will surpass previous growth records as we continue to meet an ever-increasing, worldwide demand for products that are highly effective and respect our customers' health and the environment."
In 2018, Modere introduced its top weight management system, the Lean Body Sculpting System™, a probiotic that guarantees 5 billion cells utilizing a proprietary encapsulation technology, and Revitalize, a powder drink mix providing natural non-stimulant energy using micro and macro minerals derived from the ancient Sundance Sea and the Himalayas.
Further, one of the Company's best-selling product lines, Liquid BioCell®, was introduced in Australia, New Zealand, and Japan in the spring of 2018 and to the European market in June 2018. Modere's top-selling product, Trim, was introduced in a popular new coconut lime flavor, and hit the North American market in April, the European market in May and the Japanese market in July 2018.
The highly anticipated Trim Chocolate launched in North America in November and drove the Company's holiday promotions to record sales. A new, clean label multi-surface cleaner was also introduced to the North American, Japanese, Australian and New Zealand markets in December 2018, and a new, non-toxic, biodegradable and gray-water safe dishwasher gel was made available in North America in November 2018.
James Zenni, Founder, President, and Chief Executive Officer of Z Capital Group and Board Member of Modere said,
"We are proud of Modere's continued success and strong performance in 2018.

We look forward to supporting Asma and the Modere team with their ambitious growth plans in the future and believe the Company is well-positioned to continue to set the industry standard for health and wellness and personal care brands in its distribution channel."
The Company was also honored with several awards in 2018. Modere Trim won the prestigious 2018 SupplySide Editor's Choice Award for Best Weight Management Product. Ms. Ishaq was recognized as one of three finalists for the inaugural NutraIngredients-USA's NutraChampion Award and was awarded the 2018 Rice Business Alumni Industry Excellence Award in Entrepreneurship by Rice University.
Modere begins the new year with annual conventions across the globe in Perth, Australia, Salt Lake City, USA, Lyon, France and Tokyo, Japan. The Company plans to launch breakthrough new products and technology that are a significant part of its 2019 growth initiatives.
About Modere
Modere offers a category-leading portfolio of live clean lifestyle essentials including beauty and personal care, health and wellness, and household products that are equal parts safe, high-performing and scientifically designed. We believe modern health involves pure nutrition, a clean environment and safe ingredients across all our product categories.
Modere brings a holistic, live clean approach to well-being, and our products reflect a commitment to excellence and innovation with tested formulas proven around the globe. The recipient of multiple third-party validations, our line includes products that are EPA Safer Choice-approved, EWG Verified™, NSF Certified and gray-water safe. The company is a proud supporter of Vitamin Angels®.
About Z Capital Group
Z Capital is a privately held alternative asset management firm having over $2.3 billion of regulatory assets under management across complementary private equity and credit businesses. Z Capital manages both opportunistic, value-oriented private equity and credit funds.
Z Capital's investors are some of the largest and most sophisticated global institutional investors including public and corporate pension funds, university endowments, foundations, sovereign wealth funds, central banks and insurance companies.
The Z Capital investment strategies and private equity portfolio companies are described at www.zcapgroup.net.