Neora Launch Tour Features Industry Icons Jeff Olson And Bo Short
January 29, 2019
By Team Business For Home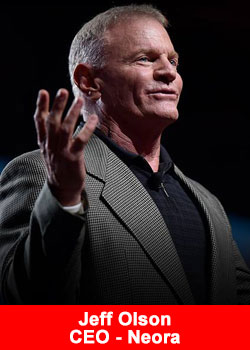 On February 1, not only does Nerium International rebrand to Neora, but the company is launching a new innovative compensation plan, and plans to share details about its upcoming changes with an 11-city "Neora Launch Tour."
Founder & CEO Jeff Olson and President Bo Short will headline the three-week tour, scheduled to begin January 29 in Charlotte, N.C. and crisscross the U.S. and Canada before culminating in Louisville, Ky., on February 21.
The industry icons will show interested entrepreneurs that there's a lot more to love about Neora than the new name.
"Neora marks a new era in holistic anti-aging with a refreshed, modern look, a new forward-thinking compensation plan and a refined leadership team with vast experience guiding relationship marketers to success,"
Short says.
Since its inception as Nerium in 2011, Neora has surpassed $1.5 billion in sales while building a strong customer base in 13 countries worldwide.
The rebranded Neora combines the excitement generally associated with a startup with the benefits of an established relationship marketer.
"We're excited about the new era of Neora and can't wait to share the company's products, opportunity and positive culture with a new generation of entrepreneurs,"
Olson says.
NEORA LAUNCH TOUR
Featuring Neora Founder & CEO Jeff Olson and Neora President Bo Short
1/29    Charlotte, N.C.  with Jeff Olson
1/30    Syracuse, N.Y.  with Jeff Olson
1/31    Toronto, with Bo Short
2/5      Irvine, Calif. with Jeff Olson & Bo Short
2/6      Seattle, with Jeff Olson & Bo Short
2/7      Kamloops, B.C. with Jeff Olson & Bo Short
2/12    Dallas, with Bo Short
2/13    Pittsburgh, with Bo Short
2/19    Orlando, Fla. with Jeff Olson & Bo Short
2/20    Indianapolis, with Jeff Olson & Bo Short
2/21    Louisville, Ky. with Jeff Olson & Bo Short
For more details on each event, visit Neora's facebook page.
About Jeff Olson
Jeff Olson is a dynamic and visionary leader who has served in many executive roles across different business channels and companies. His USA Today best-selling book The Slight Edge has helped thousands of entrepreneurs reach greater levels of financial freedom and personal excellence.
About Bo Short
Bo Short is an author, motivational speaker and relationship marketing expert with more than three decades of industry experience. He has been quoted in a Wall Street Journal best-seller about direct selling and currently ranks No. 43 on the Business For Home lifetime earners list.
About Neora
Based in Addison, TX, Neora is a global relationship marketing company with age-fighting products crafted from cutting-edge research and science. Founded in 2011 as Nerium International, Neora has shattered industry sales records while developing a strong customer base in North American, Latin American, Asia-Pacific and European markets. Neora is committed to providing an excellent product line based in real science and providing its Independent Brand Partners with a life-changing and outstanding business opportunity through relationship marketing.
For more information, please visit:https://www.neora.com.