Shani Whelan From The UK Achieves Triple Diamond With Valentus
January 2, 2019
By Team Business For Home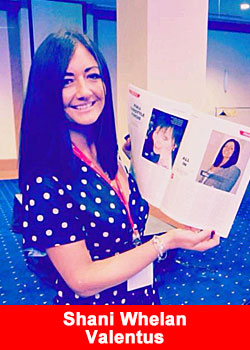 Shani Whelan tried Valentus products simply wanting to lose a few pounds for an upcoming holiday, what she didn't know is that it would change her life.
After losing the weight, Shani instantly gained a huge belief in the products. BrazilianRoast coffee and PrevailMAX spray became part of her daily regime. It encouraged her to explore the company's business opportunity.
She loved the Network Marketing industry but was struggling in her current company and just when she was starting to lose faith in herself Valentus gave her a glimmer of hope. When she decided to leave her current company and partner with Valentus she wanted to prove to herself and everyone else that she had made the right choice.
She poured herself into her Valentus business. "I went all in" Shani says
"I took massive action every day – before during and after my day job" 
Shani told anyone and everyone about Valentus. Her consistent efforts paid off and she started to see the checks roll in. She developed a strong team and watched them climb the ranks.
She was overjoyed watching people she had introduced to Valentus soar. Seeing her team getting their dream cars, buying their first homes and going on amazing holidays made it obvious that she had made the right decision.
As a leader Shani is hands on, when she learns a new skill or has a new insight, she turns around and teaches it to her team. She seeks to involve and motivate everyone, from the newest associate, to the highest ranking leader. Shani's Valentus journey also led her to become a self improvement junkie, devouring books and podcasts on business and personal growth.
"To be successful in this industry you have to constantly grow, develop and improve your mindset"
Shani says.
"Your business will only grow as much as you do" 
Living in Leicester, UK. Shani is an ambassador for Valentus in Europe.
"It's an opportunity of a lifetime but it hasn't been easy" Shani says. "There have been many bumps in the road, but we continue to pave the way for a new generation of leaders". 
Not only does Shani have the flexibility to work on the go, and travel whenever she likes, she has the financial abundance necessary to share those adventures with family and friends.
"Being able to treat family and friends to holidays and nice things is such an amazing feeling and I'll be forever grateful that Valentus has allowed me to do that"  With a compelling personal success story and a die hard work ethic, passed down from her parents, Shani is ready to tackle even bigger goals and enjoy every minute.
About Valentus
In Latin, the word "Valentus" means "prevail," defined as proving to be superior in strength, power, and influence. Recognizing that, we couldn?t have picked a more fitting name for a company that strives to be the example in an industry that deserves a leader to follow.
Since day one, our focus, our passion, and our commitment have been to create a company, a product line, and an opportunity built on a foundation of integrity.
From creating significant levels of income, to building strong networks, healthy long-lasting relationships, making new friends, participating in activities you never even knew existed, having the time to do the things you love with the people you love to be with, VALENTUS can help you PREVAIL in ALL of your goals! For more information please visit www.valentus.com