Total Life Changes Is Heading to Orlando for 'You'll Feel It!' Event
January 22, 2019
By Nicole Dunkley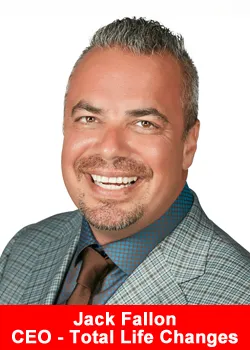 Total Life Changes hosts Super Regional Kickoff event in Orlando January 18-19th to launch their 2019 You'll Feel It! Tour.
TLC is 'kicking' off the weekend with a kickball fundraiser to support Teen Challenge Southeast Region Orlando.
This is a local foundation that helps teens suffering from Alcohol and Substance addiction. Donations will be collected in honor or our Weight Loss Contest winner Stephen Raisor.
Stephen suffered from an Opioid addiction and he believes that Total Life Changes helped him become sober and stay sober. Representatives Brett Cooper and Jeremy Cups will be presented with a life-size check on behalf of Total Life Changes and its "Life Changers".
Following kickball, there will be a first-ever intimate Corporate Q & A segment to provide opportunities to ask any burning questions, as well as a Meet and Greet with the Corporate staff.
Saturdays are for the guests! No, really. Make sure that you have your guests at the event, as there will be special deals and offers for the Life Changers (IBOs) that bring the most guests! There will also be special deals and offers for the guests themselves, especially if they sign up to be a Life Changer!
Along with Q & A's, meet and greets, and special offers, TLC will also be unveiling new products, hosting award ceremonies, inviting guest speakers for insight and motivation, doing giveaways, and more so you'll really feel it!
 You'll Feel It! 2019 Tour Dates:
January 18-19 Orlando, FL
February 1-2 Paris, France
March 7-9 Dallas, TX
April 26-27 Memphis, TN
May 17-18 Detroit, MI
June 14-15 Ft. Wayne, IN
July 19-20 Washington, DC
August 16-17 Ecuador
September 13-14 New York
October 11-12 Louisville, KY
November 15-16 California
December 6-7 Miami, FL
You'll Feel It! Mission & Vision:
Total Life Changes' You'll Feel It events are focused on the importance of bringing guests and new people to TLC's life-changing events. Our mission is to continue to expose great health and wellness products, one of the industry's greasiest compensation plans, and an incredible opportunity to people around the world.
About Total Life Changes
Total Life Changes offers a diverse product portfolio of health, wellness and beauty products. Founder and Tea Executive Officer Jack Fallon created TLC over 16 years ago with a single product: NutraBurst®.
Since that time, TLC has continued to develop the Iaso® brand of products to include a diverse and attractive product portfolio matched with a hybrid binary compensation plan. This allows IBOs of TLC to be rewarded quickly for introducing new customers to our products and business opportunities. Find out why so many are saying, It really is different over here.'