Ashely K Shift Achieves 50 K Rank With MyDailyChoice
February 26, 2019
By Team Business For Home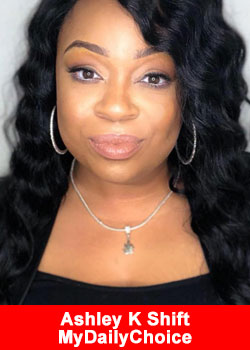 Ashely K Shift is one of the first networkers to join MyDailyChoice – Hempworx a Triple A classified opportunity by Business For Home, the highest rank.
This is what Ashley had to say upon her achievements:
How long have you been an Affiliate with MyDaily Choice?
I started with HempWorx even before it merged with MyDailyChoice. When they merged I had the option to join as an MDC affiliate and did so on May 15, 2017.
How did you find out about MyDailyChoice & why did you choose to become an affiliate?
I found out about HempWorx first; I was part of Jenna's mission even before it became a Network Marketing opportunity. When she announced the upcoming merger she gave us the option to join. I hadn't always been successful with Network Marketing in the past so I wasn't sure at first if I wanted to try again.
I told Jenna "This is the last time. This is the last company, no more". And I'm glad I did.
I jumped in not knowing much about the MDC side. The industry always says you should say yes first and then figure it out later, and that's exactly what I did. I pretty much learned as I earned.
Is this your first experience with Network Marketing? If not, how does this compare to your other experience(s)?
There are three major differences from my other experiences.
It's the timing. I did get in as one of the first affiliates, getting in at the beginning of the big rush in the CBD industry.
It's the products. I genuinely love these products. I'd use them whether I was selling them or not. So for me it wasn't a money thing at first. In. My other experiences I was chasing the money. With MDC I'm just in love with the products and the money follows.
It's my mindset. I'm focused on helping others, not on money. I'm attracting money instead of chasing after it.
Did you originally become an affiliate with the goal of making it your main income, or as a side hustle?
At the time I joined I was a full-time employee elsewhere. It was a good job with good benefits, retirement, – all the things I needed for myself and my daughters.
I really wasn't looking for this to be a full time thing, and I was scared because of past experiences.
But once I started sharing stories of myself and others using the products, it really turned into something beyond my dreams.
I wasn't willing to leave my day job until I had replaced my earnings, and Jenna held me to that because it happened so much faster than I ever expected. I doubled my work salary in such a short period, so I just had to take the leap of faith.
Tell us about your progress as an affiliate. What have you achieved so far that you're proud of?
One of the most profound things for me has been being able to walk away from my day job comfortably. No fear, no worry, no looking back. I don't know if it was the effect of the CBD or the money in the bank, but I was at peace when I walked away!
That's the moment you dream of as a Network Marketer. Having been in network marketing before that had been a dream of mine. It's my biggest accomplishment as an entrepreneur, as a marketer, as a mother.
Share about some of the factors in your success. How did you get here?
For me it's strategy + structure = success. Daily affirmations are a big part of my strategy.
I write down my goals at the start of every month and then speak about them every day as if they've already been achieved. I encourage my team to do the same.
Structure comes from following the system. MDC has such a great system in place. Even if you don't understand technology, follow ups, or building a list this system helps you do it. I've never had that before so it's a massive factor in my success.
Share about the support and resources that MyDailyChoice provides to help you in reaching your goals.
Jenna is one of my biggest supporters. I have to give her credit for that. She's given me guidance as a mentor. In the industry people are so used to cookie cutter stuff, but Jenna's mentorship is all spiritual; it's all about mindset. Every time I grow stagnant and discouraged, like we all do, I can reach out to her and she'll say something so profound that has nothing to do with the thing I'm stuck on and it just changes things for me.
Staying on top of trainings and personal development, and working with other leaders to share strategies and collaborate have also made a big difference. Usually when you don't know something you feel embarrassed to ask another leader, but with MDC you can feel comfortable asking for help. We support each other.
What do you like most about being a MyDailyChoice affiliate?
The freedom of choice. I don't feel like I'm in a box here.
What are your goals moving forward in your direct marketing career?
I want to be a leader in the industry who teaches people to leverage their income.
I was able to use my earnings to open the first CBD store in Las Vegas as a Black woman.
I aspire to inspire others to find their true passion and let it be part of their Network Marketing journey, the same way my store benefits my MDC business.
Also these industries (both Network Marketing and hemp) have such stigma, so my mission is to shift that stigma.
What was the first product you tried? What did you think?
The 750 full spectrum Peppermint oil was the first product there was and I was one of the first people to try it. I had such great results, I felt I was able to have my life back. I was able to be myself again. I had such a good experience I just had to share it with others. Once people knew my journey they felt they needed to try it too.
About MyDailyChoice
At MyDailyChoice, we are 100% committed to providing our independent business owners and customers with the most attractive and highest quality product lines within top-trending industries.
Our mission is to empower families around the world through good health, financial opportunities and the smart daily choices that can deliver both. That is why we provide an unprecedented compensation plan and a unique and innovative line of products made with the highest quality CBD oil, grown and manufactured right here in the US.
MyDailyChoice was founded in 2014, merged with HempWorx in 2017, and is currently headquartered in Las Vegas, NV. Under the leadership of Founders Josh and Jenna Zwagil, MDC reached $100 million in sales in 2018.