Avon 2018 Revenue Down 2% To $5,571 Million
February 15, 2019
By Team Business For Home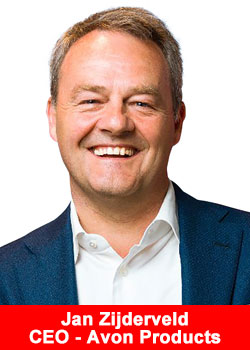 Avon Products, Inc. (NYSE: AVP) today announced its results for the fourth quarter and fiscal year ended December 31, 2018.
Jan Zijderveld, Avon CEO, said, "We are in the initial stages of our turn-around plan with fourth-quarter results showing sequential improvement in revenue trends in 4 of our top 5 markets, as well as some early signs of progress against our core strategies.
As we look over the course of 2018, we are seeing tangible signs of increased productivity by our Representatives, with sequential increases in Average Representative Sales, Net Price Per Unit and e-commerce. We have begun to identify repeatable business models in training and recruiting, while reducing our cost structure and taking steps to simplify our business infrastructure. Revenue growth management across our portfolio and positive momentum in premium products, bundles and regimens are driving improved price/mix."
Mr. Zijderveld continued, "As I wrap up my first year at Avon, we have a clear strategy to Open Up Avon and are taking the necessary steps to return this company to growth. We understand that the foundation of our success lies in the training and retention of our Representatives. Empowering women to build successful businesses and generate relevant earnings in countries around the world will, in turn, enable us to grow. This is a large task that involves the efforts of every employee and Representative.
It will take time but introducing training programs that empower women to become trusted advisors to their customers and sell higher value products, bundles and regimens help to improve Her earnings, and thereby Her success."
Jamie Wilson, Avon CFO, said,
"We have taken significant steps in our strategy of building a simpler, leaner and more agile organization, including the announced sale of our China manufacturing facility and our strategic manufacturing and supply agreements with LG. We also recently announced our intention to reduce our global workforce by an additional 10% in 2019, on top of our already completed 8% reduction in 2018. These recent announcements include a goal to reduce our overall SKUs by 25%, an $88 million inventory write-off recorded in the fourth quarter, along with a restructuring charge of approximately $100 million that will be recorded in 2019.
During the fourth quarter, we realized approximately $20 million in savings against our Open Up Avon initiative outlined at our Investor Day in the Fall. In the fourth quarter, we repaid an additional $50 million of debt which brought our total fiscal 2018 debt reduction to approximately $300 million. In addition, we announced today that we entered into a new 3-year, €200 million senior secured credit facility, our first Euro-denominated facility, which enhances our financial flexibility and begins to more closely align our capital structure to our operations."
About Avon Products, Inc.
Avon is the Company that for 130 years has proudly stood for beauty, innovation, optimism and, above all, for women. Avon products include well-recognized and beloved brands such as ANEW, Avon Color, Avon Care, Skin-So-Soft, and Advance Techniques sold through approximately 6 million active independent Avon Sales Representatives. Learn more about Avon and its products at www.avoncompany.com.