Duane Marc Anthony And Anderson Chester Achieve Diamond Rank With DagCoin – Success Factory
February 28, 2019
By Team Business For Home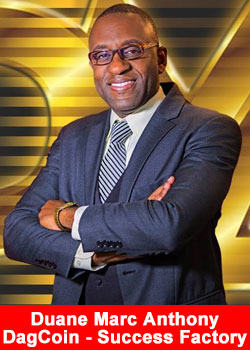 Duane Marc Anthony and Anderson Chester are two outstanding network marketing leaders in the Caribbean, specifically, both are from Trinidad and Tobago, although their teams extend across all the islands and are beginning to expand beyond the archipelago.
Both, in addition to working together with the Success Factory opportunity, are members of the global Success4All team, led by the current No. 1 in the Top Earners ranking, Igor E. Alberts and Andreea Cimbala-Alberts.
Working as an insurance agent, Duane Marc Anthony discovered the world of network marketing 14 years ago. Before 2005, he hadn't even heard those words, and after that moment, he would begin a progressive and constant change, without turning back in his life, until becoming the professional he is today. Duane admits that the first few years of work were hard, and it took time to see any significant results, but today, Duane Marc Anthony, or Mr. DMA, as he is called by his colleagues, is a leader that numerous networkers can consider a mentor.
Mr. DMA joined Success Factory in early 2018, being one of the pioneers of the opportunity in the Caribbean.
"I saw that this company had great potential to impact the world of cryptocurrency and finance, and even more, to positively impact the lives of many people around the world.
When I took the moment to personally evaluate my dreams and my goals, it became an obvious choice. Success Factory was the next phase and step in my life, a vehicle to take that impact to people all across the world. And so, my mentors, Igor and Andreea Alberts, became very instrumental in that decision and the process of my transition, being there with me all along the way, training, coaching, teaching, and most importantly, inspiring."
During 2018, Duane opened the market in Trinidad and Tobago, but also expanded the opportunity and his own team to different corners of the Caribbean, Latin America, Africa and even Europe and Canada. His involvement with the company is versatile: not only is he particularly interested in the Dagcoin's payment solutions, he has also become one of the trainers within the Skillex platform.
Skillex is another product of Success Factory, a platform of educational content that covers several areas of development, in the personal, professional or financial aspects. Duane says that success within the industry lies in knowing how to connect with the right company, the right team, but, above all, to really connect with people.
Mr. Igor always says that one of the key lessons he learnt is that "you will get all you want in life if you help other people get what they want".  And this team has systemized the process of helping people become successful and getting what they want, who, in turn, will help other people do so and accomplish the same.
During the month of July 2018, Anderson Chester joined the company. He also has 14 years of experience in network marketing, an industry he was attracted to by the concept of freedom, which is difficult to find in other professions.
Last July, Anderson had a talk with his mentors, Igor E. Alberts and Andreea Cimbala, as well as with the CVO of Success Factory Kris Ress, during the tour across Latin America and the Caribbean. Although Anderson knew about the opportunity for months, that talk was what made the difference.
"I realized that Success Factory was more than just a company.

I call it the business of the 21st century, an innovative business model with top of the line products and services.

A company that creates a community of positive and successful people who build up the reputation of network marketing by promoting the business with the highest level of integrity and in the most ethical way.
Since joining my mentors at Success Factory, I've been able to build my organization in the Caribbean and on the African continent, teaching and learning every day. Witnessing positive changes in my life and that of others."
After a few months, Anderson's work has paid off in the form of the Diamond rank. Anderson says that he is living the life he always wanted to build for his family, but the most important thing is that he is making more people in Trinidad and other places in the world capable of getting the same for themselves. For Anderson, network marketing is more than an industry or a business model, it is a development tool with the capacity of changing the reality for many people.
Anderson feels grateful for his success so far:
"I have the privilege to work with Mr. Igor. E. Alberts & Andreea Cimbala, whose contribution has been just stellar.

Our Success4All team spans across every continent with one mission: to help others achieve their greatest potential, living the life they deserve.
At Success Factory, integrity, transparency and honour are big virtues, and I'm satisfied with the level of commitment to these values we see in this amazing company. What is said is done, and for my team, it's important. Above all, I thank my wife Anica Chester for her never-ending support and faith in me and my dreams, and God Almighty for taking me, my family and the team to the next level…"
About Dagcoin
We are a growing and ambitious team based in Estonia, and our goal is to provide a new alternative currency for everyday use to create a common currency.
Our team is doing it by making cryptocurrency payments lightning fast, keeping the transaction fees unnoticeably low and creating a system as easy-to-use as possible.
When we talk about IT development, then this is a continuous never ending process because we live in the era of technology and there are so many bright minds in the world who come up with brilliant ideas all the time. We aim to implement as many of them as possible in our system.
For more information please visit www.dagcoin.org