Marijuana Company Of America Issued Patent For Hemp Smart Brain
February 27, 2019
By Team Business For Home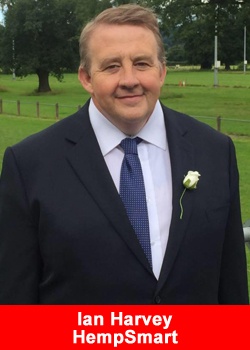 MARIJUANA COMPANY OF AMERICA INC.("MCOA" or the "Company") (OTCQB: MCOA), an innovative hemp and cannabis corporation, is proud to announce that the United States Patent and Trademark Office issued the Company a patent for the formulation of its flagship CBD product, hempSMART™ Brain.
hempSMART Brain is a wellness product formulated with a proprietary composition of natural ingredients and cannabidiol (CBD) for the enhancement of brain function. The U. S. Patent Office issued patent number 10,201,553.
Dianna Steinberg, Head of Product Development commented,
"This patent represents the hard work of the whole team involved in this formulation.  Their invaluable insight into the goal of using CBD with additional supplements in a synergistic fashion to produce a fabulous product is a tribute to their dedication."
Donald Steinberg, CEO commented,
"This patent award signifies advances we achieved and are continuing to work toward as a company to produce products of the highest quality.

As we continue to build the hempSMART brand on a global basis, our receipt of this patent will provide the Company with recognition of the advances being made at Marijuana Company of America."
Trevor Muehlfelder, Legal Project Manager on the patent application for H Smart Inc., observed:
"Having been involved with this application from the beginning, it is rewarding to see the U.S. Patent Office recognize the unique and innovative values of the Company's personal wellness products utilizing cannabidiol and other synergistic ingredients. This is our first patent to date and corroborates the Company's continuing commitment to developing natural wellness products utilizing CBD for everyone."
About Marijuana Company of America, Inc.
MCOA is a corporation which participates in: (1) product research and development of legal hemp-based consumer products under the brand name "hempSMART™", that targets general health and well-being; (2) an affiliate marketing program to promote and sell its legal hemp-based consumer products containing CBD; (3) leasing of real property to separate business entities engaged in the growth and sale of cannabis in those states and jurisdictions where cannabis has been legalized and properly regulated for medicinal and recreations use; and, (4) the expansion of its business into ancillary areas of the legalized cannabis and hemp industry, as the legalized markets and opportunities in this segment mature and develop.
About Our hempSMART Products Containing CBD
The United States Food and Drug Administration (FDA) has not recognized CBD as a safe and effective drug for any indication. Our products containing CBD derived from industrial hemp are not marketed or sold based upon claims that their use is safe and effective treatment for any medical condition as drugs or dietary supplements subject to the FDA's jurisdiction. for more information please visit www.hempsmart.com