Sandra Frieden Achieves Platinum Rank With VABO-N
February 22, 2019
By Team Business For Home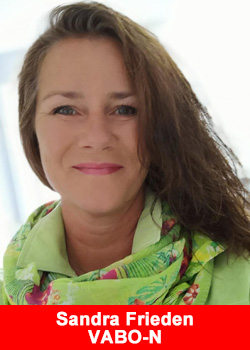 When people ask Sandra Frieden the simple question of "How much do you work?", Frieden's reply is, "Always and never".
For Frieden, that answer makes perfect sense.
"When I talk about VABO-N, I'm working, but it doesn't feel like work."
The perks of the business are obvious to her: as a single mother of two sons with special challenges, she needs flexible hours to be there for her children. "In order to meet the needs of my sons, I required 18 weeks of vacation time a year. That was my downfall in the past, but nowadays, these 18 weeks are part of my life."
Before VABO-N, Frieden had already collected experience in MLM by working with another company. "I was a consumer of the products from my former company for 7 years, but I was not successful as a networker. I barely managed to refinance the money I spent on the products."
But after finding first major success through MLM, she noticed what it means to be really free and financially independent. A problem remained, however:
"I noticed that swallowing pill after pill was part of the problem – the products I was trying to recommend just weren't attractive enough."
When she first encountered VABO-N All-in-One nutritional supplements, she was amazed by their quality and look.
"I was completely in awe. Everyone around me who I gave the products to try mentioned that they would absolutely buy them – and in the end, that is exactly what happened."
Even though Frieden was hesitant to join another network at first, her doubts quickly were replaced by the excitement and motivation that comes with the VABO-N philosophy. "The CEOs, the products, the leaders … everything comes full circle, a spirit that is very tangible for other people.
VABO-N gave me back the trust I needed, and now I'm recommending products I absolutely love."
It's not just the freedom and the sustainable income that makes MLM so attractive to Frieden. "I'm a qualified mental trainer, so I know what it means to work together with people. You can profit from every personality you interact with, and that absolutely applies to network marketing as well."
Her VABO-N business gives Frieden the independence she has always wished for. "You can work from anywhere in the world, spend more time with your children, work from home. I'm a daughter of the sun, I love the warmth.
Going on vacation in the middle of winter is a luxury I can easily afford now."
When asked for one last piece of general advice, Frieden has a clear answer. "To anyone who already feels frustrated on Sunday evening because they fear going back to work on Monday morning, I can only recommend starting a network marketing business such as VABO-N."
About VABO-N

VABO-N stands for "Valuable Body Nutrition". The Austria based company was founded in 2015 by Martin and Nina Dvoracek.
The VABO-N founders – who earlier successfully built a 5,000+ team in MLM – are convinced that for a better and happier life, we need both health and a certain income in order to achieve our goals and dreams.
This is the basis on which VABO-N was founded: a network marketing company offering high quality nutritional supplements which have the power to sustainably improve the lives of many.
The company is currently not only shipping their innovative all-in-one body nutrition products to Germany, Austria and Switzerland, but also to Slovakia, Spain, Italy, Luxembourg, Liechtenstein and the Netherlands – with more countries to come! VABO-N offers business opportunities in all of those countries.
For more information please visit: www.vabo-n.com