Sanki Appoints Phillip LeBlanc David As Vice President US Sales
February 1, 2019
By Team Business For Home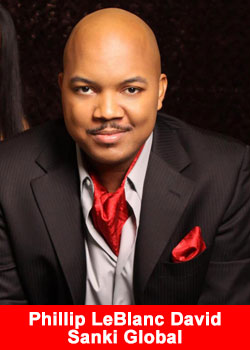 Sanki US is proud to announce Phillip LeBlanc David as Vice President, US Sales. With over 22 years of successful industry experience in both corporate excellence and the leadership field, Mr. LeBlanc is a valuable asset to the Sanki US Family.
Jose Manuel, Global Director Sanki US, commented,
"We are thrilled that Mr. LeBlanc is on board, he will be a tremendous asset to the company."
Phillip LeBlanc has been successful with numerous companies serving in roles from General Manager to CEO at multiple multi-level-networking companies across the state.
He has acquired different accolades from being featured in different media outlets to domestic awards.
Phillip LeBlanc commented,
"I am excited to start this new chapter with SankiTM as I continue my journey in the industry of Direct Sales.
My number one goal outside of creating the most admired Health & Wellness Company is to facilitate a STRESS-FREE living environment in our industry because what good is Wealth and Health if you're not having LIVING".
About Sanki Global
Sanki is a company embodying what other companies haven't… The mission to create Health and Wellness amongst a community of individuals whom all strive for the same goal, a healthier life. By finding the best people in the world, we have been able to curate something so different that our only mission is to spread the word around and create a healthier world one person at a time.
We control our entire product life cycle from planting to packaging, with farms in Spain, France, and Japan. The effectiveness of Sanki's active ingredients has been scientifically proven through extensive clinical trials and testing, resulting in a healthier, happier you. Sanki is currently operating in the U.S., Mexico, and Colombia with plans to expand operations significantly in 2019. For more information please visit www.sankiglobal.com