Tove Somhovd From Norway Achieves Double Diamond Elite Rank With Rain International
February 26, 2019
By Team Business For Home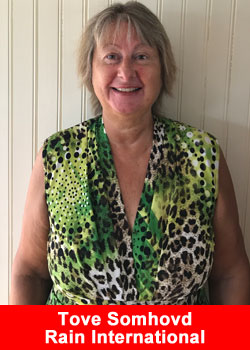 Norway's Tove Somhovd is well known as one of the country's top Network Marketing professionals. Tove Somhovd has an incredibly successful 35+ year career track record among a small handful of companies.
In 2017 Tove discovered Rain International online via a random google search and contact with one of the company's top partners in the United States, and after spending just a few minutes on the company's homepage she realised what a unique mission the company had in the emerging science of SEED NUTRITION.  She knew she wanted to bring this company to Norway.
In 2018, with Norway still in a pre-launch status, Tove quickly achieved the rank of DIAMOND ELITE with Rain International— it's first in Norway.
And this past month two incredible milestones—for both the company and Tove.
On January 19th, hundreds of new Rain Partners gathered at the Scandic Fornebu Hotel outside Oslo to celebrate the company's official launch as the newest market in the Rain International world, and also Tove's advancement and recognition as the Company's newest DOUBLE DIAMOND ELITE partner in Europe, and first in Norway.
Rain International credits its success across Europe, and particularly in Norway, to incredible partners like Tove, whose vision and support helped create an exciting launch for Rain International in Norway.
Rain International's Director of Europe Aaron Palmer stated:
"Without the vision and drive of leaders like Tove Somhovd, we wouldn't be celebrating this amazing Norway launch.

Seeing hundred of new Rain partners start the new year celebrating this market launch, and Tove's role in that successful launch, was incredible to witness—electrifying even."
Tove continues to tell everyone she meets that it only took her 35 years to find Rain International—the best company she's ever seen.
Rain International is thrilled to celebrate her success.
About Rain International
Rain International is the original creator of seed-based nutrition. Our experts have gone to the source of plant nutrition to formulate products proven to support healthy lives.
Rain International is more than the products we sell. From the beginning, we set out to make changes to improve the world around us starting with the health industry and moving beyond its borders into global sustainability, education initiatives, elevated lifestyles, and more.
We believe that the ultimate human experience we all crave is within everyone's reach, and we don't mind leading the way.
For more info please visit www.rainintl.com.