Univia Launches In USA And Canada
February 6, 2019
By Team Business For Home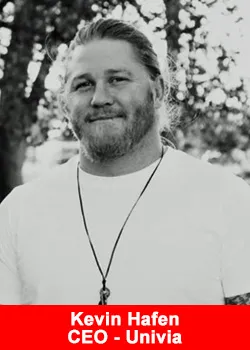 Univia unveils an innovative, social-selling model, while launching the brand and its Revitalize skin care line.
Products were carefully formulated using the latest in science and technology, including multiple patented ingredients, resulting in exclusive formulas that deliver results.
The ownership group of Univia is a collaboration of five tech and socially conscious nomads. With 65 years of combined online marketing experience, including driving more than 6 billion visits for campaigns, resulting in 6.2 million transactions, and producing over $500 million in gross online sales.
In addition, they have hired key executives from within the industry to develop a powerhouse management team capable of offering savvy entrepreneurs and those just getting started the skills and tools they need to succeed online.
"We are excited to bring Univia to the world. It's a passion of ours to help people, and this industry has done so much good for people already, it was a perfect fit."
says Kevin Hafen, Univia CEO.
"Our long term plan is to be an exciting global opportunity, and it is our vision for Univia to pay at least a billion dollars in commissions."
That mission of helping people is also part of the culture Hafen wants to see embraced throughout the Univia experience. In fact, having a purpose-filled passion is key to Univia's success. A percentage of each sale will be donated to multiple charities that are hand selected by distributors (called Influencers).
"For most companies, their charitable giving feels mostly like it's just part of their marketing program. Every year there's a charity event, they get on stage, hand someone a gigantic-sized check on stage for effect and photo ops.
Anything helps those in need, so that's great, but at Univia through our philanthropic programs, we are bringing the human connection of charity to the forefront. When we help others, we know we help ourselves."
Univia is forecasted to win significant market share in the massive global beauty market which is projected to reach $177 billion by 2024, and with everything in place, it is easy to understand why.
About Univia
Univia is a leading social selling company distributing cutting edge wellness and personal care products. The company is headquartered in St. George, Utah, USA.
For more information about Univia's products or opportunity visit ​www.univia.com​ or contact ​info@univia.