World Global Network Rebrands As "VYVO"
February 15, 2019
By Team Business For Home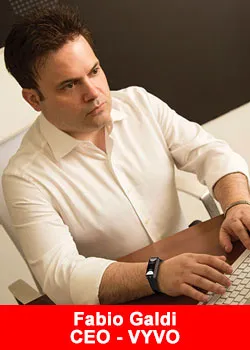 Another great network marketing story is rolling out right now. World Global Network exploded to network marketing prominence with a worldwide technology story, and a key focus on a unique wearable device.
Multiple records were broken in the initial history-making phase of the Company.  Now, this technology is expanding exponentially with innovative applications to health, genomics, and artificial intelligence. This dramatically expanded vision is now creating results including personalized nutritional supplements, monthly action plans for lifestyle, fitness and diet choices based on customized genetic analysis, and will deliver a spectrum of additional day-to-day solutions.
During historic meetings of WGN's inaugural World Ambassador Council in Bangkok, Thailand, in January 2019, the #SmartGeneration movement was announced.  This new focus was received with tremendous enthusiasm and support from the Company's most elite leaders who had traveled to Bangkok from around the world.
It turns out that those important developments were only the "tip of the iceberg" relating to other extremely significant announcements.  Today, the Company is officially announcing three major initiatives:
New Company Brand
A brand-new company brand and identity has been revealed:  VYVO.  The Company is also incorporating a new tag line which captures the essence of all business objectives:  MAKING LIFE WONDERFUL
Specifically, VYVO:  MAKING LIFE WONDERFUL perfectly describes the spirit, soul and culture of the Company's worldwide family.  As noted by experts around the world, a company's evolution of "good to great" always requires innovative phases and significant reinvention strategies in order to keep pace with changing market conditions and always evolving priorities.  This process of excellence is the exact opposite of complacency, stagnation and irrelevance.
Vyvo Smart Subscription Model
Vyvo is introducing a creative subscription-based model.  The services included in these new subscriptions represent the dramatically expanded company vision of which the Vyvo Smart concept is an integral part. Vyvo Smart includes a monthly Oracle artificial intelligence report and a personally customized nutritional supplement, NutraPak.  It is of great significance that the residual income component of the Company's exceptional compensation plan is dynamic and powerful because of the new subscription model.
New Vyvo BioSense Band
The Company's executive management team is leading from the front with a powerful symbol that valuable innovation must begin at the fundamentally important level of the Company's product line.  As a result, Vyvo is announcing that the new BioSense band will be their brand new wearable technology device.  This is the world's first Ultra-Thin technology band that can monitor your bio-parameters while making a fashion statement, at the same time.
This new Vyvo era will also usher in a significant improvement in all facets of the Company's technology offering.  Vyvo has a new and important technology provider who will work closely with the Company to develop products at a greatly elevated level.
The soon-to-be-released BioSense band will be manufactured and assembled by one of the most prominent names in the world of technology and electronics.  This technology provider/manufacturer is on every "Who's Who" list of the planet's most prominent technology development companies:  Foxconn Technology Group.  Foxconn manufactures electronic products for many of the world's major companies.  They are the world's largest contract manufacturer of electronics products.
The BioSense band will contain a very high level of functionality, delivered in a very classy and stylish manner.  This new technology band has been achieved with technological components made possible by the "Foxconn" experience.  This first Ultra-Thin band anywhere in the world and specifically designed for Vyvo contains the following important features:  Up to 10 days of battery life, up to 30 days of recording time for data without a connection, secure data storage using blockchain technology, clinical grade sensors, very attractive design features, and a newly formulated and dedicated app.
With these major announcements, Vyvo has positioned themselves for another wave of substantial momentum.  All Vyvo stakeholders are being placed in a position to win, and win big.  The record-breaking performance already achieved has provided the perfect platform for this next, and even bigger, generation of network marketing success.
About Vyvo
Vyvo headquarters are based in Singapore, with US offices in Miami, Florida, and Provo, Utah. With a robustly expanded vision and as a result of a highly successful rebranding, World Global Network now joins legions of legacy companies whose elevated market positioning required a strategic new brand identity.
Vyvo stands apart as a fast-growing company and a leader in the Network Marketing Industry. In its ten offices distributed across the globe, Vyvo employs the brightest minds, the best professionals and highly motivated personnel to drive its business forward with the most exceptional quality and creating sustainable and valuable opportunities for its distributors worldwide.
Using innovative products and a proven, direct selling business model, Vyvo helps its distributors around the world to transform their lives, their livelihoods, and that of their loved ones.
For more information, please visit www.vyvo.com.