Casmire Okafor Achieves Pearl Elite Rank With Rain International
March 10, 2019
By Team Business For Home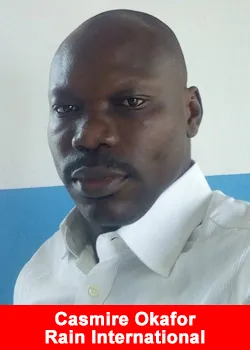 After growing up in a single-parent family, Casmire Okafor has become one of Nigeria's notable MLM success stories.
As a young man working for $1 per day, Casmire wanted more out of life. He had already proven himself to be a hard worker, but his life was going nowhere – until he was introduced to network marketing. He took to the business model like a fish to water, and quickly rose through the ranks.
In his early days, however, he made some mistakes that cost him dearly. Fortunately he was able to find a mentor who helped him to build a solid business network, resulting in a substantial, stable income.
After promoting an other company for a total of 13 years, and declining many other opportunities along the way, he came across an opportunity which really excited him: Rain International.
Everything made sense to him: The products, the compensation plan, the company, and the timing. On 8 February 2017 he made a big decision: He walked away from everything he built up with GNLD, and joined Rain International. He was starting all over again – from scratch.
This time, however, he had some advantages: He had the knowledge and experience needed to build a network – fast. He knew who his target customers and prospects would be, and he knew how to reach them. This time around, he knew how to build and nurture relationships.
He also had his blog, which became an important marketing tool at Casmire Okafore.
The combination of experience and hard work paid off, and it paid off well. In a short space of time – less than two years, – he built a network (costumers and distributors) of more than six thousand people, spread out over more than fifteen different countries.
At the time of publishing, he holds the rank of Pearl Elite – a prestigious rank – in Rain International.
As he built his new MLM business, and rose through the ranks, he also helped many people on his team to be successful.
His team includes Platinum Elite, Gold, Silver and Bronze level executives. Their success not only contributed to his own, but it also attests to his leadership skills, and the value of his guidance as a mentor.
Having achieved this level of success, he obviously collected a number of bonuses along the way, including an all-expenses paid trip.
Casmire's MLM success – and the success of many of his team members – just goes to show that with the right combination of motivation, guidance and hard work, it is possible to build a solid, sustainable network marketing business and income, even without any formal education, or even without any business background.
Casmire Okafore became successful by helping other people succeed.
About Rain International
Rain International is the original creator of seed-based nutrition. Our experts have gone to the source of plant nutrition to formulate products proven to support healthy lives.
Rain International is more than the products we sell. From the beginning, we set out to make changes to improve the world around us starting with the health industry and moving beyond its borders into global sustainability, education initiatives, elevated lifestyles, and more.
We believe that the ultimate human experience we all crave is within everyone's reach, and we don't mind leading the way.
For more info please visit www.rainintl.com.