Contact Mapping Is The Secret To Success For MLM Icon Tom Chenault
March 2, 2019
By Team Business For Home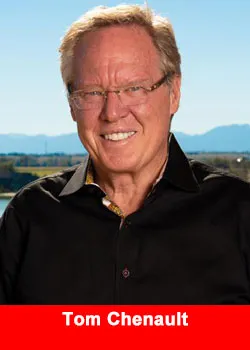 Network marketing ambassador, Tom Chenault, always had a secret to success. In his 30-year career, he consistently used it to catapult himself to the top earner list internationally in network marketing.
As someone who lives by the motto, "love like crazy…then love more," Tom knew he had to share his magic formula with the world. He was constantly looking for an effective way to pay it forward so thousands of others could experience the same career success and personal fulfilment he enjoyed.
This dream became a reality when his son, Adrian, had an idea to take his father's personal system and turn it into an app for network marketers everywhere.
At the end of 2018, the father-son duo was finally able to share the secret sauce with the world when they launched Contact Mapping.
Tom Chenault said,
"Contact Mapping is the secret to my success in over 25 years in network marketing. I am so excited to share these principles because I know they will not only make you a more successful network marketer but a better person as well."
After launching late last year, this proprietary Relationship Development System has quickly captured the attention of some of the most respected leaders and trainers in network marketing.
To meet this demand, Co-Founders Tom and Adrian Chenault will be training the principles of Contact Mapping on March 2-3 at Ray Higdon's Top Earners Academy Live, and then immediately head to Australia to speak at Rob Sperry and Frazer Brookes' training event on March 9-10.  xz,.m.
In late Spring, the dynamic Chenault duo will head to Dallas and share Contact Mapping wi/th attendees at the Association of Network Marketing Professionals annual convention from May 30-June 2.
So what is Contact Mapping? It is a philosophy, a system, and an app that makes it simple for anyone to develop strong relationships personally and professionally.
In short, it is the tool that undergirds every relationship, connection, conversation and interaction allowing YOU to build stronger and more meaningful connections with people in your network.
No matter how successful you may already be at Network Marketing, Contact Mapping will instantly separate you from the pack and launch you into superconnector status in no time.
CEO Adrian Chenault said,
"The power of Contact Mapping is in its simplicity, to allow you to remember more about every person you meet, to follow up as you intended, and to never allow anyone to fall through the cracks.

We have turned this into a seamless system that makes it easy for you to stay on top of every relationship and prospect."
Want to see if Contact Mapping is a good fit for you? Try it FREE for 30 days
About Contact Mapping:
Contact Mapping is on a mission to humanize your address book. Never miss another follow-up, forget another name, or fail to engage a valuable prospect. Contact Mapping is the tool behind the scenes that pushes every network marketer into success.
It is a concept so elegantly simple that we often say it has been "hiding in plain sight."
Contact Mapping takes what we already naturally do as relational beings and applies just enough structure and support to take your relationship building skills to an entirely new level.
Learn more at www.contactmapping.com and follow us on your favorite social platforms at @contactmapping.