Mario Vielmas And Giovanna Rentería Achieve $350,000 Per Month With Success Factory – Dagcoin
March 30, 2019
By Team Business For Home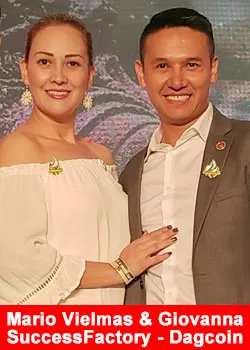 Black Diamonds Mario Vielmas and Giovanna Rentería from Mexico with more than 15 years of work in the network marketing industry are part of the leadership within the Network Marketing arm of Dagcoin, SuccessFactory.
The team of Mario and Giovanna is currently made up of 20,000 people spread over more than 30 countries.
Both are also members of the Success4All team, led by Igor E. Alberts and Andreea Cimbala, and recently received significant recognition for their achievements at the past company's convention in Dubai.
Among these achievements is a considerable increase in the turnover of their team.
"The increase in turnover is the result of the development of leadership and teamwork through planning and strategy in different countries.

We have worked consistently, focusing on every detail so that each leader who joins the team would meet their goals, as well as for the expansion of the company.

Getting here has been one of our goals, but only one of many that we still have to achieve."
Mario and Giovanna brought more than 100 members of their Latin American team to the annual Success Factory convention in Dubai, something they proudly mention, where the couple was awarded a Mercedes Benz for the Black Diamond rank advancement and received a ring symbolizing the results achieved by the team.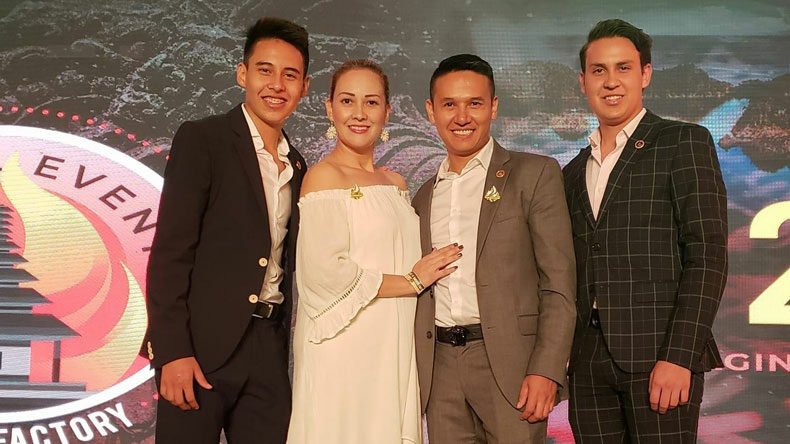 "It's a prize that is dedicated to the entire team and to all of Latin America. We are very grateful to God and to the company, which is demonstrating that it is delivering what is promised, and, above all, that it is possible. The achievement we are most proud of is to see so many people from our team achieving financial freedom, fulfilling their dreams, travelling the world and becoming Diamonds.
Dubai was one of the best experiences in our career: an event attended by more than 100 Latinos full of energy, focused, inspired and with a clear vision of where they want to take this company. It has been an experience that will be recorded in each of us who attended."
To get such results, the couple has it clear what their success routine is:
"The best routine to achieve success is the visualization and the consistent repetition of goals and dreams. Something that can't be missing in our everyday life is prayer and gratitude to God and to the people who add value to our life."
Entrevista con lideres de Mexico sobre lo que se vivió en la Maestria de Negocios. El entrenamiento que todo Networker necesita tomar.#SuccessFactory #Dagcoin #Skillex #NosVemosEnCiudaddeMexico

Posted by Mario Vielmas on Friday, 29 March 2019
As they mentioned above, Mario and Giovanna still have many goals to fulfil, and by 2019, some very definite ones have already been set:
"We will continue to learn and develop more each day. We are going to help all the people on the team fulfil their dreams and reach their goals. In 2019, we will see 100 new Diamonds born within the team and transform the lives of 100,000 families."
About Dagcoin
We are a growing and ambitious team based in Estonia, and our goal is to provide a new alternative currency for everyday use to create a common currency.
Our team is doing it by making cryptocurrency payments lightning fast, keeping the transaction fees unnoticeably low and creating a system as easy-to-use as possible.
When we talk about IT development, then this is a continuous never ending process because we live in the era of technology and there are so many bright minds in the world who come up with brilliant ideas all the time. We aim to implement as many of them as possible in our system. For more information please visit www.dagcoin.org
Recommended Distributors Success Factory