MyDailyChoice Founders Josh And Jenna Zwagil In The Trenches
March 19, 2019
By Team Business For Home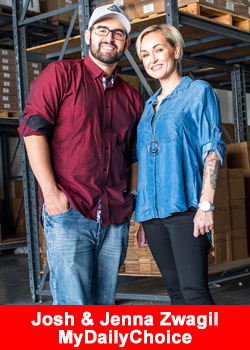 Leadership is undoubtedly what makes MyDailyChoice so unique.
Josh and Jenna Zwagil didn't begin their careers in the corporate world and then simply take the reins of a Network Marketing company. They both started out in the field as Affiliates, learning what it was like to build a network and a business. It's that field experience that has enabled them to create such a unique opportunity.
Josh Zwagil has always been something of a wiz kid. He became a chess master at the early age of 12, training with the best. By 14 he was a top ranked world chess champion. He even earned a chess scholarship for college, though his time there would be brief.
At 18, after leaving business school, Josh replied to a Craigslist ad promoting a way to earn money independently. He sold his drum kit to get the $600 he needed to start, and his entrepreneurial instincts soon paid off. With strong guidance and leadership, Josh rose through the ranks quickly.
From the earliest part of his Network Marketing career, Josh experienced first hand the challenges of the industry. He saw the upheaval caused by product changes, compensation plan changes, shifts in company ownership and more. This intimate knowledge of the innermost workings of the industry would lay the foundation for the next leg of his journey, when he ultimately decided to walk away from a six figure business.
Once out on his own, Josh used his insight into the industry to design business management systems. Ever the entrepreneur, he began selling them to Network Marketing companies.
Even though his work kept him close to the industry, he found he was missing the environment of actually being inside a Network Marketing company.
Josh began interviewing companies, looking for somewhere to land. He was amazed at what those companies were willing to offer him. His previous successes made him an attractive recruit, and he was offered lavish incentives to join up. But to Josh, who only a few years ago had sold his drums to scrape together the cash to launch his career, it just didn't feel ethical to accept a sweetheart deal.
He decided the only thing to do was to start his own company, MyDailyChoice. It was around this same time that he met Jenna and, impressed with her networking skills, asked her if she'd be willing to join as one of his first Affiliates.
Jenna put her talents to work on the first product line, just three nutritional sprays. Even before MyDailyChoice's most popular products and sophisticated marketing tools were in place, Jenna earned $3,600 in her first week.
Today, Josh and Jenna are at the helm of a multi-million dollar business. Although they now hold titles like Chief Executive Officer and Chief Marketing Officer, instead of Affiliate, their perspective has only grown, not changed. They continue to work directly with many MyDailyChoice Affiliates, providing training, support and mentorship.
They still view the business through the eyes of Affiliates, always focused on what they need to succeed. The result is a business opportunity that nurtures Affiliates in a way that no other company does.
About MyDailyChoice
At MyDailyChoice, we are 100% committed to providing our independent business owners and customers with the most attractive and highest quality product lines within top-trending industries.
Our mission is to empower families around the world through good health, financial opportunities and the smart daily choices that can deliver both. That is why we provide an unprecedented compensation plan and a unique and innovative line of products made with the highest quality CBD oil, grown and manufactured right here in the US.
MyDailyChoice was founded in 2014, merged with HempWorx in 2017, and is currently headquartered in Las Vegas, NV. Under the leadership of Founders Josh and Jenna Zwagil, MDC reached $100 million in sales in 2018. For more information please visit www.mydailychoice.com and www.Hempworx.com