New U Life Sales in 2018 Exceeds $60 Million
March 6, 2019
By Team Business For Home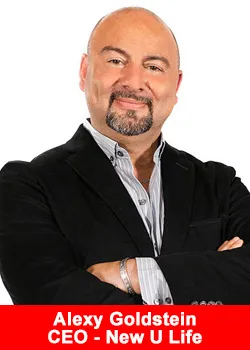 According to a company press release:
New U Life sells over 500,000 bottles of HGH gel in their first year.
Just 12 months after opening its doors, New U Life announced it sold more than 500,000 bottles of its innovative Somaderm Gel in 2018.
Hitting this significant milestone reflects the passion of its hardworking distributors and the leadership of Founder and Formulator Alexy Goldstein.
"I am humbled by this unbelievable, explosive growth,"
said Goldstein.
"When I started this company in 2017, I wanted to change a few lives.  I never imagined Somaderm would go viral and benefit more than 150,000 people that I now consider my family."
Goldstein spent years formulating Somaderm Gel and introducing it to his small natural products store in Northern California.
The product gathered a user base through word of mouth and became popular among athletes. In 2017 Goldstein launched Somaderm to the mass market through the direct sales channel, quickly attracting top leaders and generating record-breaking growth.
"Within 4 months of launching, we had completely sold out of product," said Goldstein. "I thought that would be the end of the company, but we made it through because so many people were having amazing results and truly believed in Somaderm."
According to IRI, U.S. products that generate in excess of $60 million in first-year sales are in the top 2 percent of all new products, making Somaderm Gel an instant industry leader.
"We are committed to building the infrastructure that will allow us to maintain this phenomenal growth," said Goldstein. "We are thrilled with the success we saw in 2018, and with the help of our dedicated New U Lifefamily, we are on track for 2019 to be even better."
About SOMADERM Gel
New U Life's SOMADERM Gel is the only FDA registered, transdermal product containing legal homeopathic growth hormone that's available without a prescription. Human Growth Hormone levels begin to decline at the age of 25. As this hormone declines, your body begins to hold onto fat, muscles weaken, and energy levels decrease. Somaderm Gel is a safe, noninvasive way to elevate growth hormone levels.*
About New U Life
New U Life made its debut in November 2017 and quickly became a leader in the direct sales industry. The company is dedicated to changing lives and setting the standard for innovative, quality products.
To learn more about New U Life visit www.newulife.com