Top Leader Kim Jae Gyu From South Korea joins Success Factory – Dagcoin
March 14, 2019
By Team Business For Home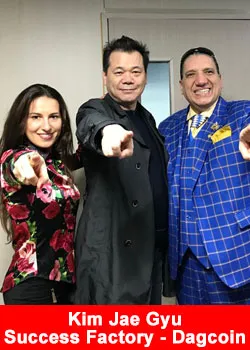 Kim Jae Gyu is a network marketing veteran with 25 years of experience in the MLM industry. He recently joined the Success Factory company by becoming part of the Success4Allteam, led by Igor E. Alberts and Andreea Cimbala-Alberts.
From South Korea, Kim Jae Gyu began his career as a networker a quarter of a century ago with the Amway company. He says that that's where he learned a lot about marketing and that he is grateful for having been able to achieve his first great success and change his lifestyle.
Prior to that, Kim had been working in an oil refinery, a job he held for a while when working on his own business.
 "I started in my first network marketing company because I wanted to generate more income, I wanted to create a wealth that my job as an engineer couldn't give me, let alone at the speed I wanted.
In 2002, I managed to achieve the rank Triple Diamond and I will always be grateful for what I learned in the process of getting there and for the people I met, the mentors, the coaches, the uplines, and, above all, for the change that it produced in my life.
But the world has changed since then. Businesses change, companies change. Now, I see that the future is in technology, in cryptocurrencies."
n]Why he decided to join Success Factory and specifically, the Dagcoin project, Kim continues explaining:
"First of all, I have to give special thanks to Mario Vielmas and Dani Vanegas, who brought me in contact with Success4All and gave me the opportunity to meet Igor Alberts.

I got immediately fascinated by his long-term vision for Success Factory, and now, I am delighted to be working with Igor and grateful that he has shown me this opportunity, the vision and the mission of Success Factory.
 Last year, I had been briefly working with a company that was also involved with the crypto and the MLM industry, but it didn't deliver the results that now I see clearly can be achieved with Success Factory.
This company already has a clear vision and straightforward mission that covers the next 10 to 20 years. Together with a company that is so clear about its future and has such a clear road map to get these long-term achievements, we can achieve and do everything we dream of.
 Now, after only a few days in the business, I already achieved the rank of Ruby and I see very close the day I get the Diamond rank. Such overwhelming results have been possible thanks to the supreme work that Andreea Cimbala-Alberts is doing for the team day by day, coaching and mentoring the members.
 Understanding and seeing clearly in front of me the vision and the mission of this fantastic company, being inspired and top-notch motivated, I see in the upcoming periods many people achieving the rank of Sapphire, Ruby, Emerald, I see Diamonds popping up in our team and I see that whatever we hoped for and dreamed of in our previous company will come true in Success Factory.
I am really big-time dreaming of all the people I can reach in all parts of the world.
About Dagcoin
We are a growing and ambitious team based in Estonia, and our goal is to provide a new alternative currency for everyday use to create a common currency.
Our team is doing it by making cryptocurrency payments lightning fast, keeping the transaction fees unnoticeably low and creating a system as easy-to-use as possible.
When we talk about IT development, then this is a continuous never ending process because we live in the era of technology and there are so many bright minds in the world who come up with brilliant ideas all the time. We aim to implement as many of them as possible in our system.
For more information please visit www.dagcoin.org