Total Life Changes Rolls Out Strong New Sample System
March 6, 2019
By Nicole Dunkley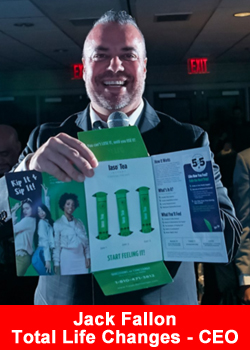 Total Life Changes has found a new way to increase brand awareness by getting others to 'Feel It' through their strong initiative and commitment to the process of sampling.
Essentially, the goal of TLC's Sample System is simple — it's not about selling something. It is all about Life Changers giving out product samples to as many people as possible and getting them to feel the products.
Ultimately, Life Changers will hand out samples to "Sample Customers", who can be turned into Preferred Customers, and then Life Changers, which is all a part of the TLC Family and Sampling System! Ready to try a sample? Visit www.Lose5in5.com and get ready to "Feel It" for yourself.
Sampling allows a prospect to taste, feel, smell, and experience all the benefits a product has to offer, which typically entices them to want to make a full purchase. That's why TLC believes there is no better way to convert a prospect (Sample Customer) to a tried and true Preferred Customer than through sampling.
The goal for every one of our Life Changers now becomes to inspire and motivate 20% of the sample customers to eventually become Life Changers.

In doing so, it creates a viral sampling activity that doubles every time you hit that 20% goal. So, by the time you have a team of 8 Life Changers, you are creating 160 sample customers. – John Licari, COO
In order to roll out this new system, TLC is offering its new Life Changers immediate access to a "Premium" Back Office and Apps FREE for 30 days. This makes it easy for Life Changers to share information and send samples instantly to their Sample Customers after they join.
Then, they can inspire many of those Sample Customers to the NEW Preferred Customer platform, where they can earn points toward future product purchases: "Inspire three and your next product is FREE."
We truly have cracked the code. We are taking all of the confusion and self-doubt out of starting your own business. Our Family System has simplified the ability for people to acquire new customers quickly and teach others how to do the same.

And we believe so strongly that we have some of the best and most effective products in the industry that many customers will naturally want to join our community as Life Changers.
stated Jack Fallon, Founder & CEO.
About Total Life Changes
Total Life Changes offers products and a community that "You'll Feel!" Founded by former Ford Motor Company employee, Jack Fallon in the basement of his home in 1999. Formally launched in 2003 as Total Life Changes, LLC with COO, John Licari. Together they have inspired hundreds to join their corporate team around the world.
Sharing a vision and a passion for changing peoples lives through high-quality, affordable products that work. Special recognition of these accomplishments includes reaching the DSN's Top 100 Global Direct Selling list, the voted #1 global direct selling product (Iaso® detox Tea, 2015), a solid A+ rating from the BBB, and AAA+ Business Opportunity (BFH, 2019).