AIM Global Sends Thousands Of Distributors To Top Vacation Destinations
April 12, 2019
By Team Business For Home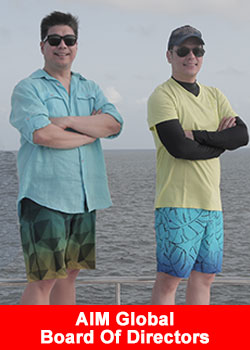 Alliance In Motion Global, Inc. (AIM Global)  continues to push boundaries through its travel-incentive program, AIM Travels.
AIM Global believes that it is important to recognize and reward the people behind company's success, who are also diligently working to better their lives everyday. After all, refreshing vacations can do wonders to a hardworking leader.
As a company who's keen on giving rewards, AIM Global's travel promos have reached gigantic proportions with Dr. Cabantog's grand vision of sending distributors to different dream destinations.
"Every two weeks, we're sending people to Boracay, to Palawan, to Hongkong, to Korea, to Japan, to Maldives! So the goal would be, AIM Global would be known as, 'With AIM Global, free travel every two weeks!'"
stated AIM Global's Chief Executive Officer & Visionary President, Dr. Eduardo Cabantog
Dr. Ed Cabantog first announced its plans of sending hundreds of deserving distributors to all-expense paid trips at AIM Global's Mid-Year Rally last November 2018 at the Mall of Asia Arena. Dr. Cabantog shared the new delightful destinations AIM Travels have in store for everyone and he also declared that the exciting travel incentives program will be implemented by the start of January 2019.
Executing this grand vision was not a small feat. The company made sure that the all-expense-paid trip of the distributors won't experience any hitch. They were checked-in into hotels with the best amenities, a feast for king for their every meals, and of course, thrilling activities for the whole duration of their vacations. These trips were also an avenue for them to share their life stories, experiences in the direct-sales industry and knowledge about building the business to their fellow distributors.
Aside from being a real vacation for them, qualifying for the travel incentive program also represents as a significant milestone for distributors as it would encourage and inspire their downlines to emulate and make them strive harder to achieve this. Prior to these trips, thousands have already flown to different world-class tourist destinations through the help of AIM Travels and those who have qualified this year are most-likely inspired by those who qualified in those previous trips.
For the first batch of the tours planned to happen on the first quarter of the year, the first batch of qualifiers flew to Coron, Palawan. Coron is an island best-known for being one of the top diving spots in the world and it is also listed at the UNESCO World Heritage Tentative List.
The 104 distributors enjoyed a day of snorkeling and deep sea diving to see the beautiful coral reefs at the Siete Picadoes and Isla de Coral and dozens of haunting sunken Japanese warships at the Skeleton Wreck.
An overseas vacation trip is a major accomplishment for a networker. That is why the two trips to Hong Kong, January 22-25 and March 26-29, 2019, were nothing but momentous to the distributors who qualified. Through these trips, some of them experienced a lot of 'firsts' in their lives; first time to ride an airplane, first time to have an out-of-the-country trip and first time to go to Disneyland and Ocean Park.
A distributor from the second batch of the Hong Kong Trip, which consisted of 210 qualifiers, also expressed his gratefulness for the company and he also urged others to work hard even more,
"I only finished 4th grade but here in AIM Global, even if I don't have a diploma you can still go places! If you want to experience all of this, put in the hard work, give it your all and hustle! Because if I can do it, I'm sure you can do better than I did!"
This statement rings true throughout the travels as a distributor from the Coron, Palawan trip perfectly summarized their heartfelt sentiments to the company, "All I can say is, your sacrifices and efforts are all worth it here in AIM Global."
Following these trips, three batches of qualifiers have been scheduled to travel to Boracay. The first two batches flew there on February 18-20 and on February 27-March 1, 2019. Boracay is a small island in the central Philippines known for its resorts and beaches.
The island's popularity never wavered for decades now and is one of the top beaches and travel destinations all over the world. Countless individuals, including AIM Global's 132 qualifiers on the first batch and the 142 qualifiers on the second batch this year, dream of going there to experience its world-famous turquoise waters and fine, white sand.
And having just experienced the newly-rehabilitated island of Boracay for the first time, a distributor from the Batch 2 trip couldn't help herself from thanking the company for the new experience, "AIM Global's free travel is so awesome! You won't have to think about everything, from transportation, airfare, and hotel accommodation! Our hotel is so beautiful! I really can't think of any bad things to say! And the food! There is no shortage of food!"
The third batch of qualifiers for the Boracay trip, composed of 110 qualifiers, have already flown to the paradise on April 10-12, 2019 and enjoyed their luxurious vacation filled with fun activities.
For the second trip to Palawan, the other 100 qualifiers were brought to Puerto Princesa on March 17-19, 2019, where they experienced a breath-taking island-hopping tour, going from the main island to Pandan Island, Snake Island, Starfish Island, Cowrie Island and a lot more.
Seeing these hardworking individuals build each other up and exchange new experiences every time they huddle after a day of fun, the beautiful rapport between the qualifiers and the over-all love for the community is ultimately the greatest pay-off to the company.
And they have just started, and we won't be seeing the end of this amazing incentive travel program anytime soon. Because being true to its commitment of rewarding hardworking distributors, the company will be unveiling more incentive travels such as anticipated trips to South Korea, Japan, Dubai and Beijing, China in the coming months.
 ABOUT AIM GLOBAL
Founded by Network Marketing icons Raymond "John" Asperin, Engr. Francis Miguel and Dr. Eduardo Cabantog in 2006, Alliance In Motion Global (AIM GLOBAL) is the leading direct sales network marketing company in the Philippines. The company markets and distributes top of the line Nutraceutical supplements, weight loss wellness products, personal care and skincare products, functional beverages and premium lifestyle products.
The company is a proud member of MLMIA (Multi-Level Marketing International Association) in USA, founding member of Direct Selling Association in Pakistan (DSAP) and Direct Selling Education Institute (DSEI) of Dubai, UAE.
AIM Global has 130 business center offices in the Philippines and has global offices in 19 countries namely Hong Kong, Singapore, Taiwan, Brunei, Papua New Guinea, UAE, Kuwait, Pakistan, Nigeria, Ghana, Kenya, Uganda, Togo, Ivory Coast, Cameroon, Tanzania and Rwanda.
AIM Global is categorized as "+AAA" business opportunity, Top 100 Solid MLM Direct Sales Company 2018-2019, Top 10 Momentum Direct Selling Companies 2018-2019, Founder/Director/CEO and Visionary President Dr. Eduardo Cabantog as one of the Ambassadors of Network Marketing – Hall of Fame 2018 by Business For Home, top awardee in the Direct Sales category of Asia Pacific Entrepreneurship Awards 2017 and winner at the International Innovation Award 2018 for its revolutionary Daily Payout System. For more information please visit www.allianceinmotion.com