Elepreneurs Featured In Networking Times
April 1, 2019
By Team Business For Home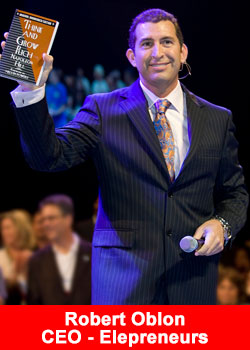 The Direct-Selling Industry is Abuzz with Elepreneurs.
Published by Gabriel Media Group, Inc., Networking Times is a bi-monthly educational journal that helps network marketing professionals build the right skill sets and mindset to be successful in their businesses. A proven training tool and credibility builder, Networking Times is also used as a prospecting tool, providing powerful third-party validation for the network marketing business model and profession.
As a pioneer in the direct selling industry, Robert Oblon well understood the empowerment people experience from taking the reins on their future. And just a little more than a year ago, he founded Elepreneurs, a company dedicated to elevating the health, wellness and happiness of others.
That fresh approach has earned the company plenty of industry press, including the cover story and a variety of other articles in the latest edition of Networking Times. The magazine's spring issue details Elepreneurs' founder and CEO Robert Oblon's success and the meteoric rise of his company in the cover story, titled
"Elevating Health, Wealth and Happiness."
The magazine also features notable Elepreneurs and their successes. Excerpted in the issue is author, psychologist and happiness expert Shawn Achor's latest book "Big Potential."
Several Elepreneurs Triple Crown Ambassadors—including Mark and Judy Willodson, Lori Windham, Ricky Durant, and Brittany and Joseph Beck—share their successes in the issue, and the world's most renowned motivational speaker, Les Brown, offers his advice on facing challenges head on.
As one of the fastest-growing direct-selling companies in the world right now, Elepreneurs gets much-deserved accolades in the spring 2019 Networking Times edition. Find the latest copy online now!
About Elepreneurs
Elepreneurs is on a mission to elevate your health, wealth, and happiness. We help you elevate your life through patented nutritional products, life-changing virtual success training, and a unique rewards program.
Elepreneurs actually builds happiness right into our powerful nutritional products.
The superior, scientifically backed ingredients stimulate the happiness hormones — dopamine, oxytocin, serotonin, and endorphins — which we refer to as D.O.S.E. For more information, visit www.elepreneur.com.