Hilary Didier Thrives With Direct Selling Company Total Life Changes
April 17, 2019
By Nicole Dunkley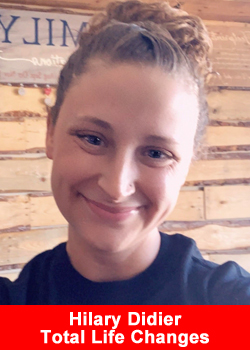 "Can't stop, won't stop" is Total Life Changes (TLC) Global Director rank Hilary Didier's business motto, and as a mother of 6, she truly doesn't stop.
Hilary's mother, Leigh Roberson, a TLC National Director herself, introduced Hilary to TLC in May of 2017. After a bit of research on the company, as well as the products, Hilary was hooked and enrolled to begin her own journey as a Life Changer.
Hilary grew up in the Fort Wayne, Indiana area and currently lives there with her husband and six children. Her family is one of the reasons she wanted to join Total Life Changes, and it's why she continues to work so hard at her business.
They are my biggest and most important WHY! 'Can't stop, won't stop' is my mindset when it comes to my business because my 'why' is way too big to give up on. With my growing business, I can now help give them more in life. We are now able to donate more to church and school! I love being able to show our kids that giving is an amazing and important thing in life.
Besides allowing her to pass down important values to her kids, TLC has helped Hilary both financially and physically. On November 28th, 2018 she started her first '30 30 3 Challenge', a thirty-day challenge of thirty minutes of cardio for thirty consecutive days while consuming three impactful products from TLC.
She made it a priority to stay consistent with the products and with her activities. Like any human, she had good days and bad days, but she is down 42 pounds and continues to make total life changes every day!
Hilary not only has her hard work and dedication to thank, but also her team.
I would absolutely not be where I am today in this business without my TEAM and the amazing leadership of Phil Birchfield. Personally, I feel that growing your team overall is more important than just growing yourself. When you have a healthy growing team to surround yourself with you will ALL grow. I love my amazing team!
As a family of 8, you can imagine that finances get tight pretty quick — always too much month and not enough money. They were even close to losing their house at one point. TLC and Hilary's business has helped them stay up on their payments and help grow savings!
"This compensation plan plus hard work equates to incredible gains! I am a very proud LIFE CHANGER! I can not thank Jack Fallon, John Licari, all corporate staff and MY TEAM enough!"
With some time and effort, TLC truly provides people with a Total Life Change. Hilary looks forward to growing more in this business and helping others grow theirs.
About Total Life Changes
Total Life Changes is built on the same principles from our basement beginnings. We work hard every day to make sure our customers feel healthier and more energized, our employees feel inspired, and our Life Changers feel supported and excited. Our brand's foundation lies in our belief in each of our seven core values.
While operating by these seven core values, and changing lives around the world, we are accomplishing our purpose: Providing products and a community that you'll feel!