Ibüümerang Promotes Two Blue Diamonds In The First Month
April 26, 2019
By Team Business For Home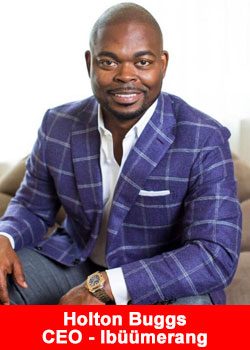 Holton Buggs' record-setting new company, ibüümerang, is proud to announce the promotion of two Blue Diamonds in their very first month. José Luis Rivas of Cancun, Mexico and Peter Hirsch of Dallas, Texas achieved this extraordinary accomplishment in their first month.
José Luis Rivas was born and raised in a middle-class family in Mexico City. He's the youngest sibling of 3.
Because his father died when José Luis was 12, by the age of 14 he was working to support his family. JoséLuis and his siblings started an office supply distribution company, and the result of this family entrepreneurship was one of the biggest commercial printing plants in Latin America.
In 2000 he married Maialen, the love of his life, and together they have 3 children, a daughter named Maialen and twin boys José Luis and Rafael. "Duplication starts at home" José Luis likes to say. In 2005 a Category 5 hurricane, Wilma, hit Cancun and José Luis and his family lost everything: their house, business, money and dreams.
That same year Maialen was introduced to network marketing. José Luis supported her new endeavor but was not excited about building the business until Maialen started to earn more money than him, at which point he was all in. Together they experienced tremendous success over the following years in network marketing, reaching top ranks and becoming multiple million-dollar earners in this industry.
José Luis adamantly states,
"If you follow a product you can make money, but if you follow a vision and leadership you can make a fortune. That's why we chose without hesitation to join ibüümerang under the leadership and mentorship of Holton Buggs". Their goal is to create 100 millionaires in the next 3 years.
Peter Hirsch grew up in New York and always knew he wanted to be a lawyer, modeling himself after his literary hero, Atticus Finch. After graduating at the top of his class from Yeshiva University School of Law in New York City where he was an Editor of The Law Review, and working at one of the nation's premier law firms, Cravath, Swaine & Moore.
Peter knew that how he envisioned his practice of law was simply not going to be a reality based on the industry norms. Since leaving the firm in 1992, Peter has consulted for, and helped a number of traditional and direct selling companies open markets throughout Latin America, Europe and Asia through political and business relationships.
A passionate Social Entrepreneur, Peter is also a sought-after inspirational speaker. Over 1,000,000 lives have been impacted by Peter's messages on "Success by Design, not Delusion," "Living the Significant Life," and "Thinking Outside the Bucks – Money, Possessions & Eternity." Peter has written five best-selling books, and is currently finishing his sixth book, co-authored with President Vicente Fox of Mexico.
When Peter introduced Holton Buggs to David Manning, CEO of Xstream Travel, he knew in his spirit that they were about to create the marketing marriage of the century. With Mr. Manning's knowledge of the travel industry, and Mr. Buggs' being the premier leadership expert in the network marketing space, Peter saw the future with ibüümerang as being genuinely unlimited.
True to his social entrepreneurship roots, Peter is most excited to be Chief Giving Officer of The Büüm Foundation, which has already provided 150,000 servings of proper nutrition to malnourished children around the world. Peter is also extremely confident that, under Holton's mentorship, he and Karen will develop a team of well over 1,000,000 Travel Savings Ambassadors within the next 12 months, helping thousands of people become financially free.
Together with his beloved wife Karen, they have no doubt in accomplishing their mission. As stated by Peter,
"We have a real opportunity to lift people up to levels of financial, spiritual and personal success they have never, ever experienced before.

To be able to do that while helping the most vulnerable children around the world is a privilege and responsibility we take seriously and believe ibüümerang is the perfect launching pad to make it happen."
About ibüümerang:
Launched in March 2019, ibüümerang is fast becoming a global leader in the travel and direct selling space. The mission of ibüümerang is simple: deliver good will in the form of travel savings and reward our Travel Savings Ambassadors (TSAs) with travel savings bonuses in cash. The vision is to create a consumer centric model focusing on an exceptional customer journey and experience.
By creating a worldwide movement of TSAs, we will empower people from all around the globe to live life to the fullest, earn residual income via the PRIB (Perpetual Residual Income Builder) and leave a legacy to future generations.
For more information on ibüümerang, its Chairman and CEO Holton Buggs, its top tier executive team and its revolutionary travel program, please visit the company website at www.ibuumerang.com.