Isagenix Celebrates 17 Years of Transforming Lives
April 3, 2019
By Nicole Dunkley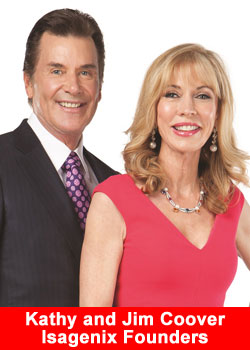 Direct selling company Isagenix International is celebrating 17 years of business and transformed lives.  The festivities included a limited-edition Birthday Cake Flavor IsaLean® Shake.  The company also offered a Caramel Latte Flavor IsaLean PRO Shake in February that sold out in just a few weeks.
Other product news this year includes the January launch of IsaBiome Daily Digestive Health System, which features probiotics and digestive enzymes that complement each other to support better daily digestion of meals and long-term gut health. The company expects to launch other new products later this year.
"It's amazing to look back at what Isagenix has accomplished during the past 17 years," said Isagenix Co-Founder and Executive Vice President Kathy Coover, who started the business with her husband, Isagenix Co-Founder and Chairman Jim Coover, and Isagenix Founder John W. Anderson in Tempe, Arizona.
"Our high-quality products and solutions have helped millions of customers and independent distributors achieve their health, wellness, and even financial goals. In fact, many customers have been featured for their incredible transformations in well-known publications including PEOPLE and Oxygen. We're honored to be part of our customers' journeys and stories, and we're excited to continue transforming lives for years to come."
17 Years of Milestones:
During its 17-year history, Isagenix has reached multiple milestones including:
2002: Founded in Arizona when Jim and Kathy Coover came out of retirement to start the business
2005: John W. Anderson began expanding outside the United States by offering products in Canada.
2007: Named Mark Macey as the first IsaBody Challenge Grand Prize Winner in recognition of his total-body transformation while using Isagenix products.
2013: Introduced plant-based IsaLean Shakes to offer customers a dairy-free shake option.
2015: Launched the AMPED line of performance products to support fitness and athletic activities.
2016: Moved into a new world headquarters in Gilbert, Arizona, that includes a 300-seat auditorium used by the company and sometimes guests for meetings and events.
2016: Launched an annual Global Give Back Day to unite customers and employees in giving back to their local communities and the environment.
2017: Debuted the Green Today for Tomorrow corporate sustainability initiative directed at becoming a more sustainable company and protecting the planet.
2017: Received the prestigious Direct Selling News Bravo Award for Leadership, awarded to Jim and Kathy Coover.
2017: Honored with the 2017 Arizona Corporate Excellence CEO of the Year award, given to Jim Coover.
2017: Had an economic impact of $1.6 billion in U.S. gross domestic product, supporting 14,155 jobs and producing $1.1 billion in labor income, according to a study by Arizona State University's Seidman Research Institute.
2018: In the United States alone, donated more than $1.2 million to a variety of causes, including Make-A-Wish and Girl Scouts-Arizona Cactus-Pine Council, and nearly $4 million in products (retail value) to food banks and disaster-relief projects.
2018: Launched the Heart Shake Booster and Immune Shake Booster, giving customers a convenient way to strengthen their heart health and immune system.
2018: Debuted the Essence by Isagenix Essential Oil collection, designed to help customers with health and wellness needs including relieving stress and supporting weight loss journeys.
2018: Launched the Isagenix Legacy Foundation to provide healthy nutrition and support for underserved children, wellness education for all, and aid for those affected by natural disasters, raising $2.3 million in the first 24 hours.
2019: Awarded the first Isagenix Legacy Foundation grants, totaling $665,400, to 16 U.S.-based nonprofits that serve people in communities as far away as Kenya.
2019: Launched the IsaBiome Daily Digestive Health System, which features probiotics and enzymes that are available in a conventional-diet formula for individuals with meat-inclusive diets and a vegetarian-diet formula for individuals with vegetarian diets.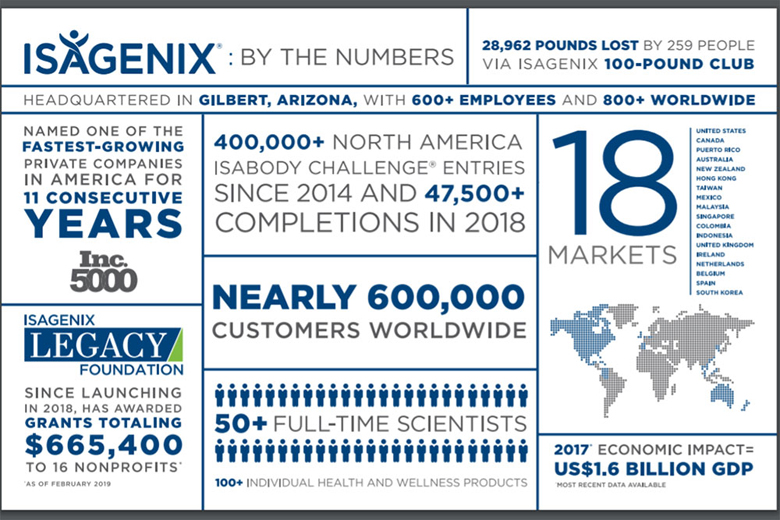 About Isagenix International
Established in 2002, Isagenix provides systems for weight loss, performance, vitality and well-being, personal care and beauty, and financial wellness. With nearly 600,000 customers worldwide and more than 100 life-changing products, packs, and systems globally, the company is committed to producing Solutions to Transform Lives. Isagenix shares its products and solutions through a network of independent distributors in 18 markets: the United States, Canada, Puerto Rico, Hong Kong, Australia, New Zealand, Taiwan, Mexico, Singapore, Malaysia, Colombia, Indonesia, the United Kingdom, Ireland, the Netherlands, Belgium, Spain, and South Korea. Isagenix is a privately owned company with headquarters in Gilbert, Arizona.