Phil Henseler And Eve Clare From Australia Achieve Black Diamond Rank With Successfactory – Dagcoin
April 30, 2019
By Team Business For Home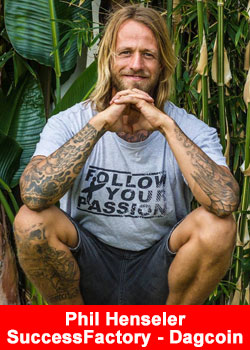 Phil Henseler has been a businessman in the traditional industry for a long time and, as an entrepreneur in search of greater freedom, he ended up finding it in network marketing. Eve Clare was a social worker who helped people and fell in love with the concept of cryptocurrency as a possible solution to the problem of the unbanked.
The couple makes up an excellent team as leaders of Success Factory – Dagcoin and members of the global team Success4All, founded and led by Igor E. Alberts and Andreea Cimbala. Phil, originally from Germany, moved to Australia in 2011 following his dreams of gaining more freedom and his passion for surfing. Since then, his life has changed, aligning much more with his desires.
"As an entrepreneur in the traditional industry, I gained a lot of experience in the business world, but I also felt that I had less and less freedom. There had always been too much work, responsibility and risk, but none of the benefits of owning a business. I didn't have vacations and couldn't afford to travel.

However, this year, Eve and I have travelled to many countries, with freedom and without the need to ask permission from anyone. Network marketing is the true business model of freedom."
Phil and Eve decided to be part of the Success Factory project in January 2018, through the concept of Dagcoin. Eve Clare got impressed by what Kris Ress, the Chief Visionary Officer of Success Factory, explained about the poor regions in contrast to the rich regions of the world.
"I had always been interested in the world of cryptocurrencies because of their potential, but it was the first time I saw one that had the power to give people access to the global financial system without borders. The concept of cryptocurrency has suffered great harm due to manipulation and greed, but I saw that Dagcoin was doing just what a cryptocurrency should do: give usability and accessibility to all people.
 I met Kris Ress at one of the first events. I had the certainty that someone with his vision and his leadership was capable of reaching what he was aiming at. We spent some time with Kris and Nils Grossberg and saw that this company is going to leave a mark on the world." After learning about the leaders who were joining the opportunity, the couple decided that they should be part of it, too.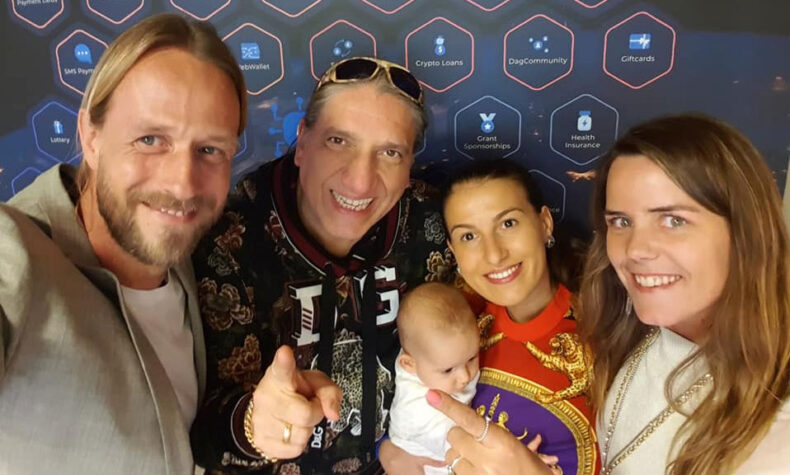 "Kari Wahlroos has trained us to achieve our goals, Igor Alberts and Andreea Cimbala are role models for us and the entire network, they are an example of what is possible when you have a dream and put action to make it possible. We are happy to work with them, they invited us to spend time at their home in Amsterdam where they taught us a lot.
 Above all, they taught us that everything is possible when you put the desire into action & hard work into place. We are grateful to our friends Vlad and Luminita who introduced us to the company and to Success4All. It is a privilege to be part of this great circle of successful, committed and open-minded people." As part of Success Factory, both have reached the rank of Black Diamond and were recognized as strong leaders, committed to their goals and their team.
But for them it is only the beginning. Phil and Eve are already setting new goals and are working with entrepreneurs around the world to create success for others. They take pride in devoting much of their efforts to supporting each member who joins the community so that they can achieve the level of success they desire. Although the couple started in Australia, in addition to leading a great team Down Under, they are taking their leadership to other countries all over the world. Phil is focused on taking the opportunity to his native Germany, where he knows he can change many lives.
"Living by the famous quote, the best way to predict the future is to create it. It doesn't matter where you come from, it only matters where you go. We see that our role in the company is to educate people on the future of one of the newest & largest industries.
It is a great responsibility, and we want to see a change and shift in the world towards equal opportunities in all corners of the world. To close the gap between the rich and the poor.

Every person on this planet, no matter the nationality, should have the right and an equal opportunity to achieve success."
Both are also proud members of the Circle of Champions, a group of outstanding leaders in the company honoured for their performance, designated to closely collaborate with the corporate staff and to create standards of work and leadership that would expand throughout the rest of the network.
About Dagcoin
We are a growing and ambitious team based in Estonia, and our goal is to provide a new alternative currency for everyday use to create a common currency.
Our team is doing it by making cryptocurrency payments lightning fast, keeping the transaction fees unnoticeably low and creating a system as easy-to-use as possible.
When we talk about IT development, then this is a continuous never ending process because we live in the era of technology and there are so many bright minds in the world who come up with brilliant ideas all the time. We aim to implement as many of them as possible in our system. For more information please visit www.dagcoin.org