Total Life Changes' Named One Of the Best Place to Work In 2019
April 30, 2019
By Nicole Dunkley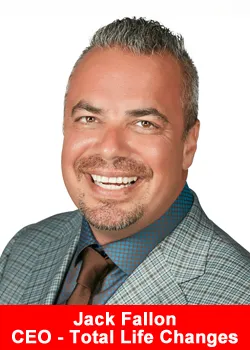 Total Life Changes' mission is simple: to provide Life Changers (independent representatives) and their customers with a diverse set of products that are easy to sell and healthy to share.
By doing so, they have harvested a health and wellness community made up of thousands of people all over the world and allowed them to build a brighter future. It is exactly this kind of passion and practice that has allowed TLC to be named one of the best places to work by the Direct Selling News in partnership with Quantum Workplace.
Great companies have a clear sense of direction and a vision their employees connect to, care about and support, even when nobody's watching. Your culture is perhaps your most important point of difference, beyond your products and business opportunity.
TLC has not only focused on their products and business, but a more important part of their success is their sense of community and company culture. In fact, after working with a brand therapist, they have recently introduced a new set of core values, which has had a positive impact on the work environment.
TLC's Core Values
We are always hungry for more.
Passion is our fuel.
Having fun, we get more done.
We love each other. Period.
Grateful is our mindset.
Our standard is giving more than what is expected.
We don't just do what's easy. We do what's right.
TLC displays these core values and their positive company culture every Friday at 2 pm EST for their "Fun Fridays". There, TLC's executive staff goes live on Facebook to recognize the top retailers, top enrollers, best weight loss testimony, and new ranks that were achieved the previous week.
They also throw in some fun incentives, dance parties, and popular deals to keep it interesting (and fun). Tune into Facebook Live with TLCHQ on Fridays and you will see why Total Life Changes calls themselves one big happy team (family).
What's their secret to being one of the best places to work?
"Our top priority for maintaining a great work environment is being honest and transparent with each other and letting all of our employees know that we are here to support them daily." – Scott Bania, Chief Communications Officer
About Total Life Changes
Total Life Changes offers products and a community that "You'll Feel!" Founded by former Ford Motor Company employee, Jack Fallon in the basement of his home in 1999. Formally launched in 2003 as Total Life Changes, LLC with COO, John Licari. Together they have inspired hundreds to join their corporate team around the world.
Sharing a vision and a passion for changing peoples lives through high-quality, affordable products that work. Special recognition of these accomplishments includes reaching the DSN's Top 100 Global Direct Selling list, the voted #1 global direct selling product (Iaso® detox Tea, 2015), a solid A+ rating from the BBB, and AAA+ Business Opportunity (BFH, 2019).
For more information visit www.Lose5in5.com and get ready to "Feel It" for yourself.