VYVO Launches Worldwide With 3 Wearable, Blockchain-enabled Technological Devices
April 18, 2019
By Team Business For Home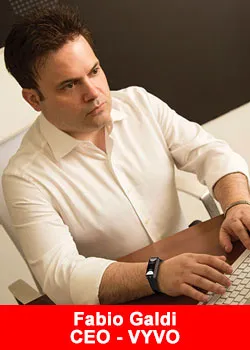 The official worldwide launch of VYVO has just been completed in 5 days of exhilarating live events and global video conferences.
These launch events accomplished a global footprint in sharing the elevated vision of VYVO and stirred great excitement with some very significant new technology announcements.  The success of this VYVO launch exceeded all expectations while at the same time emphasizing the distinctive and unique nature of this powerful story within the network marketing profession.
The massive momentum which VYVO has gained in Asia is noteworthy. With dramatic live events in Tokyo and Osaka, Japan, and Taipei, Taiwan, VYVO shared their explosive launch vision and story with more than 2,000 people.
Not to mention the broad impact of two impressive worldwide video conferences that saw representation from every continent on the earth with the exception of Antarctica.
Fabio Galdi, President and CEO of VYVO, strongly reasserted the Company's core technology identity and gave a crystal clear Vision Statement that will guide VYVO's direction in the coming years:
"To Become one of the most innovative and Influential technology companies in the world in the next five years."
A great and ambitious vision, but certainly within reach of this pioneering company as VYVO brings to the world marketplace multiple solutions that will have distinct benefits to customers and business partners around the world.  The first outstanding news that was shared during these historic launch events was the introduction of an innovative new product line.  This new line consists of 4 technological achievements that are the result of intense and deliberative research and development initiatives.
VYVO Worldwide Launch,  dynamic vision of a Technological Revolution paired with personalized health and wellness
The first three of these innovative products are wearable, blockchain-enabled technological devices: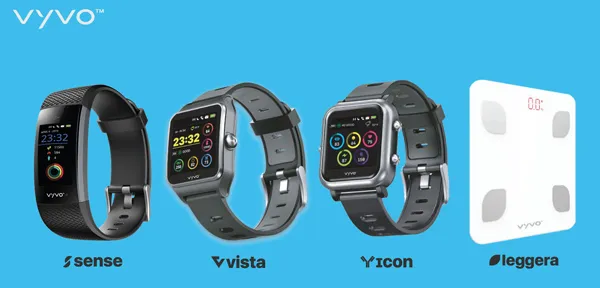 VYVO Sense, a state-of-the-art Smart Band that heightens your senses and listens to your body's voice.  Its health-oriented features make this device the perfect companion for everyday.
VYVO Vista and VYVO Icon, the lead-off inventions of the Company's new smart watch category represent a significant evolution in the personal tech category. The Vista is oriented to Wellness and the Icon is oriented to Health. They both guarantee a complete and comprehensive measurement experience of personal biometrics powered by the latest technology enhancements.  Both devices will also be equipped with an NFC contactless payment capability to pay at any wireless Point of Sales location. Easy, fast, secure and convenient describes the new VYVO Pay functionality.
VYVO Leggera, a "next century" smart scale that automatically tracks your weight trends and performs a complete BIA (bioelectrical impedance measurement,) and also measures 8 important parts of essential body health to date:  Weight, Moisture Rate (hydration,) Fat, Muscle Mass, Bone Weight, Visceral Fat, BMI (Body Mass Index) and BMR (Basal Metabolic Rate.)
All these devices can be managed in only one App that records, archives, and uploads all secure data in the LifeLog cloud, making them ready to be analyzed and contribute to the creation of VYVO's Oracle A.I. report and a personalized NutraPak supplement.
VYVO's official launch has created a worldwide buzz of excitement and anticipation. The momentum that is already being created by this brand new company is a strong indication that VYVO is going exactly in the direction of the above Vision Statement. With this completed launch, VYVO has clearly positioned itself in a very large market area:
Technology applied to personalized health and wellness.  In taking a leading role in this sector, VYVO is focused on developing consumer-oriented products that protect, monitor, and empower people to improve their health through daily knowledge and informed choices.  This technology and product mission perfectly matches the network marketing soul of the company, expanding the concepts of personal growth and development, not only focusing on health but also on prosperity and economic well-being.
About Vyvo
Vyvo headquarters are based in Singapore, with US offices in Miami, Florida, and Provo, Utah. With a robustly expanded vision and as a result of a highly successful rebranding, World Global Network now joins legions of legacy companies whose elevated market positioning required a strategic new brand identity.
Vyvo stands apart as a fast-growing company and a leader in the Network Marketing Industry. In its ten offices distributed across the globe, Vyvo employs the brightest minds, the best professionals and highly motivated personnel to drive its business forward with the most exceptional quality and creating sustainable and valuable opportunities for its distributors worldwide.
Using innovative products and a proven, direct selling business model, Vyvo helps its distributors around the world to transform their lives, their livelihoods, and that of their loved ones.