#1 Ranked MLM Millennial Couple, Chad And Nattida Chong, Lead The Field At ByDzyne
May 1, 2019
By Team Business For Home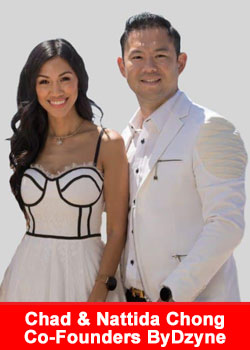 Over the last 2 weeks, ByDzyne raised eyebrows in the industry by starting to reveal what they have been working on behind closed doors for many months; beginning to unveil the very experienced Corporate Team they have assembled.
Now ByDzyne is proud to officially introduce Chad and Nattida Chong, Founding Brand Ambassadors and company Co-Founders. Chad and Nattida will be providing integral leadership and training to the field as well as representing the Brand Ambassadors by holding a seat on the Board of Directors.
Chad & Nattida come from a family of successful entrepreneurs and made their mark in the industry early, earning their first million in their twenties. Their fresh, creative approach has led to numerous brand innovations and they are known for their contagious energy, passion, determination, and perseverance.
They have a passion for creating and working with teams. As international trainers and success coaches, they have been instrumental in countless people's lives, helping many achieve and often surpass their financial aspirations.
With over 38 years of combined experience in relationship marketing and global expansion, Chad & Nattida have developed impressive organizations throughout USA, Asia, Europe, and Australia.
Between 2017-2018 they ranked #4 on the Global Network Marketing Earners list, and during that same time, they ranked as the #1 Millennial Couple Earners in the industry (according to BusinessForHome.org). They are also ranked on the Top 200 All-Time MLM Earners List.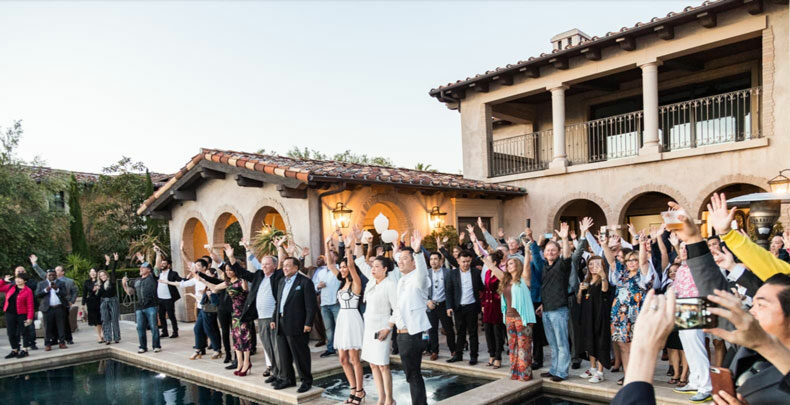 Chad & Nattida recall how they came up with the concept for ByDzyne:
"On Nov. 30th, at exactly 12:49am, we were reflecting upon our years spent in the industry and we came to the realization that despite our success, we had fallen short of our long-term industry goals.
We recounted that every time we fell short largely due to unfortunate circumstances within the company that despite our best efforts, were not within our ability to change.
So we asked ourselves, why couldn't there be a company that could be truly different, and that could provide customized solutions for leaders in various countries– something catered to each unique culture, and the way each people group around the world prefer to do business? Why couldn't there be something "by design".
Then it clicked. We looked at each other and we knew we had the name for the company: ​ByDzyneTM​ (our company philosophy of designing a legacy starts with the spelling of our name.)
Our heart is to build ByDzyne to be a place where our members feel that their voice is heard and are an integral part of a community where they know they are valued and feel a sense of unity.
We are creating a culture where people are lifted up and empowered. We are forming a community where people feel part of a family, and where the very founders of the company lead by example and always seek to do the right thing.
It is this congruency between Corporate and the Field that is woven into the very fabric of ByDzyneTM. We take fighting for this level of unity and like-mindedness very seriously, which is why we have structured the Corporate Team and Board the way we have.
We are creating ByDzyne to be a company that appeals to the young and old, with multiple product verticals and innovative, trend-setting products within each category. We will always be evolving, always staying ahead of the curve, and always staying relevant. We want ByDzyne to be a home for people where they never feel stuck and there is always something exciting going on that they can get behind.
ByDzyne was born out of necessity. We love this industry and we love the freedom and lifestyle it has provided for the thousands of people we have worked with. We simply had to build something that would embody why we joined this profession– to bring a legacy company to those we care about, providing a long-lasting home for many in our business family. We felt we owed it to them. It is our honor to serve, working day and night to make this dream become a reality and a shining light for many who likewise are passionate about network marketing. It is for these reasons we continue to be loyal Ambassadors in this profession.
We have learned this phrase recently: 'You can't build a bridge to a place you've never been'.
We have hand-picked our Corporate Team because many have previously been involved in building multi-billion dollar companies, some even breaking industry sales records at that time. Our goal with ByDzyneTM is to be the fastest company to reach a Billion dollars in sales, breaking all previous records. We sincerely hope you don't just sit and watch it happen, but jump in and be part of the reason why we reach our goals."
With their strong work ethic and concrete understanding of the business, combined with their passion for helping others, Chad and Nattida have set new goals with ByDzyne; to reach beyond their previous achievements, and to leave a lasting, positive impact on the planet.
Through their distinctive, fun, and natural way of training, Chad and Nattida will serve as instrumental field leaders at ByDyzneTM, and look forward to building a legacy company that will be a darling of the industry.
About ByDzyne
ByDzyne's multi-faceted approach disrupts the traditional industry model by first understanding that one size DOESN'T fit all. You were born into a particular culture, with unique tastes, interests, and desires. ByDzyneTM was created with a mission to celebrate your uniqueness and empower your extraordinary potential.
Our exceptional "culture-crafted" products meet distinct needs in key consumer markets, and our lucrative business opportunity was formulated to fuel your ideal lifestyle, as YOU see fit. Our visionary leadership wanted to create an unparalleled company with your individual needs in mind, whether as a consumer or Brand Ambassador. This customizable approach is a driving force that propels everything we do and will do in the future.
We are launching into not one but FOUR of the fastest growing multi-trillion dollar industries, creating one of the most explosive opportunities in the market, starting with technology, beauty, wellness, and travel. Our mission is to continue to expand our global footprint into multiple verticals to maximize your income opportunities, capitalize on trends, and gain market share in upcoming industries as they advance. Soon we will be adding a digital category to our product lineup, further strengthening our value proposition.
Through ever-evolving innovation, and with utmost integrity, our experienced Corporate Team strives to stand apart from the pack, and build a legacy you can be proud of; one you can truly call home.
We are ByDzyneTM. Where limitations don't exist. For more information please visit www.bydzyne.com