AIM Global Côte d'Ivoire Celebrates Second Triumphant Year Of Success
May 7, 2019
By Team Business For Home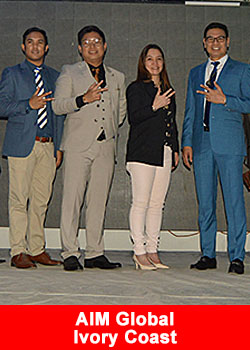 For the French translation please scroll down.
Côte d'Ivoire also known as Ivory Coast is a country located on the south coast of Africa with estimated population of 25 million currently.
Côte d'Ivoire history is the evidence of how they managed to survive and rise up again from many years of crises their country have experienced. That's why Alliance In Motion Global is highly proud to open its branch in Abidjan last 2017 and now celebrating two years of triumphant success, this in able to give more hope and create more life champions.
A great show of unprecedented leadership and teamwork were very evident in AIM Global's first quarter series of international events held in Côte d'Ivoire with the supportive attendance and participation of the company's Vice President for Training and Network Development Arnel Limpin together with international trainers, Miko Imson and Perry Tapales.
To start the celebration of the second anniversary of AIM Global Côte d'Ivoire, over 1,000 Ivorians attended the AIMcademy Côte d'Ivoire Training led by the company Vice President for Training and Network Development Arnel Limpin at the Espace Triangle in the city of Abidjan last March 22, 2019.
"Believe in yourself because you are all a champion! If you are a champion, you deserve a good life! If you were born poor, it is not your fault. But if you die poor, that is your fault!

Forget the past, what's important is today. You are the new you, you are the new champion of AIM Global."
Stated Vice President for Training and Network Development Arnel Limpin.
Mr. Limpin shared his experiences on how he got involved in the MLM business. He did this to show the attendees, specially the beginners, that it takes hard work and patience to be successful. He also imparted helpful tips about the business and the basics of the network-marketing industry.
While one of the company's well-respected international trainer, Miko Imson passed on some of the tried and tested pointers about leadership. Miko Imson, at one point, reminded the attendees that
"the number of people that you could reel in and the number of people that you could duplicate depend on the level of your leadership."
Its Recognition Rally held the next day, March 23, 2019 at the Espace Crystal in Abidjan, was witnessed by 1,000 distributors. The prestigious event awarded 1,065 Silver Executives, 139 Gold Executives, 43 Global Ambassadors, 21 new members of the Millionaire Circle and the Top 20 Ivorian leaders with N. Kouame securing the top spot while K. Tiefino and Z. Bruno nabbed the second and third spot, respectively.
Two-day Special Trainings at the CERAO with Chief Marketing Officer John Asperin and company Vice President Arnel Limpin. Together they both gave importance to leadership and teamwork at the talks they shared to combined audience, over 1,000 distributors.
ABOUT AIM GLOBAL
Founded by Network Marketing icons Raymond "John" Asperin, Engr. Francis Miguel and Dr. Eduardo Cabantog in 2006, Alliance In Motion Global (AIM GLOBAL) is the leading direct sales network marketing company in the Philippines. The company markets and distributes top of the line Nutraceutical supplements, weight loss wellness products, personal care and skincare products, functional beverages and premium lifestyle products.
The company is a proud member of MLMIA (Multi-Level Marketing International Association) in USA, founding member of Direct Selling Association in Pakistan (DSAP) and Direct Selling Education Institute (DSEI) of Dubai, UAE.
AIM Global has 130 business center offices in the Philippines and has global offices in 19 countries namely Hong Kong, Singapore, Taiwan, Brunei, Papua New Guinea, UAE, Kuwait, Pakistan, Nigeria, Ghana, Kenya, Uganda, Togo, Ivory Coast, Cameroon, Tanzania and Rwanda.
AIM Global is categorized as "+AAA" business opportunity, Top 100 Solid MLM Direct Sales Company 2018-2019, Top 10 Momentum Direct Selling Companies 2018-2019, Founder/Director/CEO and Visionary President Dr. Eduardo Cabantog as one of the Ambassadors of Network Marketing – Hall of Fame 2018 by Business For Home, top awardee in the Direct Sales category of Asia Pacific Entrepreneurship Awards 2017 and winner at the International Innovation Award 2018 for its revolutionary Daily Payout System.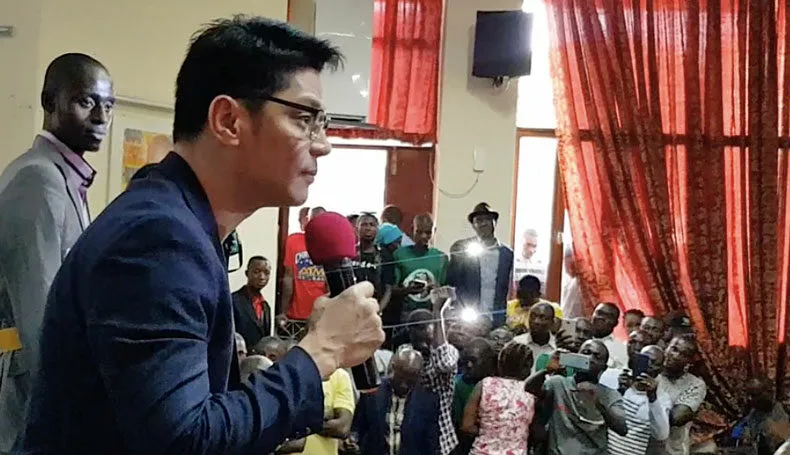 French version
AIM Global Côte d'Ivoire célèbre sa deuxième année de succès triomphal
La Côte d'Ivoire est un pays situé sur Afrique de l'Ouest avec une population estimée à 25,53 millions d'habitants. Le Pays est à féliciter pour son harmonie religieuse et ethnique et aussi pour son économie bien développée  depuis plus de trois décennies après la fin de la crise politique en 2011.
La Côte d'Ivoire a connu un succès remarquable en matière d'investissement étranger et de croissance économique; c'est le plus grand producteur et exportateur mondial de fèves de cacao et aussi producteur et exportateur important de café et d'huile de palme. L'extraction de l'or et l'exportation de l'électricité sont des industries en croissance en dehors de l'agriculture.
L'histoire de la Côte d'Ivoire est la preuve de la façon dont elle a survécu et ressuscité après de nombreuses années de crises qu'elles a connues. C'est pourquoi Alliance In Motion Global est très fière d'ouvrir sa succursale à Abidjan en 2017 et de célébrer maintenant deux années de succès triomphal, ce qui lui permet de donner plus d'espoir et de créer plus de vie de champions.
«Croyez en vous parce que vous êtes tous des champions! Si vous êtes un champion, vous méritez une belle vie! Si vous êtes né pauvre, ce n'est pas de votre faute. Mais si vous mourez pauvre, c'est de votre  faute! Oubliez le passé, l'important est aujourd'hui. Vous êtes le nouveau,  le nouveau champion d'AIM Global. »-
Vice-président pour la formation et le développement du réseau, M. Arnel Limpin
Un grand spectacle de leadership et de travail d'équipe sans précédent a été mis en évidence lors de la série d'événements internationaux organisée par AIM Global au cours du premier trimestre en Côte d'Ivoire, avec la participation positive de son vice-président de la formation et du développement des réseaux, M. Arnel Limpin, et des formateurs internationaux. , M. Miko Imson et M. Perry Tapales.
Plus de 1,000 Ivoiriens ont assisté à la formation AIM Académie Côte d'Ivoire animée par le vice-président de la société chage de la formation et le développement du réseau, M. Arnel Limpin, à l'Espace Triangle de la ville d' Abidjan le 22 mars 2019.
Limpin a partagé ses expériences sur la manière dont il s'est impliqué dans l'entreprise MLM. Il a fait cela pour montrer aux participants, en particulier aux débutants, qu'il fallait du travail ardu et de la patience pour réussir. Il a également donné des conseils utiles sur l'entreprise et les bases de l'industrie du marketing de réseau.
Pendant que l'un des formateurs internationaux les plus respectés de la société, M. Miko Imson, a transmettait certaines des indications éprouvées sur le leadership, il à un moment donné, rappelé aux participants que «le nombre de personnes que vous pouvez réinvestir et le nombre de personnes que vous pouvez dupliquer dépendent du niveau de votre leadership."
le 23 mars 2019 à l'Espace Crystal à Abidjan, a été vu par 1,000 distributeurs. L'événement prestigieux a récompensé 1 065 Silver Executive, 139 en Gold, 43 Global Ambassadeur, 21 nouveaux membres du Cercle des millionnaires et les TOP 20 plus grands LEADERS  ivoiriens. Mr. A. Kouame a assuré la première place, tandis que Mr. K. Tiefing et  Mr. Z. Bruno a décroché les deuxième et troisième places, respectivement.
Deux Formations spéciales ont eu lieu de jours au CERAO avec le directeur Marketing, M. John Asperin, et le Vice-Président de la société, M. Arnel Limpin. Ensemble, ils ont tous deux accordé de l'importance au leadership et au travail d'équipe lors des entretiens qu'ils ont eu  avec un public combiné, plus de 1,000 distributeurs.
À PROPOS D'AIM GLOBAL
Fondée par les icônes du marketing de réseau dont Raymond «John» Asperin, Engr. Francis Miguel et le Dr Eduardo Cabantog en 2006, Alliance In Motion Global (AIM GLOBAL) est la principale société de marketing de réseau de vente directe aux Philippines. La société commercialise et distribue des suppléments nutraceutiques haut de gamme, des produits de bien-être pour la perte de poids, des produits de soin et de soin de la peau, des boissons fonctionnelles et des produits de style de vie premium.
La société est fière d'être membre de MLMIA (association internationale de marketing à plusieurs niveaux) aux États-Unis, membre fondateur de l'association de vente directe au Pakistan (DSAP) et de l'institut d'éducation de vente directe (DSEI) de Dubaï, aux Émirats arabes unis.
AIM Global possède 130 centres d'affaires aux Philippines et dans 19 pays, à savoir Hong Kong, Singapour, Taïwan, Brunei, Papouasie-Nouvelle-Guinée, Émirats arabes unis, Koweït, Pakistan, Nigéria, Ghana, Ouganda, Togo, Côte d'ivoire, Cameroun, Tanzanie et Rwanda.
AIM Global est classé dans la catégorie opportunité commerciale «+ AAA», parmi les 100 meilleures sociétés de vente directe MLM 2018-2019 et parmi les 10 meilleures entreprises de vente directe 2018-2019, fondateur / directeur / PDG et président visionnaire, le Dr Eduardo Cabantog, l'un des ambassadeurs of Network Marketing – Hall of Fame 2018 de Business For Home, premier lauréat dans la catégorie Ventes directes des Asia Pacific Entrepreneurship Awards 2017 et lauréat du International Innovation Award 2018 pour son système révolutionnaire de paiement quotidien.