AIM Global Fiji Pre-Launch Events With 1,200 Leaders
May 11, 2019
By Team Business For Home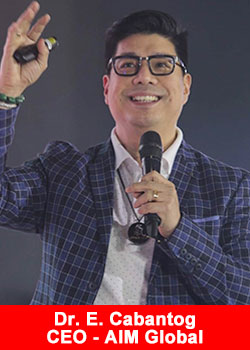 The location of Fiji at the central Pacific Ocean has made it both a destination and a crossroads for migrations for many centuries. Famed for its rugged landscapes, palm-lined beaches and coral reefs with clear lagoons, Fiji is an archipelagic country in the South Pacific with more than 300 islands with a 900,000 inhabitants.
That is where Alliance In Motion Global enters the picture. The MLM-giant has proved time and again that the company is open to any nation when it comes to helping lives and creating extraordinary leaders out of ordinary people.
Last March 30, 2019, the Grand Pacific Hotel in Suva, Fiji served as the venue for AIM Global's big Opportunity Plan Presentation and New Distributors Orientation.
Over 1,200 Fijians attended the event to meet and learn from Chief Executive Officer & Visionary President Dr. Ed Cabantog, Vice President for Business Development Engr. Jurgen Gonzales, ALIVE Foundation Chairperson & Director for International Affairs Dr. Connie Cabantog and International Trainer Mr. Ariel de Guzman.
AIM Global launched its official Global Package and Marketing Plan for Fiji, followed by an extensive Leaders Training nonetheless led by their Chief Executive Officer Dr. Ed Cabantog, company Vice President Engr. Gonzales and International Trainer Mr. de Guzman.
"As soon as you encounter AIM Global, it's a new world, it's a new beginning, it's a new hope, it's a new fate, and it's a new opportunity."
– Chief Executive Officer & Visionary President Dr. Ed Cabantog
As one of the biggest and fastest growing MLM company in the world, AIM Global is helping the populace of Fiji how to earn in their own country by providing them the hope for a better future and the insights to the direct-sales marketing industry and the company itself.
AIM Global Executives encouraged the new distributors to work hard as the lucrative industry will reward those who hustle, showing them that with AIM Global, they can have unlimited earning possibilities.
They also taught them how to make smart moves in the business, and to believe in the superior product lines of the company as these products also represent them and the company.
When asked about his prediction of AIM Global in Fiji, Engr. Jurgen Gonzales projected that
"AIM Global is the next big thing in Fiji because of the reception of the people in Fiji. They are very receptive people."
Fijians, regardless of age, ethnicity, or social status are always ready to give tourists and other people a warm welcome the moment they take a step in their land. And as one of the larger Pacific Island countries in the region, Fiji's friendly and welcoming nature is a great quality as a nation.
This could lead to a much-needed strong camaraderie and solidarity with their neighboring countries in their region. Everyone will have a chance to achieve success in the network-marketing industry if they are all working on taking the right direction as they already have learned from Alliance In Motion Global's organized trainings and events specialized for the Fijian people.
ABOUT AIM GLOBAL
Founded by Network Marketing icons Raymond "John" Asperin, Engr. Francis Miguel and Dr. Eduardo Cabantog in 2006, Alliance In Motion Global (AIM GLOBAL) is the leading direct sales network marketing company in the Philippines. The company markets and distributes top of the line Nutraceutical supplements, weight loss wellness products, personal care and skincare products, functional beverages and premium lifestyle products.
The company is a proud member of MLMIA (Multi-Level Marketing International Association) in USA, founding member of Direct Selling Association in Pakistan (DSAP) and Direct Selling Education Institute (DSEI) of Dubai, UAE.
AIM Global has 130 business center offices in the Philippines and has global offices in 19 countries namely Hong Kong, Singapore, Taiwan, Brunei, Papua New Guinea, UAE, Kuwait, Pakistan, Nigeria, Ghana, Kenya, Uganda, Togo, Ivory Coast, Cameroon, Tanzania and Rwanda.
AIM Global is categorized as "+AAA" business opportunity, Top 100 Solid MLM Direct Sales Company 2018-2019, Top 10 Momentum Direct Selling Companies 2018-2019, Founder/Director/CEO and Visionary President Dr. Eduardo Cabantog as one of the Ambassadors of Network Marketing – Hall of Fame 2018 by Business For Home, top awardee in the Direct Sales category of Asia Pacific Entrepreneurship Awards 2017 and winner at the International Innovation Award 2018 for its revolutionary Daily Payout System.