ByDzyne Opens Thailand and Attracts Over 2,500 Attendees From 14 Countries
May 25, 2019
By Team Business For Home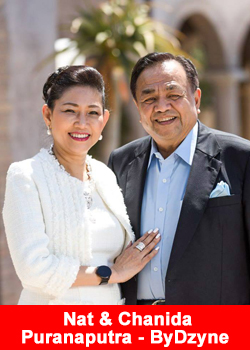 After just two weeks of going live, over 2,500 people descended in Bangkok, Thailand on May 19th for the first ever ByDzyne™ grand opening dubbed The 'Big Reveal'. 
It was a historic event; the official start to ByDzyne™ – a company that launched on May 2nd2019 and has already had an extraordinary start creating ripples throughout the industry as one of the most epic and refreshing companies to explode onto the Network Marketing scene in decades.
Kicking off the event were the co-founders of the company including Thailand's own Nat & Chanida Puranaputra – Chairmen & Co-Founders of ByDzyne™. More than once they have held the titles of Top Income Earners and Leaders of the Year in their respective companies, and in their last company became the #2 Global Direct Sales Earners in the entire world, doing so in just under a year. 
On stage they expressed their passion for the industry and how ByDzyne™ will undoubtedly disrupt the stagnation that exists in the network marketing industry today, through its continually evolving product verticals, Brand Ambassador and customer focused values, and it's global directive. A true place to call "home" for the future of industry leaders worldwide, for generations to come.
We wanted to open a company that will do everything ByDzyne™. This is it, this is our vision.

As products evolve and the future of the industry continues to change, ByDzyne™ will continue to be a trendsetter, always evolving. 

This is our vision and our goal. To build this company for you (Brand Ambassadors)." 
stated  ChanidaPuranaputra.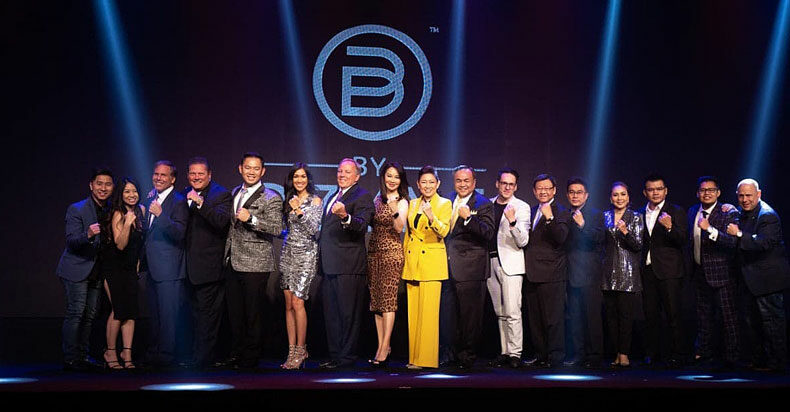 The heart, passion, and commitment of the executives was deeply felt as Henry Marsh, Executive Vice President & Co-Founder, and Sophia Wong President & Co-Founder took to the stage. Henry, who is most known for breaking industry sales records, climbing to over $2 Billion in sales in just five years with his former company MonaVie, inspired the audience with his achievements and how he overcame setbacks and challenges as a former Olympian. 
Sophiaat tested her phenomenal success over the past 18 years to her mother's core values (Mrs. Wong attended the event alongside Sophia) of hard work, tenacity, strength, and entrepreneurship whichpropelled Sophia's career beyond obstacles. They shared their stories of challenges and setbacks in their careers, but more importantly, how they used them to do better, be better, and to triumph to new levels of success beyond their dreams.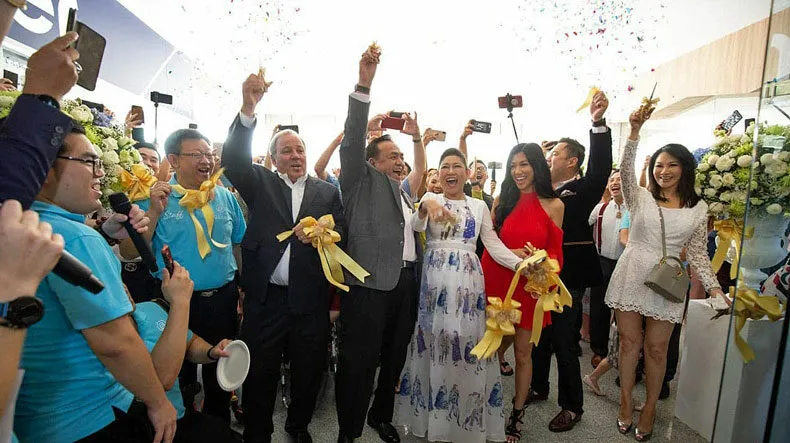 Sophia personally expressed her gratitude to the industry for making her the success that she is today, vowing a commitment to solidify and unify a cohesive relationship between the corporate and leadership teams, with a strong vision and purpose for the company. "The universe is the limit to where we will take ByDzyne™ together," said Sophia. Their stories and heartfelt words infused unity, persistence,and perseverance in the audience who left the event charged up and ready to create their own business ByDzyne™.
Antonio De Rosa, Head of the Technology Board, also graced the stage of the event expressing his gratitude for being a part of a company that was foreword thinking, with a focus on building adigital and technology legacy unlike one that's ever been seen before, starting with the introduction of the tůw Smartwatch.
One of the most exciting verticals that created a massive buzz amongst Brand Ambassadors was the free travel vertical. Rob Baker, Head of Travel Advisory Board, brings 23 years of unrivaled travel industry experience to ByDzyne™, creating a multi-faceted travel platform that people can truly save, earn, and travel with for free. A platform that guarantees the lowest prices on hotels, cruises, vacation packages, car rentals, and much more.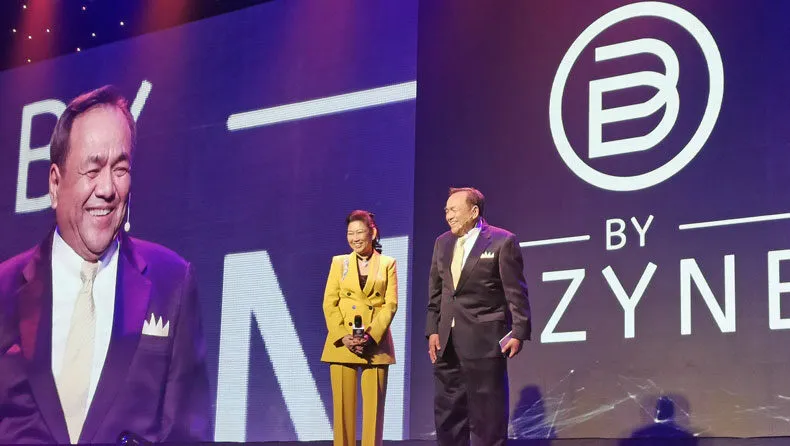 Through the Travel Savings Gift Vouchers and 10% Customer Acquisition Bonus, ByDzyne™ Brand Ambassadors not only save but now have an additional prospecting tool developed in a way no other Network Marketing company has been able to achieve before. This is just the beginning, and as Rob described the roll out of future phases of the travel platform, ByDzyne™ will undoubtedly dominate the industry in yet another vertical – travel.
The two day event brought together crowds representing 14 countries from around the world, all who were extremely excited to see for the first time the highly anticipated ByDzyne™ flagship products; the Xceler8 beauty product line, the tůw Smartwatch, CBD, and the free travel program – set to be game-changers in the industry. 
It was a momentous event where ByDzyne™ Founding Brand Ambassadors & Co-Founders Chad & Nattida Chong unveiled a brand new wellness product just two weeks after the company launched and ahead of the scheduled June shipment of its main product line. 'SAFF' is the newest ByDzyne™ wellness weight loss and diet control supporter formulated from vegetarian and gluten-free ingredients and infused by Saffron. Made available for sale during the event, it created a frenzy in the event as attendees rushed to be the first to purchase the product.
"We created SAFF keeping in line with the vision of ByDzyne™ to be a culturally-inclusive and culture-specific company. Even with our four product verticals (beauty, tech, CBD, travel) we knew how valuable this product would be for the Thailand and South East Asia markets. 
This is why we launched SAFF in Thailand just two weeks after we went public, with a vision for global domination on the horizon." 
stated Nattida Chong.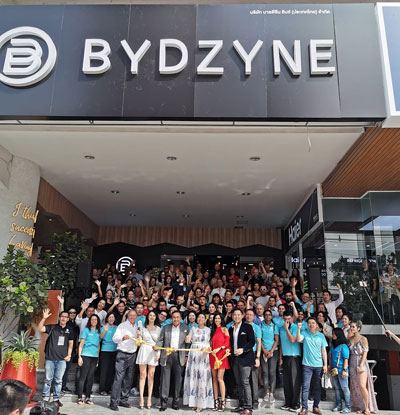 On the heels of the company's Beta Phase launch, the first two weeks has already well surpassed all expectations with multiple rank advancements being recognized on stage. 
Brand Ambassadors have created incredible momentum by producing eight Diamonds, five 2-Star Diamonds, three 3-Star Diamonds, five Presidents (Minimum of USD $200,000 in sales in a 2 week cycle), and three 2-Star Presidents (Minimum of  USD $400,000 in sales in a 2 week cycle), and the cycle hasn't even ended yet. 
As a result and with ByDzyne™ Corporate's commitment to providing the best Lifestyle & Rewards plan, Chad & Nattida Chong announced the first leadership incentive trip to Los Cabos and the company's first corporate convention in Las Vegas, both to be held in October this year. 
These events promise to be a monumental portrayal of the future of ByDzyne™.
"After 32 years in this industry I've seen a lot, built with a lot of companies, and what I've realized is that it is energy that builds a network marketing company. Companies don't always have the correct corporate team, a great compensation plan, a great product but when they do have the correct energy, this is what builds the company. 

When you bring the right products, the right compensation plan, the right corporate team, the right energy together in just two and a half weeks you dominate and suck the oxygen out of every other company out there. No one has ever seen a company do what we've been able to do in just 16 days. If this is what we can do in just 16 days, what about 16 weeks, 16 months from now? It's GAME OVER. ByDzyne forever!" 
stated – Jon Gillardi, President & Founders Club
On May 20th, the day after the Thailand event, the local ByDzyne™ office officially opened at the auspicious time of 9:09am with a ribbon-cutting ceremony at their brand new minimalist industrial design space. Following a celebration performance by a local drumming group, ByDzyne™ attendees were completely surprised with being the first Brand Ambassadors ever to receive a limited pre-release of the tůw Smartwatch ahead of the upcoming pre-determined deadline in June 2019. The pre-release was a huge success with Brand Ambassadors praising ByDzyne™ for being ahead of schedule; a foreshadow of a bright future for the company.
The grand opening of ByDzyne™ was undoubtedly a statement – a flag cemented permanently in the ground signifying that it is a company here to stay, a home for entrepreneurs worldwide to build their Life ByDzyne™.
About ByDzyne
ByDzyne's multi-faceted approach disrupts the traditional industry model by first understanding that one size DOESN'T fit all.
You were born into a particular culture, with unique tastes, interests, and desires. ByDzyne™ was created with a mission to celebrate your uniqueness and empower your extraordinary potential. Our exceptional "culture-crafted" products meet distinct needs in key consumer markets, and our lucrative business opportunity was formulated to fuel your ideal lifestyle, as YOU see fit.
Our visionary leadership wanted to create an unparalleled company with your individual needs in mind, whether as a consumer or Brand Ambassador. This customizable approach is a driving force that propels everything we do and will do in the future. We are launching into not one but FOUR of the fastest growing multi-trillion dollar industries, creating one of the most explosive opportunities in the market, starting with technology, beauty, wellness, and travel.
Our mission is to continue to expand our global footprint into multiple verticals to maximize your income opportunities, capitalize on trends, and gain market share in upcoming industries as they advance. Soon we will be adding a digital category to our product lineup, further strengthening our value proposition.
Through ever-evolving innovation, and with utmost integrity, our experienced executive team strives to stand apart from the pack, and build a legacy you can be proud of; one you can truly call home. We are ByDzyne™. Where limitations don't exist. For more information please visit www.bydzyne.com.