Ghousia Taj From The UK – An Excellent Senior Executive With LEO
May 1, 2019
By Team Business For Home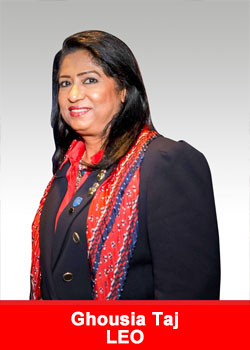 From joining Learning Enterprises Organisation Ltd (LEO) in May 2016, Ghousia Taj has proved herself to be a dedicated and hard-working direct selling professional.
Having already reached Senior Executive rank, she has her sights set on expanding her team globally, and with such commitment to her business, no doubt she will continue to excel.
 With a strong work ethic and a determination to succeed, in just three short years, Ghousia Taj has achieved remarkable progress with her LEO business. From her base in South East London, she has successfully managed to both build an impressive business and achieve a healthy work–life balance.
So, we asked this busy businesswoman some questions to discover more about what lies behind her success.
What led you to join LEO and what do you like most about the company?
As I used to be a teacher, I was really impressed by the idea of teaching entrepreneurship and the amazing training products LEO offers. LEO also stands for LEARN, EARN, OWN, which is a concept that really rings true for me, as without learning it is difficult to earn or own, and I believe that LEO provides a great opportunity for members to learn, earn and own.
In addition, I particularly liked the fact that LEO is a member of the Direct Selling Association (DSA) UK, which provides reassurance that it is a legitimate global business, and this helped me to have confidence in the great potential my new business had to succeed.
You have achieved so much with your LEO business – what would you say is the key to this impressive success?
That's simple – hard work is the key to this success. It is impossible to achieve anything much without this. I believe that hard work is the process of changing both the world and yourself and the price of success is hard work. However, this is not just my hard work but that of my team – the incredible amount of effort my team members put in and their belief in me is what motivates me to succeed.
I would also say that the key to success is making your dreams come true, and this is the key to happiness, so I have worked hard for my dreams. Obviously believing that you will succeed is also important, but this alone is not enough, as action is required, so I have learned to use the great tools LEO provides and focus on my goals every day.
How has LEO changed your life and what plans do you have for the future?
LEO has helped me in my professional, personal and social development. I had a dream to become a more confident individual, to make a positive contribution to society and become more financially free, and LEO has helped me to achieve this.
My work is recognised by awards and promotions, which is incredible and continues to help me grow professionally. However, the best thing I have got from joining LEO is the recognition, love and great respect I receive from my team members, which is priceless. I also love the fact that I have now gained coaching skills in direct selling and am able to help other people to achieve their dreams as well. I now plan to grow my business in around 50 countries, across the globe, arrange regular events and build a team of 100,000 members.
You've obviously worked very hard to get to where you are – how does this fit in with your family life?
Like many women, it is very important to me to achieve a good balance between my work life and my family life. At first, this seemed like a daunting task, but as a lot of people manage this, I thought why not me? I initially struggled a bit to achieve a good work–life balance but I was eventually successful. Everything is possible with determination. Now my family is very supportive and understanding. They are happy that I am working in a sustainable business I am passionate about, and they are proud of me.
What advice would you give to others who want to build a successful direct selling business?
My advice would be to have a willingness to learn as you go. I would also say that the most important ingredient for a successful business is passion. This will drive you forward, but knowledge will lead you in the right direction, so don't ignore any advice you get from your leaders, as this can be very powerful.
You should also encourage and motivate your team members and be sure to listen to them, as sometimes you need collective opinions to be successful. Always try to understand and solve the problems your team members may be facing and be there for them, whenever needed.
I would also say that, on a practical level, finding an office space will definitely help you to grow your business fast. Finally, you should always be positive, coachable, presentable, motivated and have patience. I believe that there is a leader and a networker inside everyone. 
About LEO
Learning Enterprises Organisation Ltd (LEO)is a global entrepreneurship training company which uses personal recommendation to introduce Members to its products and services. Established in 2012, LEO now has 300,000 Members in more than 140 countries.
LEO has a unique programme which helps people to LEARN, with the training products it provides, EARNat the same time, by marketing these products, and also has a selection of ownership award programmes that help Members achieve their dream to OWN a successful business. LEO provides full training and support for all its new Members, including a helpful 'Getting Started Guide', which contains an invaluable system to follow to get their businesses off to the best start, referred to as the #LEOSYSTEM.
LEO's core products are designed to help people start their own business – eLearning, Live Seminars and Technology. LEO believes that everything is moving to the mobile platform. In response, LEO has developed apps that replicate its Member Back Office system and Marketing collateral support.However, the LEO Ecosystem does not stop there, as it also includes a digital currency, LEOcoin, a crowdfunding platform, LEOcrowd, and a property investment crowdfunding platform, LEOpropcrowd.