Kannaway Honored As Gold Stevie Award Winner In 2019 American Business Awards
May 7, 2019
By Team Business For Home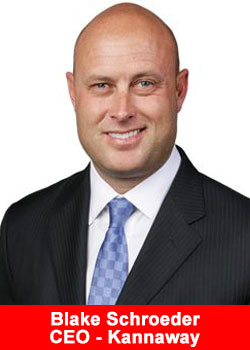 Medical Marijuana, Inc. (OTC:MJNA) announced today that its subsidiary Kannaway®, the first hemp lifestyle network to offer cannabidiol (CBD) hemp botanical products, was named the winner of a Gold Stevie® Award in the Medium Company of the Year – Health Products & Services category in The 17th Annual American Business Awards®.
The company was also named the winner of a Bronze Stevie® Award in the Consumer Products Category for its Cannabis Beauty Defined® cannabidiol (CBD) skincare line.
The American Business Awards are the U.S.A.'s premier business awards program. All organizations operating in the U.S.A. are eligible to submit nominations – public and private, for-profit and non-profit, large and small. Nicknamed the Stevies for the Greek word meaning "crowned," the awards will be presented to winners at a gala ceremony at the Marriott Marquis Hotel in New York on Tuesday, June 11.
More than 200 professionals worldwide participated in the judging process to select this year's Stevie Award winners.
Kannaway® is the first direct selling company to sell hemp-derived CBD products in the U.S. and one of the first to provide CBD's many potentially life-changing benefits to people across the globe. By offering high-quality products that promote a healthy lifestyle, the company has garnered a worldwide following and a team of experienced, passionate Brand Ambassadors representing their products.
Kannaway® received these awards because of its significant growth over the past three years, especially in 2018. Stevie® Award judges stated that Kannaway® is a "fast-growing company in a fast-growing market" and that the company should "receive an award for improving its customers' quality of life."
"We are honored to receive these prestigious business awards for our company growth and innovative offerings,"
said Kannaway® CEO Blake Schroeder.
"We are thankful that we have this opportunity to showcase our accomplishments and our dedication to providing the highest-quality hemp products in the cannabis industry."
The Cannabis Beauty Defined® anti-aging skincare line, a winner of a Bronze Stevie® Award in the Consumer Products Category, includes five hemp-infused products that utilize the antioxidant and anti-inflammatory properties of cannabis and pair them with a blend of herbal extracts to moisturize, nourish, and protect skin. Stevie® Award judges stated that Cannabis Beauty Defined® is a "unique and very promising new product which seems to be very effective and made up of non-toxic ingredients."
"Our company believes in the many potential wellness benefits of hemp-derived CBD and we want to do everything we can to provide people with the education and resources they need to understand how CBD can become a part of their everyday lives,"
said Medical Marijuana, Inc. CEO Dr. Stuart Titus.
"These awards help us build on our trusted reputation and gain consumer confidence to break the deep-seeded stigma against hemp and cannabis in the U.S."
Details about The American Business Awards and the list of 2019 Stevie winners are available at www.StevieAwards.com/ABA.
About Kannaway®
Kannaway® is a network sales and marketing company specializing in the sales and marketing of hemp-based botanical products. Kannaway currently hosts weekly online sales meetings and conferences across the United States, offering unique insight and opportunity to sales professionals who are desirous of becoming successful leaders in the sale and marketing of hemp-based botanical products.
About Medical Marijuana, Inc.
We are a company of firsts®. Our mission is to be the premier cannabis and hemp industry innovators, leveraging our team of professionals to source, evaluate and purchase value-added companies and products, while allowing them to keep their integrity and entrepreneurial spirit. We strive to create awareness within our industry, develop environmentally-friendly, economically sustainable businesses, while increasing shareholder value. For details on Medical Marijuana, Inc.'s portfolio and investment companies, visit www.medicalmarijuanainc.com.