National Director Stefanie Block Feels at Home with Total Life Changes
May 8, 2019
By Nicole Dunkley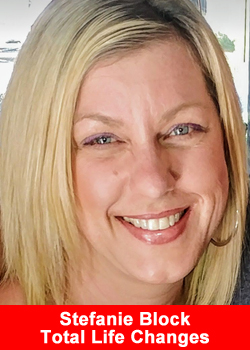 Born to be her own boss, Total Life Changes' National Director Stefanie Block is now an independent business owner with a bright and flexible future with the financial freedom she has been seeking.
With 20 years of experience in the MLM industry, Stefanie was looking for the perfect fit and came to TLC in May of 2018. Her friend and direct sponsor Phil W. sent her an Iaso detox tea sample, and impressed, she joined the team!
I also am a strong advocate for health and wellness and it feels so good in my heart to know that I am making a difference in somebody else. I love my business because I can take it anywhere with me and be successful while still being able to support my team.
Stefanie lives in Campbell River, BC with her supportive husband Jim Block, who is also a business partner in her business. In fact, her Dream Achiever's team is one of the fastest growing teams in Canada, BC.
"It is extremely rewarding and exciting! I knew I had my hands on something very special the moment I said "yes" to this business. I am also very passionate about empowering other men and women in business and helping them rise up and succeed,"
said Stefanie.
Stefanie plans to continually work on her business and with her team members — to Share Health and Wellness and Financial Freedom with every person that they can possibly bless. Another goal of hers is to finish paying off any debt in the next couple of years so she and her husband can pursue their traveling dreams.
What sets TLC apart from my past network marketing experiences is that it is truly built on a servant mentality. We rise each other up and help each other grow with so much love and support. The support and Readiness to help from the home office and the true feeling of family, we really are a part of something different and incredible with TLC. It is nothing I have ever experienced before and I am forever grateful that I said yes.
Stefanie has actively grown a large team in the last eleven months with over 230 team members globally, and so many of her team members have amazing weight-loss testimonies and health-related testimonies that they are experiencing for the better. In fact, Stefanie gets through her day with NRG and no longer feels tired and sluggish in the afternoon.
I also love the Iaso detox tea, my digestive system finally works efficiently because of this tea and I no longer experience stomach bloat. We use a lot of the products and it really helps my family with our health and wellness.

Another favorite is the ProZ, my husband and I sleep like a baby! We love them all, they are all our favorites!
It's not only the products that get Stefanie by, after all, she is also a businesswoman. It's TLC's amazing compensation plan that allows her to work completely from home and be her own boss. Not only that, but she loves being a part of TLC's culture.
The culture of TLC is 100% a feeling of unity. I have met people from all over the world, that I now consider my forever family. The camaraderie, love and uplifting that I receive from my entire team is something I have never experienced in any other company. I love to give with my whole heart and that is truly what this company and my team are built on. Jack Fallon, John Licari and all of the corporate home office are the most loving, caring, fun and giving people I have ever met in my life. I am forever grateful for them and for this company. Thank you, TLC!
About Total Life Changes
Total Life Changes offers a diverse product portfolio of health, wellness and beauty products. Founder and Tea Executive Officer Jack Fallon created TLC over 17 years ago with a single product: NutraBurst®.
Since that time, TLC has continued to develop weight loss and wellness products to include a diverse product portfolio matched with an attractive hybrid binary compensation plan. This allows Life Changers of TLC to be rewarded quickly for introducing new customers to its products and business opportunities. Find out why so many are saying, 'It really is different over here.'