USANA Q1 Sales Down 6.5% To $273 Million
May 1, 2019
By Team Business For Home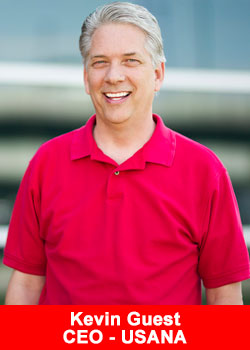 USANA Health Sciences, Inc. (NYSE: USNA) today announced financial results for its fiscal first quarter ended March 30, 2019 that were in line with the preliminary results provided on April 2, 2019.
Financial Performance
First quarter 2019 net sales were $273.0 million, compared with $292.0 million in the prior-year period, or a 6.5% decrease year-over-year. The strengthening of the U.S. dollar unfavorably impacted net sales by $13.3 million for the quarter. The Company's total number of active customers at the end of the first quarter was 586,000, compared to 585,000 in the prior-year period.
First quarter net earnings were $24.2 million, or $1.01 per diluted share, compared with $28.9 million, or $1.19 per share during the prior-year period.
"As we reported in early April, three factors unfavorably affected our sales results for the first quarter of 2019," said Kevin Guest, Chief Executive Officer.
"First, our 2019 operating plan contained very little promotional activity during the first quarter but calls for increasing promotional activity as the year progresses. This had a more significant impact on our global momentum than we anticipated, particularly during the seasonal slow-down that we experience each year in many of our markets during Chinese New Year.
Second, the Chinese government's 100-day review of the health product and direct selling industries that occurred during the quarter was accompanied by unexpected, persistent, negative media coverage about these industries in China. This media coverage affected our sales in China for the quarter.
Finally, the unfavorable impact of a stronger U.S. dollar on net sales was also significant."
Regional Results
Net sales in the Asia Pacific region decreased by 4.8% to $220.9 million for the first quarter of 2019. On a constant currency-basis, net sales in the Asia Pacific region increased 0.3% during the first quarter of 2019. The total number of active customers in the Asia Pacific region increased by 2.9% year-over-year. Within Asia Pacific, net sales:
Decreased 8.7% in Greater China;
Decreased 3.0% in Southeast Asia Pacific; and
Increased 22.9% in North Asia.
Active customers increased modestly by 1.8% and 0.7% in Southeast Asia Pacific and Greater China, respectively. Net sales growth in North Asia resulted from 27.3% growth in active customers in South Korea.
Net sales in the Americas and Europe region decreased by 13.0% to $52.1 million for the first quarter of 2019, primarily due to an 8.6% decrease in active customers.
"Despite our softer than expected start to the year, we continue to believe that we can deliver growth in 2019,"
added Mr. Guest. "Our promotional calendar kicked off during the second quarter and we remain confident that these promotions and initiatives will generate sales momentum during the year. Additionally, the 100-day review in China concluded in mid-April, and we expect to see a more typical operating environment in China going forward. Although it takes time to recapture momentum, we believe we will begin to do so during the second quarter and that our results will further accelerate during the second half of the year. We are confident in the strategies we have in place around the world and believe that 2019 will be another record year for USANA."
Outlook
The Company reiterated the following consolidated net sales and earnings per share outlook for fiscal year 2019:
Consolidated net sales between $1.21 billion and $1.26 billion, representing growth between 1.7% and 5.9% (or growth of 3.6% to 7.9% in constant currency);
Earnings per share between $5.00 and $5.35.
The Company's outlook for the year reflects:
An estimated operating margin of between 14.3% and 14.7%;
An effective tax rate of approximately 34%;
An annualized diluted share count of approximately 23.7 million, which does not reflect future share repurchases; and
An unfavorable impact of approximately $23 million related to a stronger U.S. dollar.
Chief Financial Officer Doug Hekking commented, "We remain confident in the underlying strength of our business around the world and the strategies in place to generate growth as the year progresses. While our operating margin may be modestly impacted in the short-term, I expect it to remain in line with our long-term strategy, which is intended to drive long-term sustainable growth in active customers."
About USANA
USANA develops and manufactures high-quality nutritional supplements, healthy foods and personal care products that are sold directly to Associates and Preferred Customers throughout the United States, Canada, Australia, New Zealand, Hong Kong, China, Japan, Taiwan, South Korea, Singapore, Mexico, Malaysia, the Philippines, the Netherlands, the United Kingdom, Thailand, France, Belgium, Colombia, Indonesia, Germany, Spain, Romania, and Italy.
More information on USANA can be found at www.usana.com.