AIM Global Holds Exclusive Gala Night For 1,000 International Delegates
June 7, 2019
By Team Business For Home
For 13 strong years, Alliance In Motion Global (AIM Global) has uphold its great reputation by staying true to its commitment of quality service and changing people's lives for the better by making ordinary people into extraordinary millionaires.
International delegates from 48 countries travelled to the Philippines to witness the momentous two-week long celebration and to start the company's 13thanniversary festivities, AIM Global's Board of Directors personally welcomed all of the 1,000 international leaders and distributors to a glamorous gala at the Sofitel Philippine Plaza Manila last May 15, 2019.
Chief Executive Officer & Visionary President Dr. Ed Cabantog and Chief Marketing Officer Mr. John Asperin, Vice President for Business Development Engr. Jurgen Gonzales, Vice President for Training and Network Development Mr. Arnel Limpin, and ALIVE Foundation Chairperson & Director for International Affairs Dr. Connie Cabantog were in full force at the gala event together with well long-time international partners from Nature's Way, NaturaLife Asia, Natural Endo and the Nigerian Embassy.
Dubbed as 'One Powerful Night,' everyone wore their fanciest ball gowns and tuxedos to show their celebratory spirits and their unwavering support to the company.
"Remember this, when you think about events of AIM Global, you will discover and learn new things from AIM Global and why AIM Global is continually prospering throughout the years.

You want to know why? Because you're growing bigger and bigger and bigger. Which means, if you're growing bigger a lot of you will become multi-millionaires!"
stated Chief Marketing Officer Mr. John Asperin
 Chief Marketing Officer Mr. John Asperin took the center stage to encourage the international delegates to enjoy the two full weeks filled with learnings and activities that will hone their abilities and help them have the right mindset for the business. He also welcomed the first-time qualifiers of the Philippine Trip and some of the returning delegates.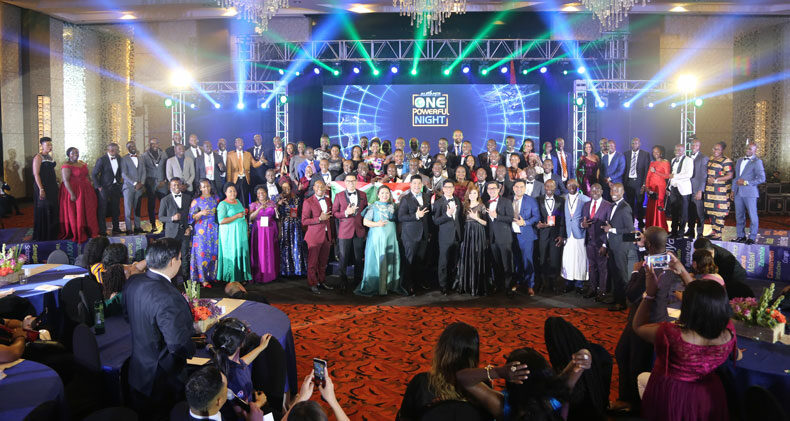 "Every year, more and more delegates are coming here in the Philippines. Meaning, a lot of people coming from different countries, are here in the Philippines to celebrate with us. I'm so elated to see you this coming few days to join us," said by Mr. Asperin, showing his elation at the many people who showed up at the gala night.
"I am with you tonight, devoting my life, my effort, my dreams into building a powerful journey with you so that we could break records–records after records, sales after sales, dreams after dreams, millions after millions.

Because together, we can accomplish so much and we are just warming up."  
stated Chief Executive Officer & Visionary President Dr. Ed Cabantog
Showing his gratefulness, Chief Executive Officer & Visionary President Dr. Ed Cabantog thanked all of the international delegates, the company's international partners, the management, all the hardworking staff and each and every distributors all over the world.
"For the past 13 years we've been creating organizations after organizations here in the Philippines and we have expanded in Asia, Middle East, Africa and Europe. We are here right now with the best of the best, top of the top, with the most aggressive leaders in the industry in one powerful night, here at the AIM Global 13th anniversary,"
Dr. Cabantog expressed his gratitude towards the international delegates for their continued support and love for AIM Global.
Dr. Cabantog also pushed everyone to do more–create more millionaires around the globe, change more lives for the better, produce more quality products and services and foster more dreams and businesses.
And lastly, he declared to everyone his wonderful promise, "We will have more residual income that anyone could ever imagine! More power to AIM Global!"
ABOUT AIM GLOBAL
Founded by Network Marketing icons Raymond "John" Asperin, Engr. Francis Miguel and Dr. Eduardo Cabantog in 2006, Alliance In Motion Global (AIM GLOBAL) is the leading direct sales network marketing company in the Philippines. The company markets and distributes top of the line Nutraceutical supplements, weight loss wellness products, personal care and skincare products, functional beverages and premium lifestyle products.
The company is a proud member of MLMIA (Multi-Level Marketing International Association) in USA, founding member of Direct Selling Association in Pakistan (DSAP) and Direct Selling Education Institute (DSEI) of Dubai, UAE.
AIM Global has 130 business center offices in the Philippines and has global offices in 19 countries namely Hong Kong, Singapore, Taiwan, Brunei, Papua New Guinea, UAE, Kuwait, Pakistan, Nigeria, Ghana, Kenya, Uganda, Togo, Ivory Coast, Cameroon, Tanzania and Rwanda.
AIM Global is categorized as "+AAA" business opportunity, Top 100 Solid MLM Direct Sales Company 2018-2019, Top 10 Momentum Direct Selling Companies 2018-2019, Founder/Director/CEO and Visionary President Dr. Eduardo Cabantog as one of the Ambassadors of Network Marketing – Hall of Fame 2018 by Business For Home, top awardee in the Direct Sales category of Asia Pacific Entrepreneurship Awards 2017 and winner at the International Innovation Award 2018 for its revolutionary Daily Payout System.