AIM Global Magnifies 13 Powerful Years Of Changing People's Lives
June 26, 2019
By Team Business For Home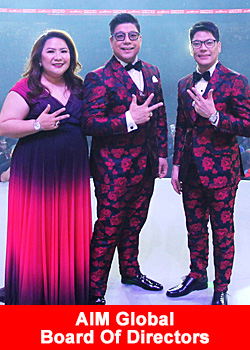 For 13 strong and powerful years, Alliance In Motion Global has upheld its reputation for being one of the unstoppable forces in the MLM direct-sales industry.
And over those 13 magnificent years, AIM Global has helped its 5 million members across the globe, touched the lives of numerous urban poor communities, produced globally-acclaimed products and has spread its influence throughout the continents.
Last May 19, 2019, over 50,000 thousand Filipino distributors, prospects, international guests and 1,000 international delegates from 60 countries all over the world packed the Philippine Arena to witness the grand celebration of the MLM direct-sales giant's 13 powerful years.
The event started with Chief Marketing Officer Mr. John Asperin warmly welcoming the attendees of the grand celebration; 1,000 international delegates,  international partners and guests.
Known as "Mr. Excitement", Mr. Asperin greeted the crowd with ardor and he brought the energy of the crowd through the roof. He encouraged guest prospects to join the company so they could get to experience the life-changing power of AIM Global.
"To AIM Global, 'Power' can mean passion for success, 'Power' shows strength, ability, and stability, it can also signify connection and support. The word 'Power' inspires people to be leaders. 'Power' can represent a desire for freedom. And lastly, 'Power' can express AIM Global's mission to help people change their lives for the better."
stated Chief Marketing Officer Mr. John Asperin.
Company Vice Presidents, Mr. Arnel Limpin and Engr. Jurgen Gonzales hosted the momentous event and they also led the well-beloved tradition of the company every anniversary celebration, which is the crowd wave. Everybody happily participated and was gladly surprised by the colorful ball-drop that happened soon after.
During the festivities, two of the company's international partners, Nature's Way & NaturaLife Asia generously donated a check worth USD 80,000 as their way of showing their active support to the company's charitable wing, the ALIVE Foundation and its worthy causes benefitting children, the elderly and impoverished communities in the Philippines and abroad. And as an expression of thanks, ALIVE Foundation Chairperson Dr. Connie Cabantog honored them by giving them plaques of appreciation.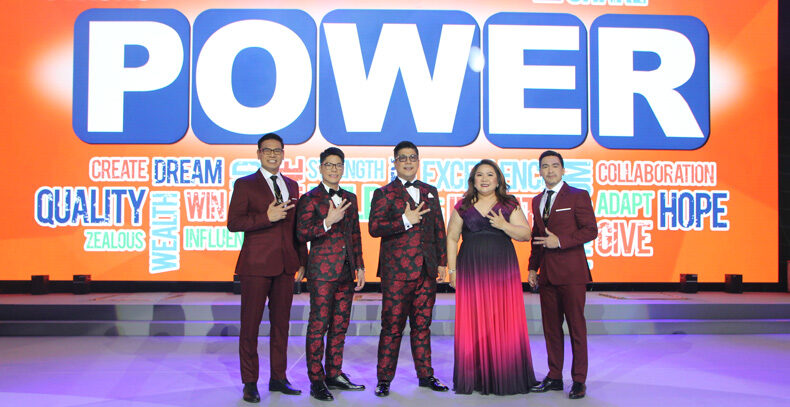 Five powerful leaders were invited to talk about their AIM Global journeys. Mr. Rafael Vergara shared the struggles he conquered when he joined the company while Madam R. Haqq of Ghana encouraged the attendees to trust and believe in the system.
Mr. O. Ubokudom of Nigeria shared that AIM Global changed his life and it made his dreams come true and Mr. N. Turyatemba of Uganda encouraged everyone to hold on to their visions and do everything in their power to achieve their goals.
Mrs. Florife Andales, one of the well-respected leaders and part of AIM Global's Hall of Fame, left the attendees a sound words of wisdom. She said, "We have different challenges. We have different situations but for sure, we have the same destination."
The auspicious affair was also filled with other major surprises. One of them is the announcement of Mr. Elias Muhoozi unlocking a new milestone in his AIM Global journey, being the first international leader receiving a Global Ambassador Ruby Award.
Highlighting the grand fête was the awarding of 274 new members of the Millionaires Club and 166 new Global Ambassadors by the Board of Directors. A brand-new House and Lot and a brand-new Montero Sport were given away through a grand raffle.
With a beaming smile on his face, Chief Executive Officer and Visionary President Dr. Ed Cabantog discussed the new company updates, new products, new promos and innovations that he has cooked up for the local and international distributors.
The Visionary President announced the availability of E 24/7 Natura-Ceuticals exclusively for the European market. This will help distributors to expand their network at the first-world continent with a combined 900 million population.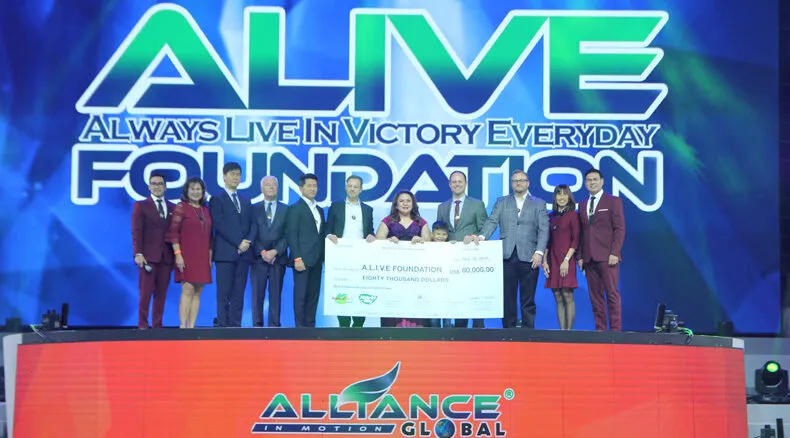 He also introduced AIM Global's newest product, the Angel-E. Angel-E is a supplement for women aged 20 and above. It has 100% natural ingredients that contain mega anti-aging properties, mega-whitening benefits, supports a healthy menstrual cycle and relieves pre, peri, post-menopausal conditions.
Another ground-breaking news was the re-launching of the newly upgraded Whitelight Sublingual Glutathione Spray with Airless Back Technology, a new patented-delivery system. Dr. Cabantog also released the new travel destinations for AIM Travels: Japan and Dubai, UAE. AIM Travels is the first and only travel incentive program in the MLM direct-sales industry that has no required time-frame set-up.
"The company is here to build more bridges, to open more countries, to launch new products, to launch new divisions and Power will come after Power! I tell you from this day on, more and more success will come to us! Because together more and more powerful we will become, not only in Asia, not only in Africa but around the world!"
stated Chief Executive Officer & Visionary President Dr. Ed Cabantog.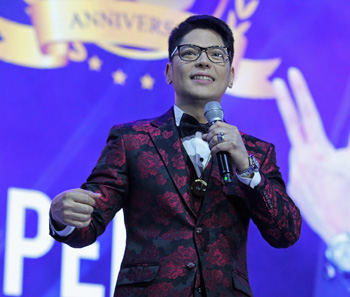 Lastly, Dr. Cabantog gave a moving speech about the importance of the word 'Power' to him. He reminded everyone that it is possible to see the power in everything. For him, there is power in love, in passion, in giving, in the company's products, in the opportunities that everyone has. There is power in everything that we do, whenever we think, see or write about our dreams, there is power in it. He believes that there will always be power in each of us. He sees it in everyone, but they need to open their eyes and see it for themselves and do something about it.
Finally, he asked them, "Do you believe right now? Do you believe that you have the power? That together we will be powerful!"
ABOUT AIM GLOBAL
Founded by Network Marketing icons Raymond "John" Asperin, Engr. Francis Miguel and Dr. Eduardo Cabantog in 2006, Alliance In Motion Global (AIM GLOBAL) is the leading direct sales network marketing company in the Philippines. The company markets and distributes top of the line Nutraceutical supplements, weight loss wellness products, personal care and skincare products, functional beverages and premium lifestyle products.
The company is a proud member of MLMIA (Multi-Level Marketing International Association) in USA, founding member of Direct Selling Association in Pakistan (DSAP) and Direct Selling Education Institute (DSEI) of Dubai, UAE.
AIM Global has 130 business center offices in the Philippines and has global offices in 19 countries namely Hong Kong, Singapore, Taiwan, Brunei, Papua New Guinea, UAE, Kuwait, Pakistan, Nigeria, Ghana, Kenya, Uganda, Togo, Ivory Coast, Cameroon, Tanzania and Rwanda.
AIM Global is categorized as "+AAA" business opportunity, Top 100 Solid MLM Direct Sales Company 2018-2019, Top 10 Momentum Direct Selling Companies 2018-2019, Founder/Director/CEO and Visionary President Dr. Eduardo Cabantog as one of the Ambassadors of Network Marketing – Hall of Fame 2018 by Business For Home, top awardee in the Direct Sales category of Asia Pacific Entrepreneurship Awards 2017 and winner at the International Innovation Award 2018 for its revolutionary Daily Payout System.