AIM Global Powered Up 1,000 International Delegates At AIMcademy Training
June 13, 2019
By Team Business For Home
Alliance in Motion Global, Inc. turned a year older as it celebrates 13 powerful years of unprecedented and unstoppable success in the MLM industry. The company organized a two-week long celebration, including the AIMcademy training last May 16, 2019 that was held at the Crowne Plaza Hotel in the Philippines.
The event brought together 1,000 international delegates from various parts of the world for a whole day of learning, firm empowerment and intensive training.
Leading this year's powerhouse speakers is Mr. Mike Trinidad, Director of Beyond Wellness, who opened the training with an informative discussion on the wonderful benefits of molecular hydrogen which is produced in breakthrough products Ultra H2 and NuUH2. Molecular hydrogen has superior anti-oxidant, anti-inflammatory, anti-aging, anti-allergenic effects and it specifically targets the root cause of many diseases.
He also introduced the latest upgraded model of Ultra H2; Molecular Hydrogen Water-Generator that generates molecular hydrogen in water that could either be drank or inhaled using a nasal cannula.
After Mr. Trinidad's presentation, Miss Cherry Castro who is one of the most successful leaders of the company and a Millionaires Club member, gave an overview on the prominent features and benefits of the company's world-class products, Vida! Maxx, Vida! Drink Mix, BURN Shake, BURN Mate Iced Tea, BURN Liven Coffee, Liven coffee and My Choco and Naturacentials personal care products.
The healing benefits of the Ener-Chi Pendant and Ener-Chi Diffuser were explained by the well-respected Chi Practitioner Mr. Jeremy Looi. Both products help lessen the harmful impacts of EMF radiation. It also improves stamina, natural balance, flexibility, performance, endurance, helps to renew cells and it strengthen the immune system.
Dr. Chris Oswald, the Manager of Education Content of Nature's Way, discussed at length the preeminent benefits of the Natura-Ceutical supplements; C24/7, Complete Phyto-Energizer, RestorLyf, Kiddi 24/7 NutraGummies and Choleduz Omega Supreme. He emphasized his sincere desire to enhance the health of people and to support their wellness journey.
Last to tackle the product training is Dr. Irvin Miranda who illuminated the important roles of iPro-tect 24/7 and iPro-tect Home. Both products help control the spread of communicable diseases while protecting individuals 24/7.
Company Vice Presidents Mr. Arnel Limpin and Engr. Jurgen Gonzales both dedicated discourses about useful traits one must possess to become a successful leader. VP for Training and Networking Development, Mr. Limpin explained the moving force of  "The Power of Your Story" and reminded that every human being is impeccably unique. He expressed that whatever or wherever a person situation right now, it's because of his personal choices and if a person wants to succeed in life he needs to think and act like a real champion.
"Leadership is not being the best; leadership is about being around you better".
stated Engr. Jurgen Gonzales, Vice President for Business Development.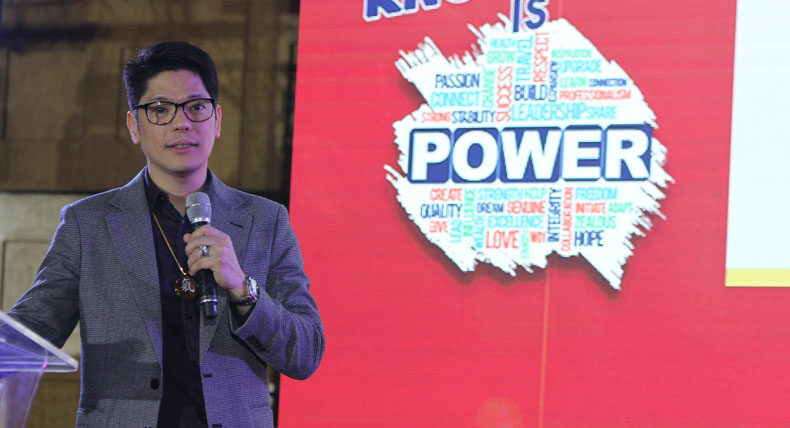 The importance of understanding an individual's "personal power" to take on effective leadership is what VP for Business Development Engr. Jurgen Gonzales stressed in his talk.  He emphasized that a person should change his behavioral patterns and let go of those beliefs that are not functional.
The congregation of delegates was all ears for motivational speaker Mr. Anthony Pangilinan, Chairman and Chief Disturber of Business Works, Inc., who shared his substantial wisdom and remarkable insights on the topic which focused on "4Ps: Persuasion, Principle, Performance and Productivity". He addressed that leadership starts with oneself, and a person must truly believe and act like a real leader.
 "Life is like a game of chess. You have to be prepared; you have to be prepared in every decision that you will make or you will decide on."
stated  Chief Marketing Officer Mr. John Asperin
Chief Marketing Officer Mr. John Asperin's segment did not disappoint the delegates. Known to give engaging activities, AIM Global's "Mr. Excitement" requested the attendees to truthfully participate in a game which centered on having focus and having the right decisions in life. He asserted that to become an effective leader and be successful in life, a person should be honest or true to his self.
Several big news were announced by Chief Executive Officer & Visionary President Dr. Eduardo Cabantog, he started off with the newest product for women, Angel-E. Angel E is a supplement for women aged 20 and above. It has 100% natural ingredients that contains mega anti-aging properties, supports healthy menstrual cycle and relieves pre, peri, post-menopausal conditions.
Another ground-breaking news was the availability of E 24/7 Natura-Ceuticals exclusively for the European market. This will help distributors to expand their network at the first-world continent.
"We are disruptors. We are innovators. We are risk takers because we believe there is power in disrupting the market."
stated  Chief Executive Officer & Visionary President Dr. Eduardo Cabantog
The Visionary President magnified the essence of "Power" in varied levels. On "Power in People", he stated that "Make it genuine in your heart that if somebody ties up with you, whether they are strong leg or weak leg, you empower them". He also elaborated on the "Power in System", "Power in Expansion" and "Power in Innovation".
He concluded his inspiring talk saying that the company will not stop evolving and will continue to offer more innovative products and services to reach more people across the globe. He envisions the organization will take a giant step into becoming AIM Global Group of Companies in the next few years.
With this promise and the valuable learnings they had on that day, attendees at the AIMcademy training left with high spirits, high motivation and with empowered hearts that will help them succeed, accomplish personal endeavors and win more victories in the networking business.
ABOUT AIM GLOBAL
Founded by Network Marketing icons Raymond "John" Asperin, Engr. Francis Miguel and Dr. Eduardo Cabantog in 2006, Alliance In Motion Global (AIM GLOBAL) is the leading direct sales network marketing company in the Philippines. The company markets and distributes top of the line Nutraceutical supplements, weight loss wellness products, personal care and skincare products, functional beverages and premium lifestyle products.
The company is a proud member of MLMIA (Multi-Level Marketing International Association) in USA, founding member of Direct Selling Association in Pakistan (DSAP) and Direct Selling Education Institute (DSEI) of Dubai, UAE.
AIM Global has 130 business center offices in the Philippines and has global offices in 19 countries namely Hong Kong, Singapore, Taiwan, Brunei, Papua New Guinea, UAE, Kuwait, Pakistan, Nigeria, Ghana, Kenya, Uganda, Togo, Ivory Coast, Cameroon, Tanzania and Rwanda.
AIM Global is categorized as "+AAA" business opportunity, Top 100 Solid MLM Direct Sales Company 2018-2019, Top 10 Momentum Direct Selling Companies 2018-2019, Founder/Director/CEO and Visionary President Dr. Eduardo Cabantog as one of the Ambassadors of Network Marketing – Hall of Fame 2018 by Business For Home, top awardee in the Direct Sales category of Asia Pacific Entrepreneurship Awards 2017 and winner at the International Innovation Award 2018 for its revolutionary Daily Payout System.