ALIVE Foundation of AIM Global Celebrated 11 Years Of Extending Help To Humanity
June 19, 2019
By Team Business For Home
As one of the well-respected companies in MLM industry, Alliance In Motion Global (AIM Global) is not just known for offering revolutionary products, it is also recognized as a company that aims to make a huge difference to the lives of its millions of leaders and distributors across the globe by turning them into extraordinary multi-millionaires.
As their way of giving back for the remarkable success of the company, AIM Global's charitable wing ALIVE Foundation has been continuously helping different communities from various countries by organizing outreach programs, blood donation programs, relief good operations, medical missions and parties for children with special needs.
For more than a decade, ALIVE Foundation has been wholeheartedly courageous in opening up the eyes of distributors to give unselfish acts of kindness and extend a helping hand to the less fortunate. These outreach programs are also a reminder for them to give back when they can help, to do something good for the needy communities and to serve as a catalyst for making a difference in other people's lives.
Starting the fourth day of AIM Global's two-week-long anniversary convention, the company's top executives opted to celebrate the 13 years of exceptional victories of AIM Global in the networking business with a dual simultaneous outreach program in the Philippines. ALIVE Foundation Chairperson and Director for International Affairs Dr. Connie Cabantog spearheaded the two outreach programs with the support of Chief Marketing Officer Mr. John Asperin, VP for Training and Networking Development Mr. Arnel Limpin Vice President for Business Development Engr. Jurgen Gonzales.
The two outreach programs have been actively participated by 1,000 international delegates, the company's staff, and top leaders last May 17, 2019. The first outreach program has benefitted 1,000 families who were victims of a vicious fire that engulfed their community in Kamuning, Quezon City. The recipients happily accepted bags of rice, groceries, sleeping mats and slippers. ALIVE Foundation also organized a fun-filled kiddie party where children with special needs enjoyed games, prizes, over-flowing food, drinks, and ice cream.
Everyone was amazingly moved when they saw the smiles on the children's faces, and they were also greatly touched when they heard the stories of the families' resilience at the face of their daily struggles. Despite the big challenges, these people are facing every day, they still manage to firmly stand and go on with their lives carrying bigger hope in their hearts.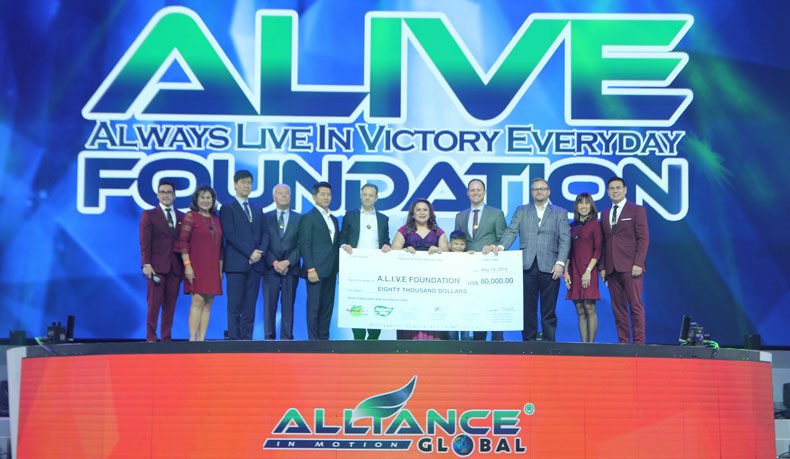 Those are only some of the reasons why ALIVE Foundation never stops caring for needy communities. A simple act of giving creates a power to change the lives of others, and a power that will give them the strength to carry on with higher optimism in able for them to face their obstacles head on.
During the monumental grand celebration of AIM Global 13th anniversary, which was proudly held at Philippine Arena last May 19, 2019, two of the company's international partner suppliers Nature's Way & NaturaLife Asia, generously donated a check worth USD 80,000 as their way of showing their active support to ALIVE Foundation with regards on fulfilling its endeavors on making positive impact to humanity.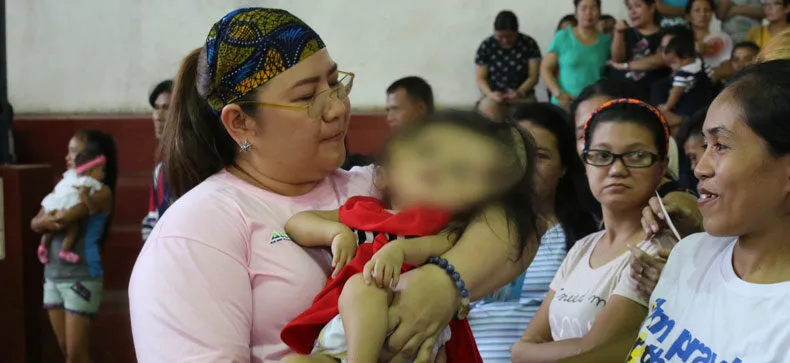 Through ALIVE Foundation, AIM Global will continue to be committed to raising awareness of social responsibility in the MLM industry and it will not stop its dedication to giving hope to the less fortunate people in the coming years.
ABOUT AIM GLOBAL
Founded by Network Marketing icons Raymond "John" Asperin, Engr. Francis Miguel and Dr. Eduardo Cabantog in 2006, Alliance In Motion Global (AIM GLOBAL) is the leading direct sales network marketing company in the Philippines. The company markets and distributes top of the line Nutraceutical supplements, weight loss wellness products, personal care, and skincare products, functional beverages and premium lifestyle products.
The company is a proud member of MLMIA (Multi-Level Marketing International Association) in the USA, founding member of the Direct Selling Association in Pakistan (DSAP) and Direct Selling Education Institute (DSEI) of Dubai, UAE.
AIM Global has 130 business center offices in the Philippines and has global offices in 19 countries namely Hong Kong, Singapore, Taiwan, Brunei, Papua New Guinea, UAE, Kuwait, Pakistan, Nigeria, Ghana, Kenya, Uganda, Togo, Ivory Coast, Cameroon, Tanzania, and Rwanda.
AIM Global is categorized as "+AAA" business opportunity, Top 100 Solid MLM Direct Sales Company 2018-2019, Top 10 Momentum Direct Selling Companies 2018-2019, Founder/Director/CEO and Visionary President Dr. Eduardo Cabantog as one of the Ambassadors of Network Marketing – Hall of Fame 2018 by Business For Home, top awardee in the Direct Sales category of Asia Pacific Entrepreneurship Awards 2017 and winner at the International Innovation Award 2018 for its revolutionary Daily Payout System.