Gara Group Assist In Launching And Scaling Network Marketing Operations Worldwide
June 25, 2019
By Team Business For Home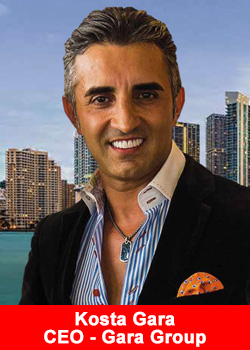 Gara Group, an American corporation based in Florida, is the industry's leading development firm. With a couple hundred employees and contractors stretched across four continents, Gara Group has provided a multitude of established and start-up clientele with all-inclusive solutions to assist in building and growing their network marketing business.
Clients have utilized the variety of services Gara Group companies provide, including back-office, replicated websites, video production, event coordination, shipping logistics, customer service, social media, accounting, legal, etc.
Gara Group's resources and its global footprint provide those hoping to break into the industry or those already established with a tool to manage all aspects of their operation.
Kosta Gara founder and CEO is the mastermind behind some of the most iconic products and platforms in the Direct Sales space today and is known for transforming groundbreaking products into household names. His revolutionary and disruptive style has led him to appear on numerous international media publications, including but not limited to: Forbes, Inc and Televisa, the largest broadcasting media in the Spanish speaking world.
Kosta's unique style, concepts, and strategy have earned hundreds of millions of dollars for corporations, brands, and top producers alike. His documented track record and coherent success have enabled him to identify key products and leverage those insights in building iconic companies.
In 2005, after four years in the cosmetics space, Kosta was able to retire and co-author two Amazon Best-Selling books while globe-trotting throughout Europe. Two years later, he returned from retirement to become partner and Co-Founder of a first-of-its-kind energy drink company. Along with his Co-Founder and best friend, Kosta helped build the powerhouse company by capturing the energy drink market share through global expansions. Today, the company has done over $500 million in sales.
Upon such success, Kosta once again retired in 2010 to write his third book, Organic Networker, which became an overnight sensation and another Amazon Best-Seller in two different categories within the first 24 hours of its release.
Soon thereafter, Kosta proceeded to begin another successful venture which led to the founding of Gara Group in 2015. Since then, Gara Group has quickly become one of the fastest-growing conglomerate development firms in the Direct Sales space, as well as the very first all-inclusive solution in building their clients' dream companies.
For more information please visit www.garagroup.com