Janine Avila Transitions From Corporate To Distributor At Elepreneurs
June 4, 2019
By Team Business For Home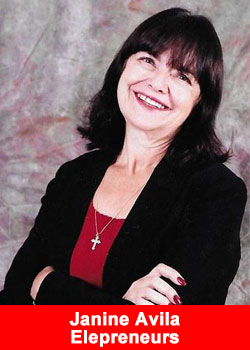 This May, Janine Avila celebrated her one-year anniversary working with Texas-based Elepreneurs.
After working at the company's global headquarters for a year, she's announcing her retirement from the corporate side of the business as she transitions into the role of an Elepreneurs distributor.
The consistent, significant growth of Elepreneurs has made it the buzz of the industry, which means the opportunity has never been stronger. As a result, Janine feels compelled to leave her seat in corporate and transition to the field.
Janine is no stranger to the network marketing industry, however. You could even say it's saved her life a time or two.
In 1983, she was a single mother and sole provider of her five children, and she struggled to make ends meet. Then a friend told her about a business opportunity that could keep her at home with her kids while generating much-needed income. That business? Tupperware. And Janine's meteoric success gave her the financial freedom she needed to raise her kids … and even adopt two more children.
Shifting a Business Model
 As Janine rose in the company's ranks, she learned a thing or two about the nuts and bolts of the business—from office organization and time management skills to connecting with others. That efficiency and business acumen led her to help others set up their own home-based businesses. As a result, she says, "my business went through the roof, and my family really began to reap the benefits of my success."
Janine eventually left Tupperware, but continued working with other direct-selling opportunities, implementing her own organizational blueprint in the process.
True Calling
 As someone who well understood the direct-sales industry and the organizational skills needed to be successful, Janine continued building her credentials as a home office expert and business coach. Today, she's got a radio show, often serves as a keynote speaker at conventions, and has landed on TV shows and in a variety of national publications. Her seven children are now grown, and she has 18 grandchildren, too.
It's her passion, can-do attitude, and innate ability to connect with others that makes her a natural fit for Elepreneurs. "I have a passion for teams, which is why I want to go into this 'field of dreams' culture I see at Elepreneurs," explains Janine, an avid sports fan. "For a professional team to win, they must have a great owner, a great coach, and a strong team that knows how to work together to build on each others' strengths and cover weaknesses.
"I see all of these three components with Elepreneurs," she adds, "which is why resigning my corporate role to help build a team here is thrilling to me."
About Elepreneurs
Elepreneurs is on a mission to elevate your health, wealth, and happiness. We help you elevate your life through patented nutritional products, life-changing virtual success training, and a unique rewards program.
Elepreneurs actually builds happiness right into our powerful nutritional products. The superior, scientifically backed ingredients stimulate the happiness hormones — dopamine, oxytocin, serotonin, and endorphins — which we refer to as D.O.S.E. For more information, visit www.elepreneur.com.