Popstar DJ Khaled New Album Boycotted Because Of A Deal with MLM Company Market America
June 11, 2019
By Team Business For Home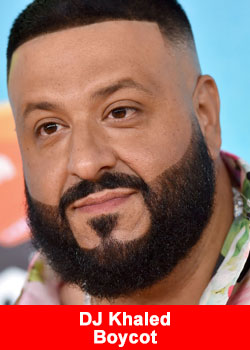 Ten doses of the DJ Khaled-endorsed Awake Energy Shot, plus a digital download of the album Father of Asahd, will set any fan of caffeine or Khaled back about $23 on the online retailer Shop.com.
But the sales of that bundle might be to blame as to why Father of Asahd failed to debut at the top of the Billboard charts, says a report from the New York Times.
According to the Times, DJ Khaled's Father of Asahd and Tyler, the Creator's Igor were recently fighting for the top spot, with a similar number of streams, so Billboard compared the bundle campaigns for both albums.
Bundling is a common practice of providing album downloads along with merch or other sales, since album downloads hold more weight than streams. Because of the way Shop.com's parent company, Market America, promoted bulk sales, Billboard disqualified DJ Khaled's bundles, amounting to the loss of least 100,000 sales, according to Page Six (that number was allegedly disputed by its sources at Billboard).
The online store allegedly encouraged members via blog post to "buy 12 packages [of energy drinks] to 'push DJ Khaled and Market America to No.1!"
Market America, a multilevel marketing company, has been accused of being an "illegal pyramid scheme" that unfairly targets Chinese American immigrants and pushes sales quotas, according to a 2017 racketeering lawsuit.
As Deanna Brown, the president of the Billboard-Hollywood Reporter Media Group, told the Times, "We saw an organization encouraging purchases among their members by promising them material and organizational benefits."
Sources told Page Six that DJ Khaled reportedly had a tantrum over the situation last week and that his lawyers have contacted Billboard to appeal the situation. Currently, however, Father of Asahd is at the top of the Billboard chart for R&B/Hip-Hop album sales, while Igor has dropped to No. 2. Who wants to celebrate with an energy shot?
ABOUT MARKET AMERICA, INC. & SHOP.COM
Market America, Inc. is a product brokerage and Internet marketing company that specializes in One-to-One Marketing. Its mission is to provide a robust business system for entrepreneurs, while providing consumers a better way to shop.  Headquartered in Greensboro, NC, the company was founded in 1992 by Chairman and CEO JR Ridinger and has generated $7.6 billion in accumulated sales.
Market America employs nearly 900 people globally with operations in the United States, Canada, Taiwan, Hong Kong, Australia, United Kingdom, Mexico, Spain and Singapore (Malaysia is opening in September 2017).  Through the companys shopping website, SHOP.COM, consumers have access to over 40 million products, including Market America exclusive brands and thousands of top retail brands.
Internet Retailer has ranked SHOP.COM #66 in the 2017 Internet Retailer Top 500 Guide and the 18th fastest growing Internet Mobile Retailer.  By combining Market Americas entrepreneurial business model with SHOP.COMs powerful comparative shopping engine, Cashback program, Hot Deals, ShopBuddyâ"¢, social shopping integration and countless other features, the company has become the ultimate online shopping destination.