Total Life Changes' National Director LaTriese Berry Spreads Health and Wealth
June 25, 2019
By Team Business For Home International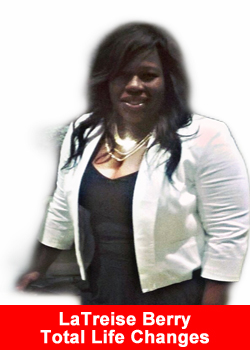 Texas native LaTriese Berry wants to be around for many generations, and as a mother of five, time, money, and health run quick. Luckily, thanks to her sponsor Phillip Vernon-Squires, she found Total Life Changes in June 2018 and hasn't looked back.
"I was very fired up and was so excited to start a new business. It was an opportunity I could not pass up," said LaTriese.
In addition to making connections and sharing products, a swift success for LaTriese in the business was getting binary qualified quickly, which opened the other three ways to get paid in Total Life Changes.
"TLC has allowed me to spread health and wealth. Most importantly, it has given me the extra money and time I need to participate in activities with my children — they are the reason I joined."
Spreading health and wealth is one of LaTriese's favorite things about TLC.
"I am down from a size 18 to a size 12 since I joined TLC and started using the products. The TLC get fit kit is my favorite. The detox tea will detox you, the nutraburst will put the nutrients back in, and the NRG is all natural energy, perfect for a working mom," said LaTriese.
LaTreise isn't the only one in her family who loves TLC either. Her mom, Claudette Berry, is an executive director and her dad, David Williams, is a director at TLC.
TLC is not only a family affair for LaTriese, but it also operates like a family.
"The people in TLC are passionate and want to see others thrive. That's what sets TLC apart from my past experiences. The culture is amazing and so welcoming." said LaTriese.
The welcoming and family-oriented culture at TLC reminds her of the quote "we don't do what's easy we do what's right". To LaTriese, that is spreading health and wealth with as many people as she can.
LaTriese hopes to be full-time with TLC in about two years. For now, her goal is to expose as many people as she can to TLC's health and wellness products so they can start making total life changes just like her.
About Total Life Changes
Total Life Changes offers a diverse product portfolio of health, wellness and beauty products. Founder and Tea Executive Officer Jack Fallon created TLC over 17 years ago with a single product: NutraBurst®.
Since that time, TLC has continued to develop weight loss and wellness products to include a diverse and attractive product portfolio matched with an attractive hybrid binary compensation plan. This allows Life Changers of TLC to be rewarded quickly for introducing new customers to our products and business opportunities. Find out why so many are saying, 'It really is different over here.'