AIM Global Empowers Top 1,000 International Leaders In A 3-day Leadership Summit
July 12, 2019
By Team Business For Home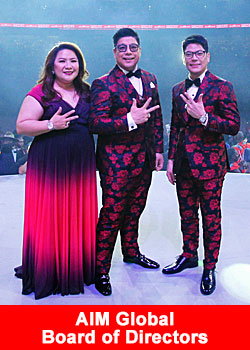 MLM Direct-Sales giant AIM Global has always believed in the power of good and effective leadership through professional development and positive personal growth.
AIM Global hosted its 1,000 foreign delegates from 48 countries to a 3-day Leaders Summit at Las Casas Filipinas de Acuzar, a hotel-resort that is part of the Historic Hotels Worldwide, in Bagac, Bataan, Philippines from May 22-24, 2019.
This year's Leaders Summit's main goal is to inspire and empower foreign delegates to have a strong drive and to give their best to level up and reach their utmost goals.
On the first day of the leadership congress, the leaders were treated to a day of relaxation and fun activities such as swimming, jet skiing, historical tours, and relaxing at the pool area.
The following day, a flurry of recreational activities greeted the international leaders. It started with group-exercise routines that were led by Company Vice Presidents Mr. Jurgen Gonzales, Mr. Arnel Limpin, AIM Global international and local staff.
The participants were challenged and grouped randomly for an activity that involves assembling a huge "AIM Global" human formation. Piecing this huge obstacle successfully together was not an easy feat especially with diverse cultural backgrounds but through teamwork and a unified vision, the daunting task was accomplished.
"Everything will start with your story. All of you have different stories and those stories, you can use those stories to inspire a lot of people."
stated – Vice President for Training and Network Development Mr. Arnel Limpin
Giving a head start on the forum was Vice President for Training and Network Development Mr. Arnel Limpin. The delegates were moved with the story of how he started in the MLM industry and got to where he is now, giving the testimony that if you work hard and work smarter, every hardship and sacrifice will eventually pay off.
Mr. Limpin also shared his knowledge and expertise regarding his start in the MLM industry. He taught the top leaders that importance of taking care of ones' group. It takes courage, focus, and discipline to be a good leader but a leader must also focus inspiring his group. He has to guide, lead and motivate them to help them succeed in achieving their goals.
"To be part of this conference entails you to also share what you have learned when you go back. Let me just tell everybody, in whatever particular country you come from, we are just getting started and we want to make sure that our success will be lasting and not short-lived."
stated  Company Vice President for Business Development Engr. Jurgen Gonzales.
Company Vice President for Business Development Engr. Jurgen Gonzales encouraged everyone to aim not only for success but also for longevity. He expressed that everyone must work together and help each other to make the company succeed even more and to last longer so that everyone can reap and enjoy the rewards in the long run.
 "We believe that the reason you are here is because you want to become successful in life."
stated Chief Marketing Officer Mr. John Asperin
Chief Marketing Officer John Asperin's talk further fueled up the attendees. He discussed about powerful networking techniques that are backed by a scientific research. He encourages them to still use their hearts because for him, the smartest thing to move is to combine both in helping people to not only become successful individuals but to also have significance in their communities.
He also opened the floor to an emotional recollection of their struggles. He helped them to have a cathartic release of their doubts and fears, to remember the reason why they fought to have a better future and to revisit all the decisions they made, good or bad, that brought them to where they are now–a better life.
After their tearful reflections, Engr. Gonzales led them all to the beach and made them go around three bonfires. He encouraged them to cast all their worries, doubts and fears about their future to the smoldering fires in front of them.
By day-end, the AIM Global top executives joined the leaders for "Social Night" which also comprised of a cheering competition and a mini-pageant.
The party was also an opportune time for the foreign leaders to meet and bond with their Filipino uplines who visited them.
On the last day of the Leadership Summit, as they prepared to go back to the busy city of Manila, everyone had the time to reflect on what they learned the past two weeks they stayed in the Philippines – including the last two days they spent at the leadership congress.
The summit was a highly successful event as it showcased the true meaning of teamwork, leadership, and dynamism. Every activity was designed specifically to help the distributors learn and grow, equipping them with knowledge and empowering them to be the best of the best.
ABOUT AIM GLOBAL
Founded by Network Marketing icons Raymond "John" Asperin, Engr. Francis Miguel and Dr. Eduardo Cabantog in 2006, Alliance In Motion Global (AIM GLOBAL) is the leading direct sales network marketing company in the Philippines. The company markets and distributes top of the line Nutraceutical supplements, weight loss wellness products, personal care and skincare products, functional beverages and premium lifestyle products.
The company is a proud member of MLMIA (Multi-Level Marketing International Association) in USA, founding member of Direct Selling Association in Pakistan (DSAP) and Direct Selling Education Institute (DSEI) of Dubai, UAE.
AIM Global has 130 business center offices in the Philippines and has global offices in 18 countries namely Hong Kong, Singapore, Taiwan, Brunei, Papua New Guinea, UAE, Kuwait, Pakistan, Hawaii, Nigeria, Ghana, Kenya, Uganda, Togo, Ivory Coast, Cameroon and Tanzania.
AIM Global is categorized as "+AAA" business opportunity, Top 100 Solid MLM Direct Sales Company 2018, Top 25 Momentum Direct Selling Companies 2018, Founder/Director/CEO and Visionary President Dr. Eduardo Cabantog as one of the Ambassadors of Network Marketing – Hall of Fame 2018 by Business For Home.